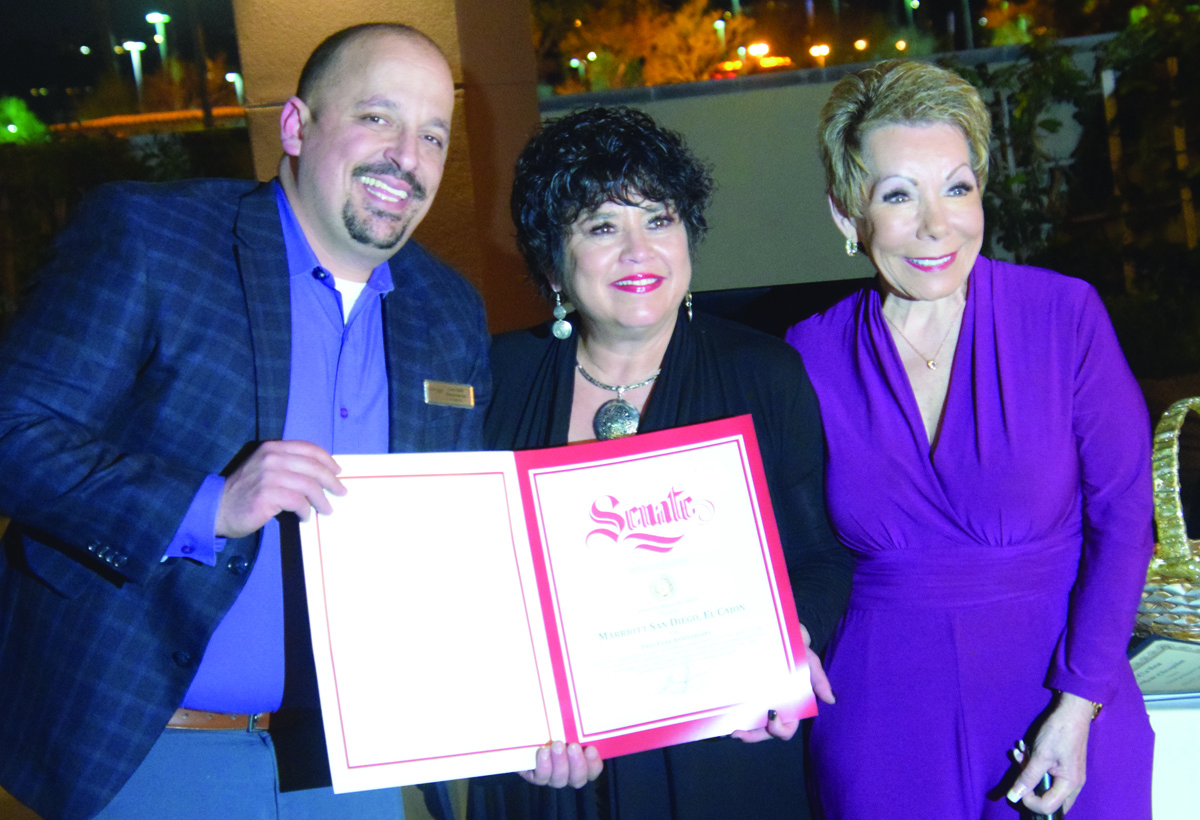 On Feb 27, the La Mesa Chamber of Commerce held a celebration for the second anniversary of the Courtyard Marriott San Diego El Cajon which opened its doors in February 2018. Owned by Excel Hotel Group, it has 120 rooms with 10 suites. All rooms have microwaves, refrigerators, coffee makers and smart TVs in tandem with amenities such as laundry service, a recreation facility, pool, whirlpool, free wi-fi throughout, and charging and working stations.
It has an exterior celebration patio, lawn and its Pacific Ballroom. The exterior patio is more than 3,000 sq.ft. and the ballroom 4,500 sq.ft.
Rooms have beautiful views over downtown El Cajon and the El Cajon Valley and the rooms are spacious.
Included is The Bistro that serves breakfast, lunch and dinner seven days a week and features a Starbucks plus a full-service bar.
Juan Alarid, general manager of Courtyard by Marriott San Diego El Cajon, said many doubted the success of this hotel in El Cajon.
"There are currently 1,094 Courtyards in the world," he said. "Last year, this hotel and guests' satisfaction was actually in the top 4 percent worldwide because of the staff we have here. We will be the first Courtyard in San Diego County to receive the most prestigious honor, the Platinum Award expected in the springtime.
In addition to that, Alarid said many people asked who would come out to El Cajon?
"Last year, this property ran at 92 percent occupancy," Alarid said. "So for those people who doubted and said, 'Why East County, why El Cajon?' we showed them why."
Rachel Lynch, Courtyard El Cajon director of sales, said this success could not be possible without all of the hotel's vendors and clients.
"It was a lot of work over the past three years," Lynch said. "You guys made it happen and we couldn't have done this without you. The chief of police [El Cajon] said we didn't stand a chance and we proved him wrong. Mr. Marriott always puts a property that is going to do very well within a community. This is a result of all of our employees and staff here who make this place wonderful."
La Mesa Chamber CEO Mary England said that when it comes to this chamber, zip codes do not matter. The Chamber has members from its neighboring cities, unincorporated areas and San Diego.
"I love having a strategic partner like the Courtyard Marriott in the Chamber," she said. "This is a beautiful hotel and a perfect venue. I am thrilled to be celebrating its second successful year with them."
England presented Alarid and Lynch certificates of recognition from Sen. Brian Jones, City of La Mesa and the La Mesa Chamber of Commerce.