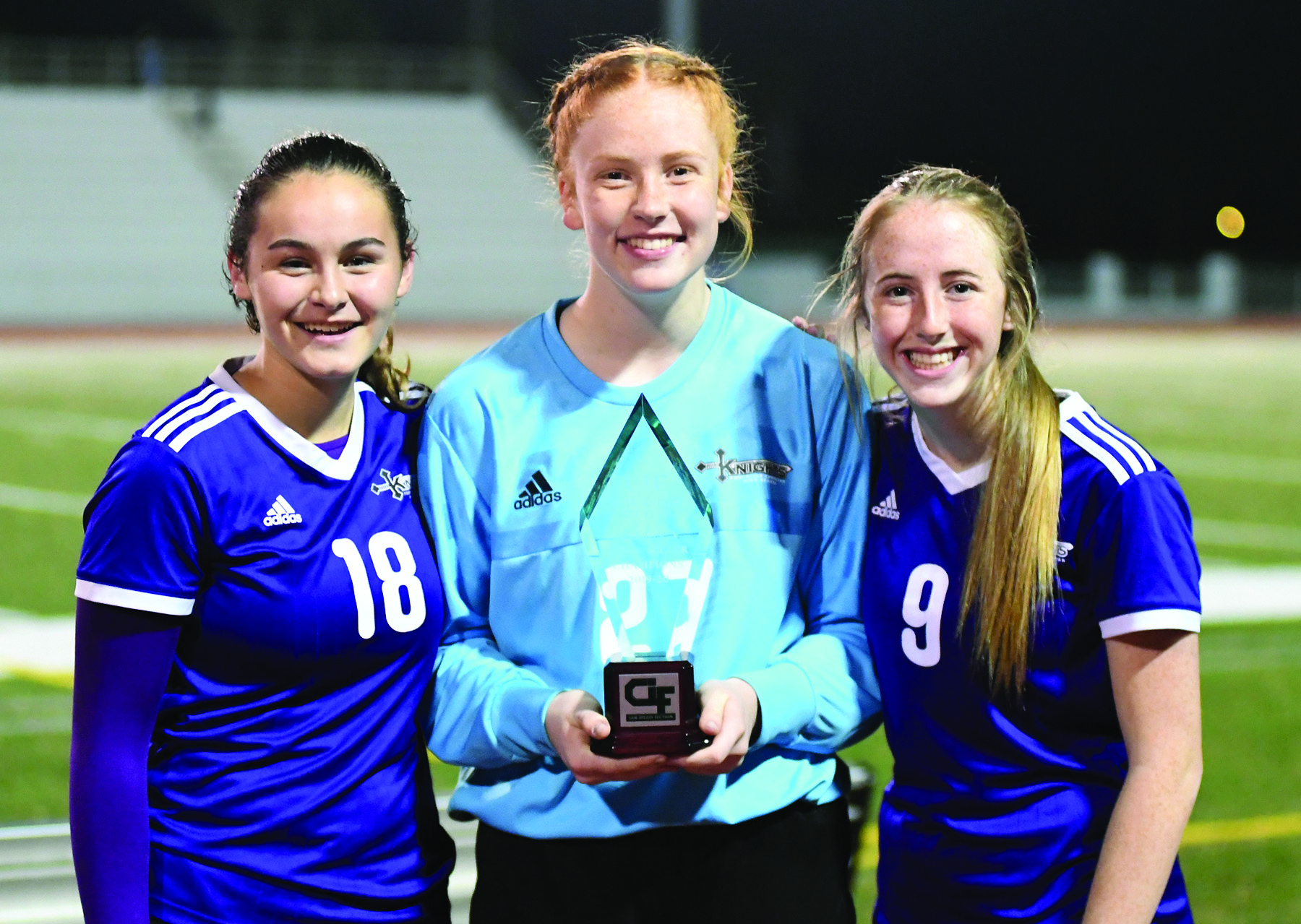 It would be correct to say that East County high school soccer teams ruled the pitch during this year's San Diego Section championships.
A total of five East County teams advanced to division finals last weekend.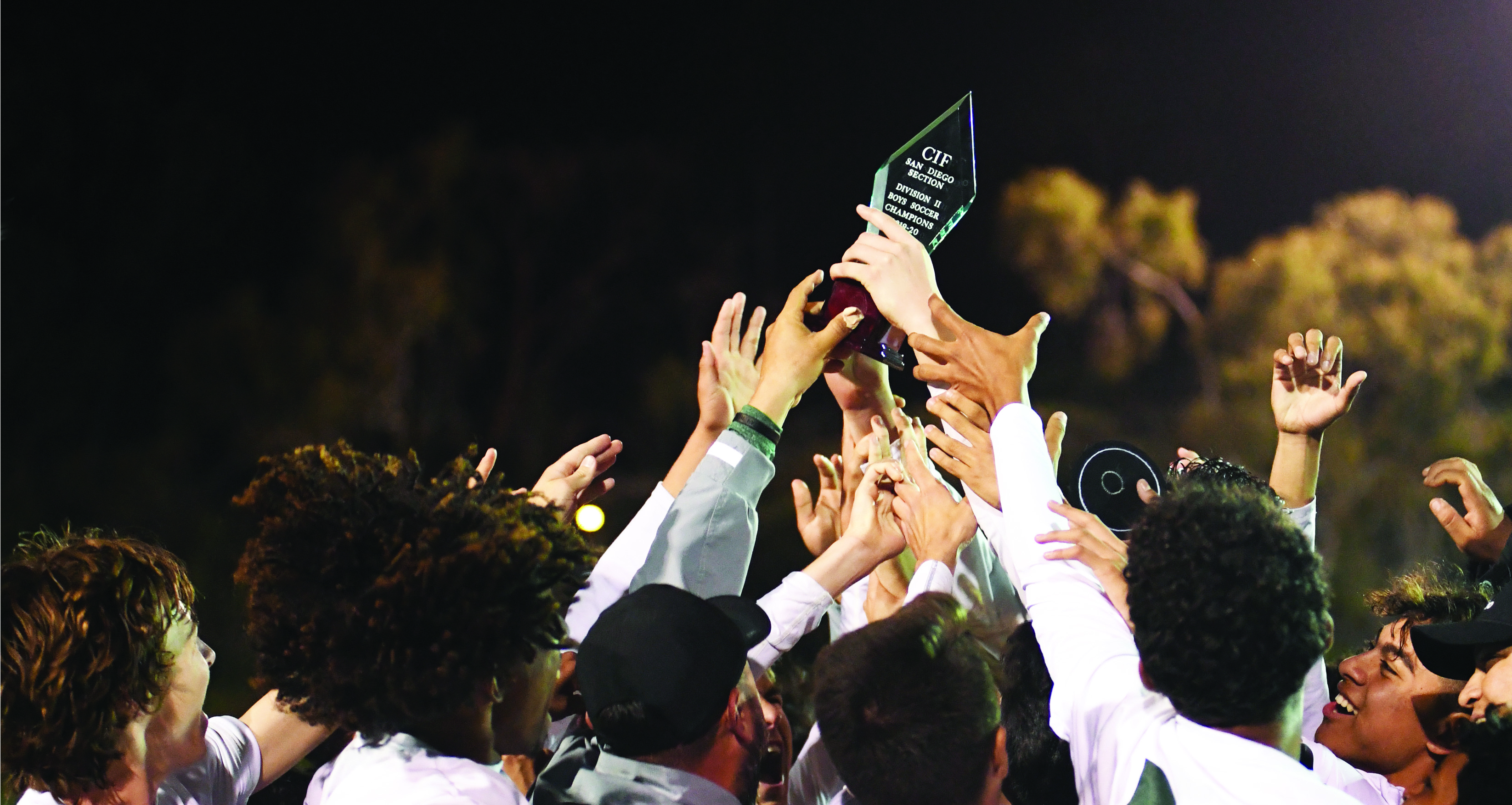 Two division finals featured all-Grossmont Conference matchups, with one team in each game guaranteed to win.
When the referee's whistle had finally blown, three East County teams had been crowned CIF champions.
In a game played last Friday at Hilltop High School, second-seeded Foothills Christian defeated fifth-seeded Kearny, 2-1, on a goal scored in the 87th minute by sophomore Isabella Prieto.
In a game played Saturday evening at Mission Bay High School, second-seeded Grossmont edged top-seeded Granite Hills, 1-0, on a goal scored in the 46th minute by junior forward Karlee Kennedy.
To top off Saturday's spate of finals, second-seeded Helix won its first CIF soccer title since 1983 by defeating top-seeded West Hills, 3-1, in an exciting matchup of Grossmont Valley League co-champions at Hilltop High School.
Grossmont Conference President Brian Wilbur applauded the success of this year's large field of East County playoff qualifiers.
"The programs that are feeding our schools are teaching kids the right way to play soccer," he said. "Our high school coaches are molding them into overall student-athletes."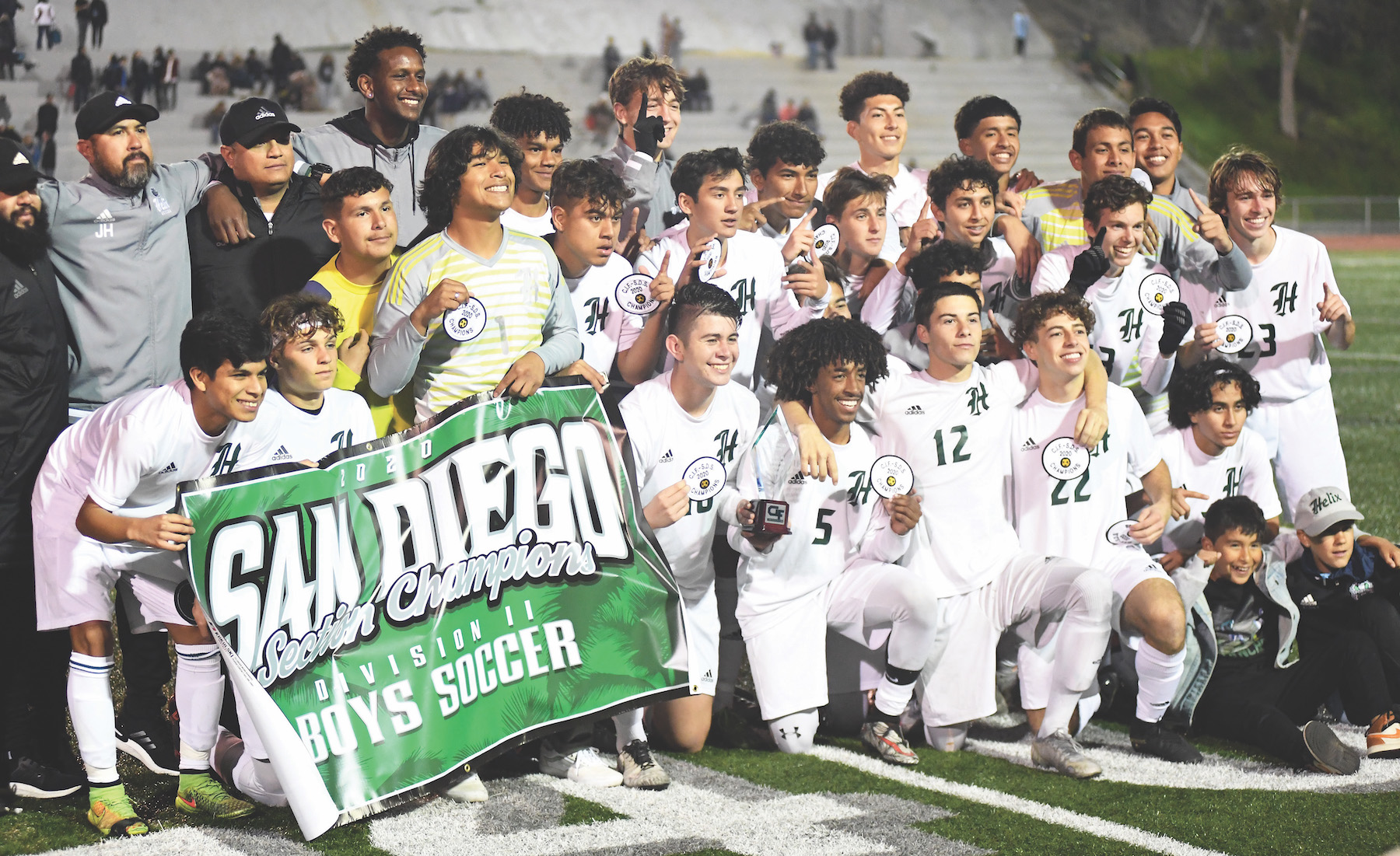 Final countdown
West Hills was bidding to claim its second consecutive CIF title after winning last year's Division III championship. But the fourth meeting between the Wolf Pack and Highlanders this season finally went to Helix.
The Highlanders, playing an up-tempo game, pounced on a West Hills defensive error to take a 1-0 lead on a breakaway goal by senior Danny Nunez in the fifth minute.
Helix goalkeeper Gabriel McIntosh came up with two clutch saves midway through the second half, including a punch save over the crossbar and a diving save on a screaming shot by West Hills captain Jarrett Pricor, to preserve the lead.
McIntosh's heroics seemed to buoy his teammates after the momentum had swung in favor of the Wolf Pack.
Helix was awarded a penalty kick with 15 minutes remaining in regulation time as Nunez was tackled hard in the penalty box.
Junior Dylan Hambrick converted the spot kick for a 2-0 Helix lead.
The goal proved crucial after West Hills scored in the 70th minute on a shot by senior Trevor Clark.
But the Scotties, braced by 12 seniors and cheered on by boisterous flag-waving fans, would not be denied a place in history after Nunez scored his second goal of the match just a minute later to up the score to 3-1.
The Highlanders managed to hold off a determined Wolf Pack team for the final nine minutes of regulation and the game ended with a massive celebration as the Scotties recorded their first CIF championship in 37 years.
"Normally we like to have more possession … the goal is to score goals," Helix head coach Joaquin Huertero said. "They had a great game plan. They had the majority of possession. But we had our chances."
Nunez's early goal was the game changer.
"It was huge," Huertero said. "We knew they were a second-half team. We knew it would be important going into the half with a 1-0 lead."
The PK goal to double the score was another bonus.
"It was such a big goal," said Hambrick, who scored once in the team's 3-0 semifinal victory over San Diego. "It secured our win."
All players on the pitch contributed — from the goalkeeper to the backline, from midfield to forward. Cross country champion Jaden Forester made tireless runs up the middle to disrupt play both as a central defender and forward.
His legs never gave out and neither did the team's desire to become CIF champions.
"It was one of our goals at the beginning of the season," the Helix coach said. "As the season went on and the wins started to build up, the chemistry between the players became stronger. Once we got into the playoffs, the farther we went, we felt we were going to win."
The Wolf Pack played hard to the final whistle. Head coach Russ Shubert was gentlemanly in his assessment of the contest and complimentary of his opponent.
"It was very competitive and intense," Shubert offered. "It was unfortunate for us to concede a goal early as that took us out of our rhythm. We didn't play to our strengths most of the evening and that's credit to how hard Helix worked. They are an outstanding team and worthy champions."
Clark and Otto Geilenfeldt scored goals for West Hills in its 2-1 quarterfinal win over Carlsbad, with assists going to Joan Galindo and Elijah Mullet.
Clark and Isaiah McCauley supplied the scoring for the Wolf Pack in its 2-1 semifinal win over San Dieguito Academy, with McCauley and Geilenfeldt recording assists.
West Hills finished the season with a 15-4-7 record, including a 5-1-2 mark in league play.
Third time is the charm
Grossmont and Granite Hills renewed their Grossmont Hills League rivalry in Saturday's Division I championship game. Granite Hills won this year's league title with a 7-0-3 record, followed by Grossmont in second place at 4-2-4.
The teams met twice in league play, with Granite Hills recording a 3-1 win and a 2-2 tie.
The third time proved to be the charm for Grossmont (14-4-6) after recording a 1-0 win in the division final.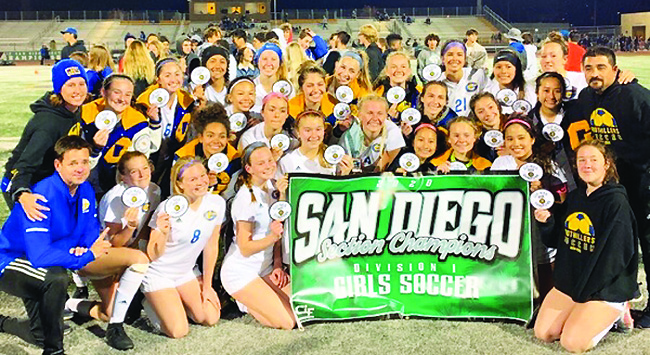 The CIF title was the second consecutive for the Lady Foothillers after Grossmont won last year's Division II championship over Valhalla.
Granite Hills (14-6-4) created numerous offensive scoring opportunities in the finals matchup but Grossmont proved up to the task of nullifying those chances.
Goalkeeper Natalie Emery blocked a penalty kick in the 17th minute to keep the game scoreless and later set the stage for Kennedy's game-winning goal.
Freshman Bridgette Wilson was credited with making the pass to Kennedy, who lofted the ball beyond the reach of Granite Hills' goalkeeper Maci Vance for the only goal of the match.
Grossmont coach Fernando Ramos said his team's back line, led by senior captain Mia Foster, worked hard to preserve the shutout win.
"It is very difficult to end up in a championship game to begin with and defeat your opponent and yet again take the title a second year in a row," Ramos said. "I'm very proud of our team. What they've done is incredible!"
Granite Hills had entered Saturday's CIF championship game riding the crest of a 12-match unbeaten streak (9-0-3).
Next step beyond
Foothills Christian advanced as far as last year's Division V semifinals, dropping a 2-1 overtime decision to fifth-seeded West Shores. The team thus entered this season with a motto proclaiming: "We're not finished."
The Lady Knights indeed weren't.
It appeared as if second-seeded Foothills Christian (17-8-2) might eke out a 1-0 victory over fifth-seeded Kearny (15-6-6) after freshman Raelyn Barnes scored the game's opening goal in the final minute before halftime.
Lady Knights goalkeeper Jada Hallahan and the defense in front of her appeared to have everything in control until the Lady Komets tied the game, 1-1, on a goal by Ana Venura with four minutes to play in regulation.
But that only seemed to ignite the scoring as Prieto, an Alpine resident, added what proved to be the game-winner on deflection goal one minute later — three minutes from time.
The game-winning play developed off a free kick in which the ball deflected off the crossbar and then off Kearny goalkeeper Tiana Bradley to Prieto, who calmly tapped it in.
Ninth-year Foothills coach Sean Thompson called the team a "super group of girls that came together."
"We set a goal and finished it this year," he said. "It's exhilarating. This is overwhelming."
Prieto, who plays club soccer for Hotspurs USA along with Barnes, put the win in perspective.
"We just had to trust in each other that we would be able to do this," Prieto said. "We held them so long from scoring that when we did let one in, we felt we needed to put in another one.
"It feels pretty amazing. Since we got knocked out in the semifinals, to be able to come back this year and win is the best feeling in the world."