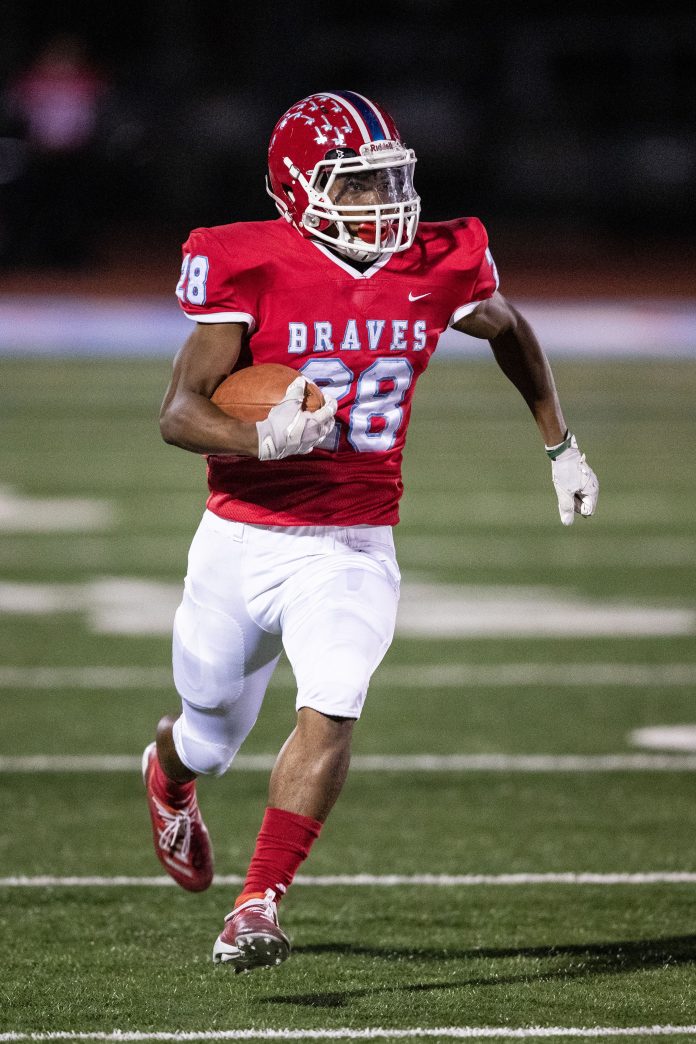 The Helix Highlanders were just a two-point conversion away from winning the San Diego CIF Division I championship last November against St. Augustine.
With the Scotties poised for the game-winning play, the special team misfired, costing Helix a fair shot at the winning score.
"Thirty-six inches," Helix senior Delshawn Traylor said once again last week. "Coach 'O' (head coach Robbie Owens) called a play that worked 10 out of 10 times, we just didn't get the snap all the way back and they won the game."
The Saints won the game and the title, 21-20, stunning a Highlander team that had frankly clobbered St. Augustine, 35-14, with a big second half after trailing 14-7 at halftime in the regular-season meeting at in La Mesa.
A season later, and Helix already has gone on the road to be at the Saints, 44-38, in a game in which the Highlanders led 31-10 at halftime and held off a furious charge by the hosts.
Now, the Highlanders (9-1) are the top-seed in the four-team San Diego CIF Open Division playoffs and will host their "Gauntlet Series" rival – the fourth-seeded Saints (8-2) – in the division semifinal at Hart Stadium on Friday at 7.
"You look at last year it was similar to this season," Traylor said. "The regular-season game was highly-anticipated and we ended up winning that, but in the championship game, they beat us, so it might have that feel. But we are focusing on what we can control. We have two weeks to prepare for them, while in the regular season, we had to play them right after we played Cathedral."
Senior quarterback Kamryn Brown passed for two touchdowns, while Traylor and sophomore Christian Washington rushed for a score in the early-season win. 
The trio is among the various weapons expected to make up for the absence of all-star senior Elelyon Noa, who is out for the season with a foot injury. Noa rushed for 273 yards in that first game and 160 yards in last year's D1 final.
Washington led the crew in the season finale two weeks ago when the Highlanders turned back Steele Canyon's championship effort in a 35-23 win in Spring Valley by rushing for 218 yards and scoring four touchdowns. He has already rushed for 820 yards and 14 touchdowns this season after taking over for Noa weeks ago.
The Scotties trailed the Cougars 21-7 at halftime of the Grossmont Hills League-deciding battle, then on the opening kickoff of the second half, senior Andre Salcido suffered a broken arm. After a 35-minute delay, Helix's adjustments were apparent, as was its talent.
"We had some penalties and some plays that we just didn't make the basic plays work in the first half," Traylor said. "We asked ourselves, 'is this how we want to end our regular season end'?
After a safety brought Steele Canyon to within one score, Traylor turned in one of the highlight plays of the season with a scrambling 53-yard touchdown pass to Jahari Hill in the fourth quarter. The Army-bound athlete still intends on competing as a quarterback at West Point despite his diminished role as the Scotties' signal-caller and showed why on the play.
A loss could have possibly demoted the Highlanders out of the elite division bracket, keeping the program from one of their ultimate goals each season. However, Helix will now face a familiar foe with a nearly-equally as talented of a roster, led by Cal-bound senior Tyson McWilliams, who has been cleared to return after suffering a shoulder injury on Oct. 18.
"Expectations are high," Traylor said. "Championship football is all we play at Helix."
The winner will meet either second-seeded Cathedral Catholic or third-seeded Carlsbad in the Open championship game.
Oceanside (7-4) at Steele Canyon (9-1) – Points may be at a premium in this one.
The fifth-ranked Cougars were honored with the top-seed in the Division I playoffs following the GHL title-game loss to the Highlanders.
Steele Canyon junior quarterback Elia Kirisimasi rushed for two touchdowns in the second quarter en route to the halftime lead and senior Antoine Walker opened the scoring in the first quarter with a one-handed catch in double coverage that might've been the best grab in the conference this season.
Senior linebacker Cam Ewert recorded the safety that gave the Cougars a chance to still win the game. Junior Colton Guerrero had an interception as Steele seriously stymied Helix's passing game outside of the long play that Traylor created against them.
The Cougars have allowed the second-fewest points of all section teams this season.
Senior quarterback Jeremy Mendez-Gal could return to the lineup this week after the mending of a finger injury, but should he not prove ready, Kirisimasi appears to be a equally-capable starter with a great outlook for next season, as well.
The 13th-ranked Pirates are obviously a playoff-ready defense, having shutout Eastlake, 10-0, on the road in a first-round game last Friday. The Titans managed just 80 yards.
Oceanside has a top star in junior Kavika Tua, who rushed for over 100 yards and scored a touchdown in the fourth quarter with 1:41 left in the game.
Grossmont (8-3) at Madison (6-4) – This is the deciding match for the seniors involved in this recent instant rivalry.
The Foothillers defeated the host Warhawks in one of the top games of the season last year in the first round of the Division I playoffs. Grossmont senior Brody Schicker caught the game-deciding touchdown pass from senior quarterback Jaime Odom in the fourth quarter in one of the clutch moments of last season.
However, eighth-ranked Madison has already come back in 2019 with a dominating second half in a 34-13 win over Grossmont back on Sept. 17, handing the 14th-ranked Hillers their first loss of the season.
Grossmont trailed 6-3 at halftime. Senior Axel Gonzalez, the East County leader in field goals, had two three-pointers in the contest.
This season, the stakes are a notch higher in the Division I quarterfinals back at Madison High.
Odom, who had 261 yards of total offense in the loss two months ago, had 276 yards total in last Friday's 34-20 first-round win over visiting San Marcos. The score was tied at 20-all after three quarters.
Robert Tucker returned from a one-game absence due to an injury and had over 200 yards of total offense against the Knights, including a 47-yard touchdown.
Schicker had five catches, including a 22-yard touchdown from Odom, while senior Chris Alba had 11 tackles, a forced fumble with recovery, and a fourth-quarter rushing touchdown.
Grossmont senior Austin Wittmeyer had eight tackles and an interception in last week's win.
Madison senior Ke'ontae Springs, a candidate for the county Player of the Year, had over 200 yards a pair of touchdowns against the Hillers in the first meeting and he had over 150 yards of total offense in the playoff matchup in '18. He has over 1,750 yards and has scored 18 touchdowns this season.
The Hillers may just be a touchdown underdog or more here, but the winner of this game will face the winner of the Steele Canyon-Oceanside quarterfinal.
Christian (6-5) at Vista (7-3) – Christian High became the smallest enrollment school to win an SDS-CIF Division II playoff game when it defeated visiting Otay Ranch, 24-21, at Valley Stadium in a first-round game last Friday.
Freshman kicker Nathan Provience kicked a 20-yard field goal with 1:32 left in the game for the deciding score.
Moments later, freshman defensive back Chris Acreage had a pass breakup, then intercepted a pass near the front of the end zone on the game's final play to send Christian into this Friday's quarterfinal against the county 10th-ranked Panthers.
Christian High junior quarterback Gabe Krug rushed for 150 yards, including a 22-yard touchdown. He also threw a touchdown pass to senior Todd Beezer, who had a big night, adding an interception, a sack and a two-point conversion reception to his credit.
The Palomar League champion Panthers, who had a seven-game winning streak snapped by Open contender Carlsbad in their season finale, have rushed for nearly 4,000 yards this season. Senior backs Desmond Taua and David Flores have combined for 28 touchdowns this season.
West Hills (7-4) at Scripps Ranch (10-0) – Senior Steven Cristini recovered a squib kick, caught a touchdown reception and had an interception to lead the Wolf Pack to a 21-14 SDS-CIF Division III first-round win at Valhalla last Friday, West Hills' first playoff win in five years.
Senior Kole Klingerman caught his 12th touchdown pass of the season right after the onside recovery, and later in the third, threw the scoring toss to Cristini, which put West Hills ahead, 21-7.
The reward is a meeting with the division's top-seed, Scripps Ranch, which has allowed the fewest points of any team in the section and is one of just two county undefeated squads.
For the Norsemen, who won four games this season after snapping an 18-game losing streak, senior Kegan Baker had 126 yards rushing in his final game, while junior Josh «Crazy Magic» Meredith scored both touchdowns.
Escondido (6-5) at Santana (9-1) – The Sultans, in search of a first-ever section title in football, earned the top-seed in the SDS-CIF Division IV playoffs and will host the Escondido Cougars at Community Stadium on Friday at 7.
On Senior Night two weeks ago, Santana senior Nathan Temple threw four touchdown passes to four different receivers in the season finale, a 42-7 win over El Cajon Valley. Temple finished with 28 touchdowns in the regular season.
Santana junior defensive end Michael Richter has 12 1/2 sacks this season, which ranks him second in the county. The Sultans have 27 sacks as a team.
"There is always one of our linemen that get left open because one of us, usually Luke Simanek, gets double-teamed so it comes down to who is fast enough to get in and get the sack," Richter said. "There is some pressure on us because we are expected to do to win, but that's a good thing."
Should the Sultans advance as expected, they would host the winner of another quarterfinal between fourth-seeded Orange Glen and fifth-seeded Patrick Henry in a section semifinal.
El Cajon Valley (4-7) at Vincent Memorial (9-1) –The Braves recorded their first playoff shutout in school history and first shutout in more than three years by dominating Mountain Empire, 33-0, as junior Damarius Hyde rushed for 169 yards and three touchdowns last Friday at Priest Field.
Senior Joe Malone threw a 20-yard touchdown pass to sophomore Jayden Barnett for the Braves, while junior teammate Clarence Johnson had a 19-yard touchdown run and an interception in the win. Senior Chalang Ahmad recovered a pair of fumbles for El Cajon Valley, which won its first playoff game in five years.
The Scots won a regular-season meeting between the teams, 35-6, in El Cajon on Sept. 20, as Malone connected with Hyde for the Braves' only score.