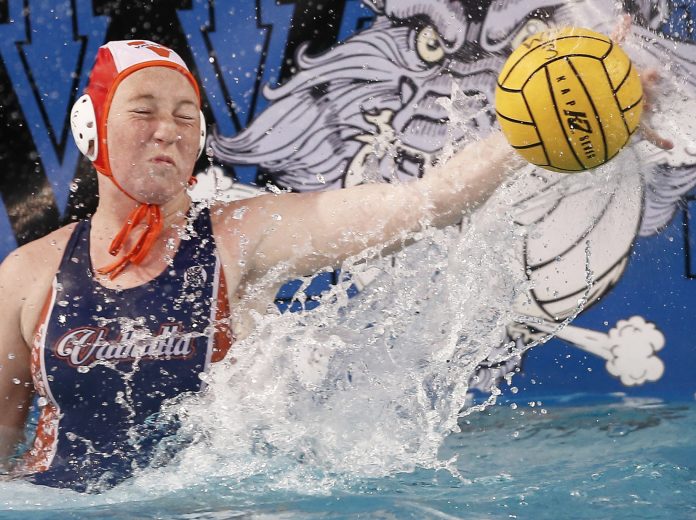 The San Diego Section girls water polo playoffs start this week. The Grossmont Conference is well represented with eight divisional qualifiers.
Valhalla, seeded sixth, and West Hills, seeded seventh, will represent the conference in the top tier Open Division playoffs.
Valhalla (20-6) will meet third-seeded Coronado (7-12) while West Hills (18-8) will engage second-seeded Carlsbad (17-8-1) in a pair quarterfinal-round games on Thursday, Feb. 7, at La Jolla High School.
The Valhalla-Coronado game is scheduled to start a 6:30 p.m., followed by the West Hills-Carlsbad game at 7:45 p.m.
Winners advance to the semifinal round on Feb. 13. Championship and third-place games are scheduled for Feb. 16, also at La Jolla High School.
Helix received the No. 1 seed among the section's Division I teams and has earned a bye to Saturday's quarterfinals.
The Highlanders (19-9) will play the winner of Tuesday's first-round match-up pitting eighth-seeded Canyon Crest Academy (16-13) against ninth-seeded Westview (11-16). Saturday's game is scheduled for 8:30 a.m. at La Jolla High School.
The winner of Saturday's game advances to the Division I semifinals on Feb. 12 at 5:45 p.m. The division final is Feb. 16 at 5 p.m. at LJHS.
Four East County schools qualified for the Division II playoffs. Grossmont (16-12) received the No. 3 seed and a bye to Saturday's quarterfinals while Granite Hills (21-4), El Capitan (17-6) and Santana (9-19) all received first-round playoff assignments.
Granite Hills, seeded sixth, was scheduled to host 11th-seeded Rancho Buena Vista (12-10) in Tuesday's opening round, with the winner advancing to meet Grossmont at 4 p.m. in Saturday's quarterfinals.
In other games on Tuesday, eighth-seeded El Capitan was scheduled to host ninth-seeded Mar Vista (14-14) while Santana was scheduled to play seventh-seeded San Pasqual (14-13).
First-round winners advance to Saturday's quarterfinals.
Monte Vista (13-12) received the No. 4 seed in the Division III playoffs and will play either fifth-seeded Escondido (15-14) or 12th-seeded Oceanside (7-15) in Friday's quarterfinals at La Jolla High School.
The winner advances to the semifinals on Feb. 11. The division championship game is scheduled Feb. 16 at 11 a.m. at LJHS.
For updates, visit the website at www.cifsds.org.