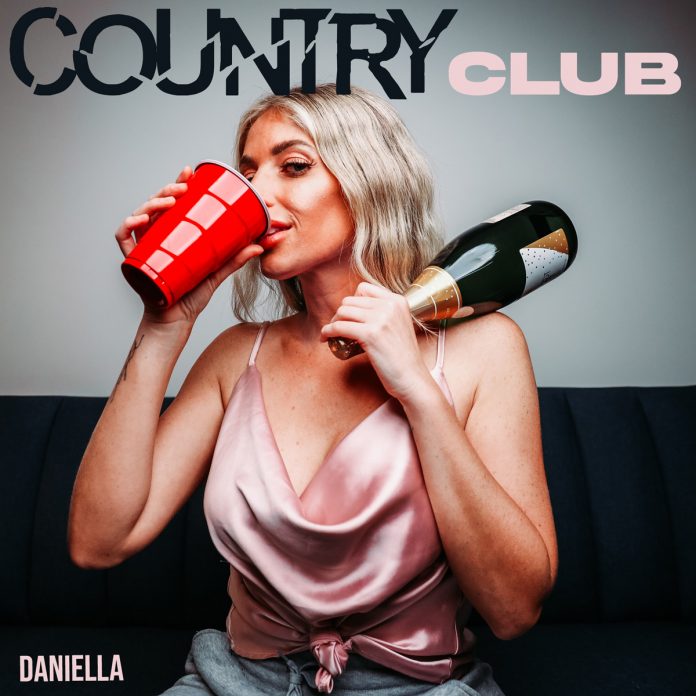 Many things have changed since local singer/songwriter Dannie Marie left her home in Alpine in 2017, but not her messages of inclusion. Her dream was to move to Nashville, and that dream has come true. She is now rebranding her music, and her name. Her dream of releasing a Nashville recorded music release online is now here. Daniella's new single "Country Club" is set to be released at the stroke of midnight on New Year's Eve.
"Country Club" is a mashup of Daniella's favorite genres. Country music with a new sound.
"This single has a new sound that I am doing that is a mix of pop country with electronic dance music," said Daniella. "This track is very pop, very EDM with banjo in there to give it that pop country feeling. For this song, I did very country lyrics over the pop and EDM track."
"Country Club" was co-written by country singer Chris Lane's former lead guitarist Sid Menon. Daniella said when she wrote the song, it was much different. An underdog anthem about people that feel left out, she said it was much slower, but at the end of the day, the message is still the same.
"It's about people that are bullied, left out, excluded, but at the end of the day they are confident in their selves and believe in themselves," she said. "My producer and I came up with the phrase 'Country Club,' which is like an uppity rich club that only certain people can get in to. We changed the meaning to no matter where you are from, no matter who you are, you are invited to our country club."
Daniella said between the pandemic, the country-wide division and the disfunction seen every day in social media, she believes this is the right song at the right time.
"In the song, we talk about our club is an empty lawn and our bar is whatever you brought," she said. "We wanted to do a song about invitation and inclusion, so it really evolved from its beginning stages. I am super excited. I hope people can relate to it. Now, more than ever, it is easy to be left out and excluded with the pandemic making everyone isolated. I hope that it is not only fun, but that it inspires people to feel included when they listen to it."
Daniella said getting to Nashville has been an incredible journey. She left Alpine shortly after the release of her single "Anything I Wanna Be" in 2017. She went to NorCal later that year to meet her fiancé, now husband. He had bought an old RV.
"Our plan was to renovate it and then take it on a road trip to Nashville and move there," she said. "We spent about a year renovating the RV, then took a three month long road trip. It was a fun way to relocate to Nashville."
Now that she has been in Nashville for well more than a year, she said Music City has done more for her life and career than the four years she worked in Los Angeles.
"The song writing community and the artist here has been so welcoming and nice, and I feel like doors have been opening," said Daniella. "Besides the cold weather it has been the perfect place for what I am doing."
Daniella said many times the journey is in the music. She said while traveling cross country to Nashville, she did a lot of reevaluating and praying. Growing up in the industry since the age of 6, she said she was told who she needed to be and what she needed to sound like.
"All these other people put you in this box," she said. "Now that I am older, I look back and realize I was just a kid. You have no concept like you have when you are older. One of the things that made me transition is that I feel that with my music I had become passionate about pop and other musical influences. I realized I did not have to do this Taylor Swift-y pop. I can make any kind of music that I want to. I decided that I was going to make the kind of music that I wanted to make because I am passionate about it and it feel right in my soul. I had to give my new self, and my new path a new name."
Daniella said this happened when she was 16 and she was told she needed a catchier name. That is when she came up with Dannie Marie.
"I did that because someone told me I had to do it to fit into this industry and I did not like that," she said. "At the end of the day, you cannot spend your days trying to please other people. This is something that I still battle with."
Daniella said that the industry is hard and brutal, and the one thing that always comes back to her is to never give up. She said it is simple and cliché, but it is true.
"You can look at many successful people in the industry and at some time in their lives they were told to go home and stop trying," she said, "It is those people who do not give up that end up staying in the game. Hard work is part of it also. You can have as much talent in the world that you want, but if you are not working hard, no one is going to find you and know about your talent."
Daniella said she misses everything about Alpine. She said of course, you really do not appreciate your hometown until you leave it, but there is a stark contrast of the quaint town and the big cities.
"At the four way stop that leads to my home in Alpine, and I remember coming home from LA and taking a left to my home and I would just park, roll down my windows and look at the stars. You can not find a street like that in LA," she said.