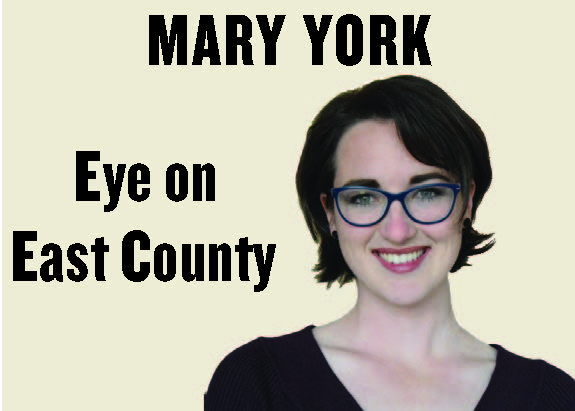 Joining 10 million other people itching to relive their favorite childhood TV shows and movies, I signed up for Disney+ last week.
Although the main draw to the new streaming service that premiered on Nov. 12, 2019 is the treasure trove of archived Disney classics (and not so classic) and the launch of the new Star Wars streaming series "The Mandalorian," I was surprised to find some less touted originals on the platform. I was even more surprised to see East County featured in one.
That's right, Santee's own Santana High School made episode one of the new series "Encore!" which reunites musical casts of high school productions. In this episode, it was the 1996 production of Annie that returned for a second run!
Armed with professional music, choreography and costume directors, director Marcia Milgrom Dodge welcomed the Santana production's original leads into an auditorium for introductions and preliminary music tests.
More than twenty years since their opening night, the original cast had some catching up to do – both with the piece and with each other.
We meet each lead with background video of their high school selves and facets of their current lives. Most still live in East County as teachers and stay-at-home moms. Jarron is a warehouse manager. Jeremy, who played Daddy Warbucks in the '96 production and went on to be named homecoming king, is now a deputy sheriff – he was unable to come until day two. Even the original director Patty Di Puma returned to take an ensemble role and mentor her former students through the week.
"1996 was one of the highlights of my life," says Jamie in the opening moments of the show
Almost from the beginning, it's obvious how much everyone has changed. Jamie, who dated Jeremy in high school and was named homecoming queen the same year, now works with young students, an interesting parallel immediately drawn in the episode as she plays an unhappy Ms. Hannigan in the show (and brilliantly).
Benaiah talks about coming out in Santee and Jarron, who joined the original cast on accident, reflects about how good drama was for him, how it brought him out of his shell and gave him a family he really needed at the time. Annie, who also played the titular character in Annie, talks wistfully of her Broadway dreams which she pursued all the way to New York City before following a "new passion" in raising her two sons.
Jamie tells the camera that her relationship with Jeremy didn't end in an ideal manner and that she's not sure what it will be like seeing him again.
Within the first day, these adults, most who haven't seen each other since they were kids, begin opening up about what was going on behind the scenes during the high school years that they never shared with each other.
That's where I got hooked.
Although other reviews have painted Encore! as lackluster and deplete of drama, this to me was a marvel to witness. How often do any of us have the opportunity to go back to the people we knew as kids and talk through things as adults who know how to communicate, be vulnerable, listen and encourage?
From that point on, restaging Annie just becomes the catalyst for what these former Sultans are about to go through for the next five days. The episode highlighted what I love best about both time and teachers, they keep pushing you forward.
DiPuma certainly did. She is celebrated from the first minute of her arrival at the reunion rehearsal to the close of curtain. It is obvious she was a great teacher because of the love and admiration poured out from the cast so many years later. Jeremy even admitted that she would let him sleep on a couch in her room for a class period when he was sick.
Jeremy, who still acts like the cool kid – the one with all the jokes – we all know from our school days, suddenly becomes sensitive about shaving his head for the role, even though it's buzzed very short already. We learn that he had cancer in high school and he and his parents weren't sure if he would make it or if he would be able to have children if he did survive.
"All the things they said I couldn't do, I did," he tells the camera, counting off on his fingers that he went to school, hung out with friends and did all the activities he was told he wouldn't be able to do. But he did lose his hair.
"The one thing they said would happen that actually happened was losing my hair and I couldn't fix that." 
As viewers, we watch this man face a fear he thought he conquered as a boy and it feels familiar.
Benaiah opens up to the group one night over dinner about the backlash he received for writing an article in the student newspaper about respecting gay people after two guys had been dumped in trash cans. Benaiah says he wrote it around the same time he was coming out and he not only received hate mail, but was hit in the head with a full soda can thrown from a moving car.
"It was hard to fit in in Santee," he said, somewhat underplaying the seriousness of what he described. "It was different."
The rest of the cast was surprised to hear about his experiences, some of them not even remembering the article he wrote.
At the same dinner, Jamie and Jeremy talk through parts of their high school relationship. Jeremy describes a day when he had come home from the hospital and Jamie showed up at his door with a poster of weird animals on crazy mix-matched bodies that said, "See you're not so different."
"It was huge," Jeremy tells her, "because at that point I just didn't want to stand out."
They discuss how Jeremy was told he couldn't have children and how they both had to think about that as a possibility for their future.
"None of us got that," says Annie to the group of Jeremy and Benaiah's situations. But then, they were just high schoolers after all.
Again, we see this cast come together as adults to talk through high school experiences that they didn't have the wherewithal to tackle two decades ago.
The show may be wound together with ridiculous costume fittings and some hilarious if not cringe-worthy rehearsals, and sprinkled with phone calls home to kids, but this is the core of it: redeeming the lost or overlooked moments in a coming-of-age experience to which nearly everyone can relate. And as this episode featured our own local high school, it is a pleasant reminder that the journey doesn't end when they crown the prom queen – there is a lot of life left to live for all of us.