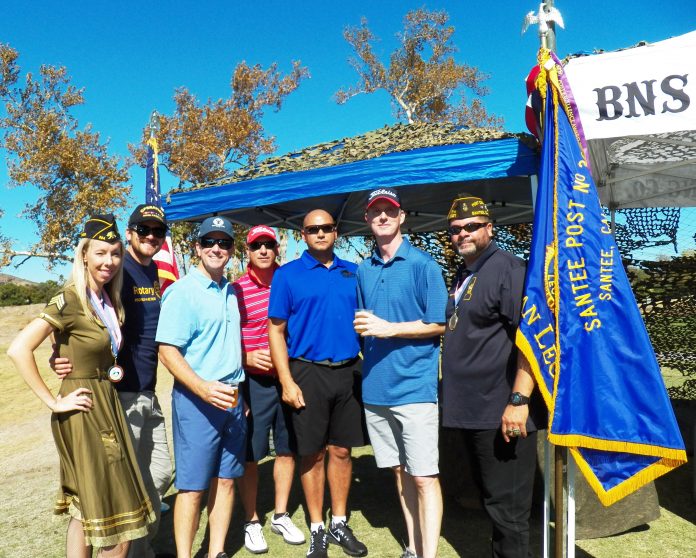 Carlton Oaks Golf Course was the site of the first Veterans Appreciation Golf Tournament on Friday, Nov. 8. Lead sponsors were the Santee Chamber of Commerce and Santee's Veterans of Foreign Wars Post 9327 and American Legion Post 364. One hundred forty-eight golfers participated in the sold-out event.
"The planning took several months," said Mike Aiken, director of the golf course. "This was a lot of work putting the event together, and all has gone smoothly. The weather has been good. And the community came together to support this."
The day's tournament commenced with a flyover of World War II commemorative aircraft. Kyle Hildebrand sang the national anthem.
The "Host a Hero" option allowed financial backers to pay the registration fee for a veteran to golf in the day's tournament. According to Aiken, a dozen or more veterans were supported this way.
"This is a great day to show appreciation to veterans," Aiken said.
The event concluded with an on-site buffet dinner for participating golfers.
Other major sponsors included Lennar, Chick-fil-A of Santee, Home Fed Corporation, Allegiance Heating & Air Conditioning and Raceway Electric.
Carlton Oaks was established in 1958 with 140 acres of golf course greens and opened during the 1960s. The course is slated for an upgrade soon, Aiken said.
"We hope to be here another 60 years," Aiken said.
Carlton Oaks is located at 9200 Inwood Drive in Santee. More information is available online at carltonoaksgolf.com.