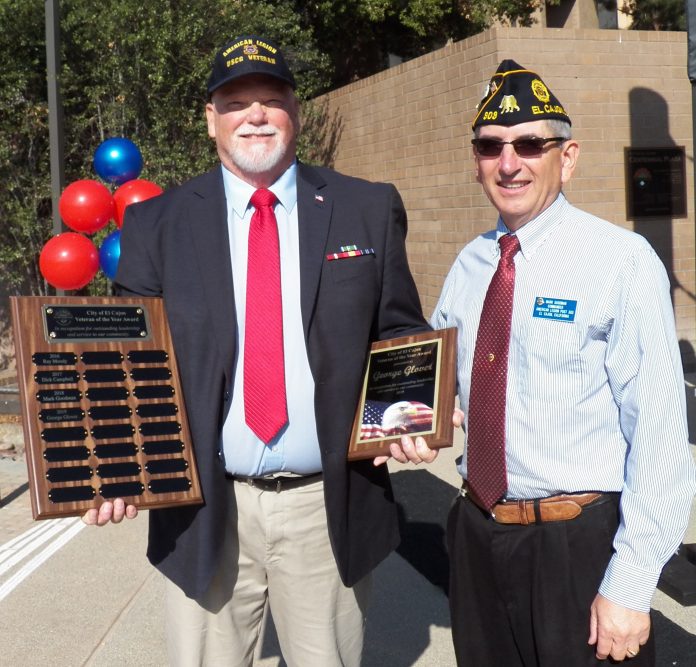 U.S. flags lined El Cajon's Main Street on Monday, Nov. 11 and an extensive version of the Stars and Stripes draped the outside of El Cajon City Hall. The Civic Center Plaza was the location for two Veterans Day ceremonies in honor of local servicemen and servicewomen.
El Cajon American Legion Post 303 kicked off the first ceremony at 11 a.m., the traditional time for ceremonies taking a nod to Armistice Day, the precursor to today's Veterans Day. (World War I hostilities ended on the eleventh hour of the eleventh day of the eleventh month of 1918.)
The commemorative annual holiday had a name change to Veterans Day in 1954 during the presidency of Dwight Eisenhower. World War II Navy veteran Ray Moody explained the reason for the new name.
"This was to honor the heritage of freedom provided by all veterans," Moody said.
With about 50 attendees at the ceremony, El Cajon American Legion Post 303 Commander Mark Goodman emceed the proceedings. Goodman noted that veterans of all wars offered their minds and hearts in service to the country, as well as risking harm to their physical bodies.
Children and youngsters in attendance read portions of the short essay, "The Veteran." Older members of the audience were invited to read quotes about military service.
A repeated emphasis during the program was on reaching an honorable world peace through the hardships of military service and risk.
"Veterans are willing to live as well as die for the country," Goodman said. But service does not end on the home front, he said. "Citizenship requires a higher order of discipline."
Former El Cajon City Councilmember Star Bales spoke eloquently of emigrating from Iraq to the United States.
"America is free," Bales said. "But freedom is not. Freedom is paid by the blood and sweat of veterans."
The City of El Cajon hosted a companion ceremony at 1 p.m. This was the seventh annual commemoration of Veterans Day by the city.
Mark Goodman led off the ceremony. Goodman was in attendance as a dignitary as Post 303 Commander and as El Cajon Veteran of the Year 2018-2019.
In a brief interview before the observance, Goodman described his time as El Cajon Veteran of the Year.
"It has been a great honor to serve in this role," Goodman said. "And it's doubly an honor to have served during the 100th year of The American Legion. I have been happy to raise awareness of veterans here. I wish the veteran who follows me the best, and I will help my successor however I can."
Goodman was unaware that the El Cajon Veterans Commissioner who bestowed the honor for him a year earlier was to be that successor.
George Glover was named El Cajon Veteran of the Year 2019-2020 during the city ceremony.
Glover humbly acknowledged as much in comments from the podium.
"I'm usually on the other side of this," said Glover.
Glover noted former Veterans of the Year who were there, Ray Moody and Goodman.
"It's really an honor to be included alongside these gentlemen," he said.
Glover further singled out his comrades from American Legion Riders Chapter 364, including "Irish" (Rod Slavin, ALR Chapter 364 Charter President) and "Big George" (George Marion).
"It is an honor and privilege to ride with them," Glover said. (Glover's ALR handle is "Gloves.")
"It's a real honor to be singled out like this," Glover said. "I accept this on behalf of all local veterans. This country has many freedoms, more than any other because of veterans. So please thank a veteran."
El Cajon Councilmember Bob McClellan provided history of President George Washington during July 1755 in his military service.
El Cajon Councilmember Phil Ortiz followed McClellan to the podium to thank the veterans and their family members.
"We honor you today and your family members as well," Ortiz said. "My grandfather was a World War II belly gunner. And I was fortunate to be a Boys Stater, learning how unique our country is, because of the sacrifices of veterans and their families. I challenge citizens to thank a veteran for service."
Boys State is an annual American Legion program for high school junior boys, who engage in a weeklong participatory exercise in forming a civil government in accordance with statewide laws and practices.
Valhalla High School students performed patriotic instrumental music for the ceremony, including an armed forces medley of anthems of all branches of the U.S. military services.