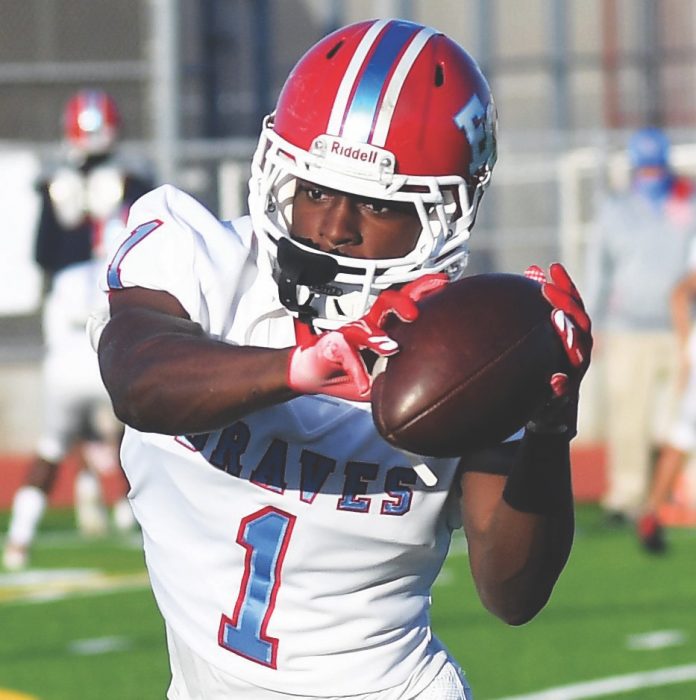 The high school football season has come to an end following a shortened regular season that consisted of six games for some teams and half that many for others (as opposed to a full 10-game regular season).
While there are no CIF playoffs, last weekend's slate of games held great meaning for many teams, the El Cajon Valley Braves foremost among them.
The Braves entered last Friday's season finale winless on the season (0-4) as did their opponent, the visiting Hoover Cardinals (0-3). The winner would end the season with a cherished win with which to send off their seniors.
After a season in which the ball took too many errant bounces for both teams, El Cajon Valley came out with a precious "W" by a final score of 20-14.
ECV head coach Nick Osborn called the non-league contest "one of the most exciting games I've ever been a part of."
"We started out the game rough with turnovers and execution errors that cost us points on the board," Osborn explained. "Hoover was also playing their best game as well as both teams were hungry for their first win. On both sides of the ball our guys were making plays. The defense had multiple stops in the first half to keep us in the game. The offense was moving the ball on the ground really well.
"The OL got us down to the goal line but execution errors led to Hoover stopping us on the one-yard line. We also had a long pass touchdown pass to Clarence Johnson called back for a holding penalty. We definitely kept the game closer than it should have been, but our guys never quit and won the second half."
Hoover led 7-0 at halftime but trailed 12-7 by the end of the third quarter following a pair of touchdowns by the Braves. The final quarter featured a pair of lead changes. The Cardinals went ahead 14-12 but the hosts closed out the victory with a touchdown and two-point conversion with three minutes to play in regulation.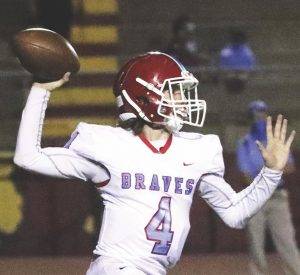 The Braves preserved their win by stopping the visitors on downs with one minute to play.
"Our defense came out after the half with two big stops," Osborn said. "One big stop on the one-yard line on fourth down. The next play Clarence took off for a 99-yard rushing TD. On another defensive series Joe (Malone) forced a fumble on our own 10-yard line after we fumbled on a mishandled snap. Clarence then took off for a 60-yard run to give us our first lead after the half.
"My hat goes off to Coach Will Gray and the Cardinals. They are a great group that played a great game. Our boys were relentless even after making mistakes which almost led to us losing this one. Our seniors really stepped up to make sure we stayed in this game and came out on top.
"Salvador Morales and Isaac Ochoa led the OL (329 yards rushing as a team), Joe made many critical plays on offense and defense (first down runs, forced fumbles, tackles forcing turnover on downs), Wendell (Walcott Jr.) was also force on the line of scrimmage on defense, Clarence had his best rushing performance (246 yards), Saul Orozco DT plugged the middle on defense. Very proud of the way they led their team through the whole game by making plays but also leading them with their hearts.
"I'm so happy for our seniors who got to finish out with these games and got to go out with an exciting win. We'd all been through a lot this past year and these will be memories they'll never forget."
Johnson, who the coach said "played his heart out," tallied 297 all-purpose yards with 246 yards on 13 carries, two kick-off returns for 51 yards and one punt return for six yards.
Malone accumulated 71 yards on seven carries while leading the team with 13 tackles, including 10 unassisted tackles. Walcott ranked second with 10 tackles, including 2.5 for losses.
"Joe forced two key fumbles which both led to TDs for us," Osborn said.
Sophomore Yasir Blair also had one fumble recovery.
Home of the Braves
El Cajon Valley finished 0-3 in Grossmont Valley League play, dropping contests to visiting Mount Miguel (21-13 on March 19), host Monte Vista (42-8 on April 1) and visiting West Hills (28-12 on April 9).
The Braves dropped a 22-6 non-league contest March 26 at Sweetwater High School in National City.
Despite finishing 1-4 on the season, El Cajon Valley ended the season ranked seventh among the section's Division V teams.
Tri-City Christian finished as the top Division V team, according to the MaxPreps rankings algorithm, followed by Manzanita League champion Holtville (4-2), Fallbrook (2-3), Palo Verde Valley (3-1), Mission Bay (1-2) and Crawford (3-2).
It's anyone's guess how those seven teams would stack up over a full season for playoff competition, and we'll never know in this pandemic-shortened season.
Johnson led the Braves on the season with 497 rushing yards and scored five total touchdowns (four rushing, one receiving) while Malone passed for 348 yards with three touchdowns and five interceptions.
Malone also rushed for 130 yards and one touchdown. Junior Jayden Barnett scored two touchdowns — one rushing and one receiving.
Johnson (35) and Malone (34) ranked one-two in total team tackles while Walcott had 28 stops. Thirty of Johnson's tackles were unassisted.
A fumble deep in their own territory late in the game set up Mount Miguel's game-winning touchdown in the teams' season opener.
Monte Vista out-rushed El Cajon Valley 267-71. Johnson led the Braves with 181 all-purpose yards and scored the team's lone touchdown and two-point conversion. He also led the Braves defensively with 10 tackles.
West Hills scored four rushing touchdowns while out-gaining the Braves 281-171 in total offensive yards.
The game at Sweetwater fairly summed up the type of season that befell the El Cajon team.
The Braves moved the ball up and down the field against Sweetwater but could not muster the big play to put them over the top, which the Red Devils were able to do to score the victory. Down 7-0, El Cajon Valley turned the ball over on downs at the four-yard line to miss a golden scoring opportunity to tie the game early on.
The Braves suffered a pair of bad snaps that put them in disadvantageous field position. A short punt set up the Red Devils' opening touchdown.
El Cajon Valley also gave up a safety late in the game.
But the Braves never quit in the game and their persistence was rewarded with a dramatic last-second touchdown on a desperation 67-yard scoring pass from Malone to Johnson on the final play of the game.
"The guys (on defense) made so many plays to give our offense a chance," Osborn said. "They really played their hearts out. We showed some flashes. We had some dropped balls. We started to click toward the end of the game. But you've got to give credit to Sweetwater. They're a tough team. They made some plays."
Sweetwater's offensive game plan focused on ball possession. The hosts racked up 280 total offensive yards — 278 on the ground.
The visitors had their moments — just not enough of them.
Malone finished the game with 12 completions in 21 passing attempts for 141 yards with one touchdown. He added 12 rushing yards on five attempts to finish the game with a 93.6 quarterback efficiency rating.
El Cajon Valley totaled 197 yards in offense.
Johnson carried the ball 11 times for 45 yards and caught four passes for 78 yards, including a touchdown. He finished the game with 123 total yards.
Barnett had one catch for 20 yards while sophomore Joshua McComb had two catches for 20 yards.
The visitors lost two fumbles.
Johnson led the Braves with seven tackles while Walcott had five stops. Both players caused one fumble while Malone had two recoveries on errant snaps.
West Hills 20, Santana 7
The Wolf Pack scored its second consecutive victory to end the season by capturing the coveted Mayor's Cup trophy against the cross-town rival Sultans.
"Like many teams, we played a bunch of young kids this year," West Hills coach Casey Ash said. "As a result, things didn't look great at the beginning of the season, but as the kids got up to speed, they got better and in the last two weeks showed what they were capable of.  It was a great way to end the season, and we have high hopes for the fall."
The Wolf Pack (2-3 overall, 2-2 in Grossmont Valley League play) received touchdowns from three juniors in the game: a pair of rushing scores from quarterback Braden Oberg and slot back Dylan Snyder and a passing score from Oberg to Max Conaway.
Conaway also had one interception for three yards while junior teammate Cohen Benavente ran back one pick 76 yards. Junior Trevor Imbimbo recorded two sacks.
Oberg led his team with 93 passing yards and 64 rushing yards. Conaway had four catches for 48 yards while Snyder had four catches for 45 yards.
The loss was the first of the season for Santana, which had entered the game with a 4-0 overall record, 3-0 in Grossmont Valley League play.
Senior quarterback Drew Temple passed for 180 yards and one touchdown to senior Jared Forster (nine catches, 135 yards).
The Sultans finished 4-1 on the season, 3-1 in league play, to finish in a tie with Monte Vista (3-2 overall, 3-1 in GVL) and El Capitan (3-3 overall, 3-1 in GVL) for the top league record.
Steele Canyon 27, Monte Vista 18
The Cougars finished the season on a high note by topping the host Monarchs to collect their second consecutive win. Steele Canyon finished the season 3-3, 1-2 in Grossmont Hills League play.
"It was a long season in the sense that it started all the way back in June and we didn't take much of any breaks," Cougar coach Scott Longerbone said. "We were very young.  We started nine sophomores and a freshman. I only had 12 seniors. So the good was that I got a lot of young guys the opportunity to play some very good competition. Other than the Cathedral game (49-0 loss) we were competitive in every game.
"The bad for me is the kids just not getting much of a break prior to the start of the next season.  We play a tough schedule in the fall: Eastlake, Madison, San Marcos, Saints, Lincoln, Cathedral and then our league is always tough as well.  We're pretty much gonna take this week off then we will be in the weight room starting next week."
Rising sophomore standout Major Givens paced Steele Canyon with 18 carries for 170 yards with two touchdowns in the season-ending victory. Givens scored on runs of three and 43 yards.
Senior Manny Lovering played his last game for the Cougars by scoring on a 48-yard punt return.
Steele Canyon collected three sacks (one each by juniors Temo Rangel and Camrien Hunt and senior Cannon Kanzius), one interception (junior Leon Gillis for a 24-yard touchdown) and one fumble recovery (senior Caleb Kaiser). Sophomore Keanu Pettiford led the team with 12 tackles.
Brandon Deacy booted field goals of 20 and 25 yards while scoring on a fumble return to put the hosts in front 13-12. He also had an interception.
Deron Whitley scored on a nine-yard run to pull the Monarchs back to within 20-13 with just under five minutes remaining in the fourth quarter.
The Cougars sealed the win on the pick six by Gillis very late in the game.