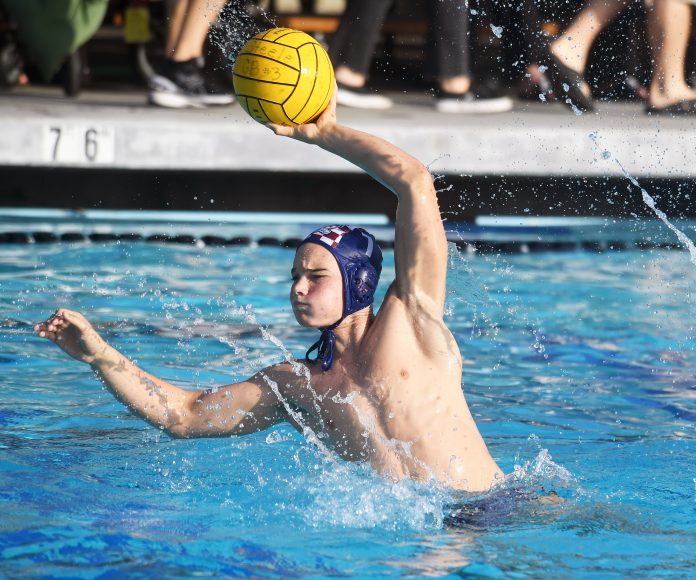 While the Steele Canyon High School boys water polo team came up short in its noble quest to win three consecutive San Diego Section division championships, the Cougars did score a first in the section by becoming the first team to qualify three times for the Southern California regional playoffs in the three-year history of that tournament.
Steele Canyon defeated Carlsbad, 15-10, in last Saturday's state play-in seeding game at La Jolla High School to secure the No. 3 seed in the Division II field. The Cougars are set to play sixth-seeded Northwood High School in the opening round on Friday, Nov. 22, at Ocean View High School in Huntington Beach.
The semifinals and finals follow on Saturday, No. 23, at Sagerstrom High School in Santa Ana.
Steele Canyon (20-6) should feel right at home with four of the eight teams in the division regional bracket from the San Diego Section.
Vista (21-8) is seeded first while La Jolla (18-10) is seeded second. Westview (22-6) is seeded seventh.
La Jolla meets Westview in a first-round match-up, with the winner to face the Steele Canyon-Northview winner in the semifinals.
The Cougars would love a rematch with La Jolla after the Vikings handed them a heartbreaking 11-10 setback in the section's Open Division quarterfinals on Nov. 6.
Steele won the Division III championship in 2017 and the Division II championship last year and was bidding to win the Open Division championship this season.
It was an untimely exit, Cougar head coach Dan Way said.
The four Open Division semifinalists earned automatic berths in the state regional playoffs, with the fifth-place team in the division also qualifying along with the section's Division I, Division II and Division III champions.
Fifth-seeded Steele Canyon met eight-seeded Coronado in a consolation semifinal game on Nov. 12. The Cougars won, 16-10, to advance to the fifth-place seeding game against Carlsbad — 17-12 winners over third-seeded Canyon Crest Academy in the consolation semis.
The Steele Canyon-Carlsbad state play-in game took place between last Saturday's Division II and Division I championship games at the Coggan Family Aquatic Complex in La Jolla.
Sixth-seeded Patrick Henry (21-8) defeated eighth-seeded Eastlake (17-13) by a score of 13-10 in two overtime periods to win the Division II title while top-seeded Westview topped second-seeded San Pasqual (23-8) by a score of 10-6 to capture the Division I championship.
The day opened with third-seeded Mt. Carmel (15-11) pulling a 15-7 upset over top-seeded Francis Parker (17-12) to win the Division III title; the quintuple header ended with the top-seeded Bishop's School (22-7) edging second-seeded Cathedral Catholic (15-14) by a 9-8 score in the elite Open Division final.
Bishop's defeated fourth-seeded La Jolla, 16-7, in the semifinals while Cathedral Catholic tipped third-seeded Vista 11-10.
Steele Canyon finished 8-0 in Grossmont Hills League play.
Way said he is proud of his team in battling its way into the state regional playoffs for the third consecutive year.
"It's not uncommon for many of the Open Division teams to have as many as 15 club players on their team, we have three," Way said. "What we've done is unheard of."
Way remains proud of the core group led by senior Trevor Moore that has led the Cougars program to new heights over the past four years.
"Until we won two years in a row, the school hadn't won a boys water polo championship at Steele Canyon," Way said.
It will be hard for the nine seniors to part ways with the team after this weekend's state playoffs are finished.
"We have been together four years," Way said. "They feel like a part of my family. We set a goal of winning the Open Division. We knew it would be difficult. We spent a day crying after the loss to La Jolla, then we rebounded and felt good about our win over Coronado."
The Cougars have to feel good about where they stand now.
"This is special for the kids," Way said.
Then and now
Way is among a select few individuals who have played in a section championship game and also coached in one (actually two with the Cougars).
Way was on the 1995 Bonita Vista team that lost 15-10 to Valhalla in the Division I championship game.
"When you're a player, it's all about you and your team," Way said. "It's family. You're striving together for a single goal.
"As a player, it seems you have more control. As a coach, you've got to lay it on the line and hope your players can perform."
Valhalla, which is still coached by Kent Houston, received the fifth seed in this year's Division I playoffs and advanced to the division semifinals, losing 10-5 to Westview.
The Norsemen (14-17) defeated 12th-seeded Clairemont, 18-5, in the opening round on Nov. 5 and upset fourth-seeded Poway, 9-7, in the quarterfinals on Nov. 9.
Grossmont (11-18) and Santana (11-18) joined Valhalla in this year's Division I playoff field.
Grossmont, seeded sixth, eliminated 11th-seeded Mater Dei Catholic, 17-9, in the first round, then upset third-seeded Point Loma, 8-5, in the quarterfinals before bowing out with a narrow 11-10 loss to San Pasqual in the semifinals. 
Santana, seeded ninth, lost 10-8 to eighth-seeded Rancho Bernardo in the first round.