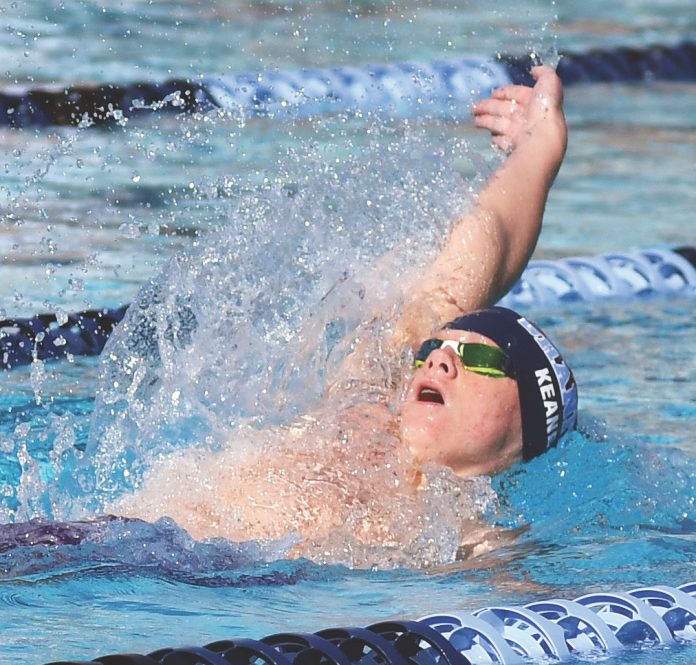 The San Diego Section will hold its swim and dive championships after all. The Division II meet is scheduled Friday while the Division I finals are scheduled Saturday.
Both marquee events will take place at Granite Hills High School.
However, it will be hard to match the excitement level of last Friday's Grossmont Hills League finals held at the eastern El Cajon school.
Each of the six schools in the league claimed at least one individual or relay champion, the diving competition included.
The boys team title was up in the air until Helix Charter High School senior anchor Jeffrey Keppler out-touched three other swimmers by a fraction of a second as they were each making a mad dash to conclude the meet-ending 400-yard freestyle relay event.
Grossmont and Helix entered the final event within striking distance of the team points lead while regular season dual meet champion Granite Hills and Valhalla were also vying to win the hotly contested race.
Keppler hit the wall in 3:20.85 — 0.18 of a second ahead of Granite and Valhalla, which tied for second place with identical times of 3:21.03.
Grossmont finished in fourth place in 3:21.48 — 0.45 of a second behind the Eagles and Norsemen.
All four teams clocked within 0.63 second of each other in a frenzied finish.
Helix wound up on top of the scoring heap with 430 points, followed by Grossmont in second place with 425 points and Granite Hills in third place with 376.5 points. Valhalla secured fourth place with 295 points, followed by Steele Canyon in fifth place with 283.5 points and West Hills in sixth place with 127 points.
The top two teams were separated by just five points.
"We had so many good swims from everyone," Helix Charter coach Joel Hull explained. "Everybody had a part in this. We knew it would be close. We just wanted to sneak in there somehow to get the win and we did it in that last relay. It was a lot of fun today."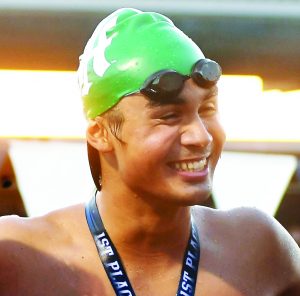 Keppler finished the league finals with three gold medals after winning the boys 50 freestyle in 21.70 and the 100 breaststroke in 59.79
Keppler out-touched Grossmont senior Ty Case (22.16) by 0.46 in the sprint freestyle while posting a three-second win in the breaststroke event over Valhalla sophomore Alexander Golu (1:02.80).
The meet was memorable for the Helix coach for other reasons. His daughter Riley, a freshman, won individual league titles in the 200 freestyle (1:55.75) and 500 freestyle (5:10.11).
Grossmont coach Gary Hull said he expected an exciting meet to unfold, and it most certainly did.
Thirteen races featured victories by less than a second in championship heats and seven more in consolation heats. Twelve races were decided by less than half a second, including some by just hundredths of a second.
Several league records and a host of school records fell across the board.
"The overall competitiveness of the meet was extraordinary," Valhalla coach Steena Harriman said. "For a year when many of our athletes had only competed in a handful of meets here and there, the level of competition was out of this world. From the girls medley to the boys 4×100, every race was exciting in its own way. I'm am so proud of my Norsemen for coming out and showing their best. We are very lucky to have such steep and fun competition around us."
Valhalla notables included sophomore Rachel Munch setting a new league record in the 200 individual medley (2:07.76) while placing second in the girls 100 breaststroke with a new school record (1:07.24).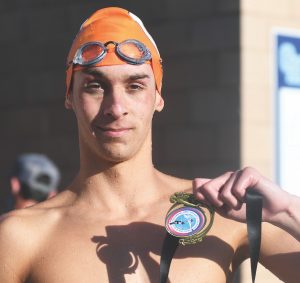 In the boys field, Norsemen junior Jack Forstot won the boys 100 freestyle with a personal best time of 48.39 to fend off Grossmont's Case (48.90) by a half-second. Forstot's time places him 10th overall on the all-time Valhalla leaderboard in the event.
"What a race!" Harriman exclaimed. "Jack dropped 1.7 seconds from his prelims time and bettered his own prior personal best 1.5 seconds. Jack works incredibly hard with his high school team and his club team. I look forward to see where his path for swimming takes him."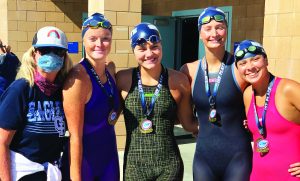 Ladies first
Regular season dual meet champion Granite Hills finished on top of the girls league finals with 490 points. The Eagles captured six first-place finishes in the 11 swim events, starting with setting a new league record in the meet-opening 200 medley relay.
"It was a fun meet," underscored Granite Hills coach Cathy Elgas. "The competition was intense and made everyone swim fast."
Freshman Brooke McCoy (backstroke), senior Rachel Sapper (breaststroke), junior Erin Kluge (butterfly) and sophomore Izzy Cox (freestyle) each swam legs on Granite Hills' record-setting medley relay unit that timed 1:48.53, winning by four seconds.
Cox would go on to have a monster meet by winning four gold medals. Besides the gold medal in the medley relay, she also claimed first place finishes in the 50 freestyle (24.86) and 100 freestyle (53.63) and swam the first leg on the victorious 400 freestyle relay unit (3:42.01).
Cox won both of her individual events in photo finishes. She slipped past Grossmont junior Kristen Furuholmen (25.17) by 0.31 second in the sprint freestyle and out-muscled Grossmont senior Laney Hall (54.18) by 0.55 second to win the longer distance.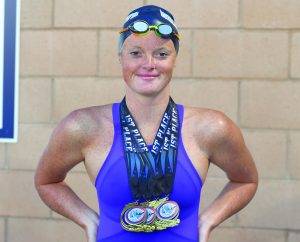 "I did better than I thought I would do," Cox said. "The season was tougher than I thought it would be. Pulling out the fourth medal was more than I expected."
Kluge won three gold medals. Besides earning the league record in the medley relay and swimming anchor on the 400 freestyle relay, she set a school record in winning the 100 backstroke (58.76) by 0.16 seconds over West Hills senior Jordyn Gonzales (58.92).
Both Kluge and Gonzales dipped under the previous league record.
Kluge was denied a potential fourth gold medal after being edged by a scant 0.03 second in the girls 100 butterfly, an event that included four entrants from the 2019 section finals. West Hills senior Camryn Gonzales — Jordyn's twin sister — touched in 57.52 while Kluge, the league record-holder in the event, touched in 57.55.
"It was my best time," Camryn Gonzales purred. "My strategy was just to go for it. I surprised myself."
Sapper won an individual gold medal in the 100 breaststroke (1:06.84) while swimming a leg on the record-breaking medley relay for two gold medals on the day.
Sapper's breaststroke medal came in a furious stroke-for-stroke duel against Valhalla's Munch that was decided by 0.40 second.
Both swimmers, teammates on the Heartland Swim Association, hugged immediately after getting out of the pool while sporting well-earned smiles.
"Rachel and Rachel have been teammates on Heartland for years," Harriman noted. "It was a very close touch. They have always pushed each other, and on top of that, they have a great friendship. It was a race that was well worth watching."
Both of Munch's individual events were heart-stoppers (and school record times). She edged Helix junior Maya Garcia-Hale (2:07.81) in the 200 IM by 0.05 second and placed second to Sapper in the breaststroke by four-tenths of a second.
The previous school record in the 200 IM for Valhalla was 2:08.07 set by Ali Davis in 2012. Cortney Bayuk held the previous school record in the 100 breaststroke of 1:07.40 set in 2013.
Defending league IM champion Jordyn Gonzales of West Hills finished third in 2:09.09 in last Friday's field.
Making a splash
Granite Hills sophomore Aidan Keane appeared on course to possibly win four gold medals to match Cox. He started off with a bang by swimming a leg on Granite Hills' victorious boys 200 medley relay team (1:40.74), then captured individual gold medals in the 500 freestyle (4:48.77) and 100 backstroke (53.62) before tying for second place in the meet-ending 400 freestyle relay.
It took a school record time by Keane to win the 500 freestyle ahead of Valhalla junior Eli Mohr, whose time of 4:49.11 put him 11th overall all-time at Valhalla. (The Norsemen school record in the event is by 1990 CIF champion Mitch Kohlbecker in 4:31.10.)
Despite being the longest race in the program, the 500 freestyle produced fast times. Five swimmers, in fact, dipped under the five-minute mark in the event. Following Keane and Mohr's lead were Helix sophomore Cameron Drake (third, 4:53.32) and Helix senior Aiden Molter (fourth, 4:57.18).
After squeaking out a 0.34-second win in the 500 freestyle, Keane won the backstroke event by more than a five-second margin over Steele Canyon junior Gabriel Morales (58.99).
"I put in a lot of work and effort and I think I got what I deserved," said Keane, who was making his debut at the league finals. "It paid off."
Granite Hills freshman Braden Felio made his league finals debut an impressive one with two gold medals, one silver medal and one bronze medal.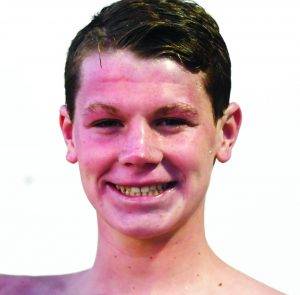 Felio won gold medals in the boys 200 medley relay and 200 freestyle (1:47.30), a silver medal in the 400 freestyle relay and a bronze medal in the 100 butterfly (55.87).
He has his eye on more medals. "There's still CIF," he said.
Grossmont sophomore Patrick Reynolds recorded an individual double in winning the boys 200 IM (1:59.20) and 100 butterfly (54.40) while also swimming a leg on the Foothillers' victorious 200 (4×50) freestyle relay team (1:33.19).
Reynolds won a fierce duel in the butterfly against Steele Canyon's Morales (54.90) that was settled by a half-second at the wall.
West Hills won the girls 200 freestyle relay in 1:40.42 to round out the event winners after nabbing second place in the girls 200 medley relay (1:52.56).
Granite Hills sophomore Chloe Morgan, a gold medalist in the girls 4×100 relay, recorded a runner-up finish in the girls 500 freestyle (5:27.80) while the Eagles placed second in the boys 200 freestyle relay (1:35.43).
Valhalla recorded second-place finishes in the boys 200 medley relay (1:41.63) and boys 200 IM (Molter in 1:49.01).
Grossmont posted runner-up finishes in the girls 200 IM (senior Aurelia Willett in 1:58.92), girls 200 freestyle relay (1:41.46) and girls 400 freestyle relay (3:42.65).
Steele Canyon senior Andrew Smith placed runner-up in the 200 IM (2:01.49).
Besides his victory in the 100 freestyle Valhalla's Forstot placed third in the 50 sprint (22.35).
Granite Hills finished with a combined (boys and girls) team score of 866.5 points, while Grossmont was second with 803 points. Helix finished third with 782 combined points, followed by Valhalla with 542 points, Steele Canyon with 483.5 points and West Hills with 412 points.
CIF finals
The format for this weekend's section finals includes morning prelims and evening finals with diving in the middle. The top 24 entries are being accepted for each event.