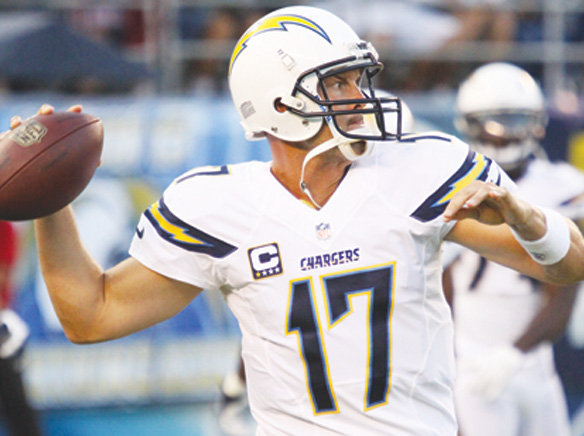 The month of September is here. In other words … it's football season.
With the high school and college football seasons already under way, it was time for the NFL season to get ready to kick off as well.
The month of September is here. In other words … it's football season.
With the high school and college football seasons already under way, it was time for the NFL season to get ready to kick off as well.
The 2013 NFL season officially began last Thursday, with the Denver Broncos squaring off against the reigning Super Bowl champion Baltimore Ravens.
But on Monday in front of a national television audience on ESPN's Monday Night Football, the San Diego Chargers began their quest to win their first Super Bowl championship.
The Chargers played very good football for the first three quarters against the Houston Texans — one of the teams picked to make it to this year's NFL championship game — but the hosts sputtered in the final quarter to come out on the short end of a 31-28 score.
The Chargers scored just 15 seconds into the game but it was the Texans who had the final say on a game-winning 41-yard field goal as time expired.
Despite the disappointing season debut, the Chargers appear to show some genuine promise under new head coach Mike McCoy.
New horizons
Fans appear to have moved past last year's disappointing season and are ready to move forward with the establishment of a new coaching staff and front office for the Chargers.
McCoy, who previously was an offensive coordinator for the Denver Broncos for three seasons, replaced Norv Tuner as head coach in January.
McCoy and new general manager Tom Telesco have addressed many of the Chargers' needs at certain positions.
Upgrades have been made to the offensive line through free agency and draft picks and it seems that the Chargers have improved at the line of scrimmage, at least on paper.
Key additions such as first round draft pick right tackle D.J. Fluker and free agent left tackle King Dunlap will help quarterback Phillip Rivers in pass protection situations. Rivers was sacked an astounding 49 times last season.
Not only should both Fluker and Dunlap help in pass protection that almost seemed non-existent last season, the two offensive lineman should help create running lanes for running back Ryan Matthews this season.
Mathews, however, has struggled to stay healthy and hasn't played a full season since he was drafted as a Charger back in 2010.
If Mathews is able to stay injury free for the entire year, the Chargers' running back should be projected to have a solid year.
The Chargers came out firing on Monday. Rivers threw four touchdowns passes, including one to Mathews, two to Eddie Royal and another to former SDSU standout Vincent Brown, as the Chargers built a seemingly insurmountable 28-7 lead.
Nuts & Bolts
On the defensive side of the ball, the Chargers are filled with young talent and players looking to play major roles this season.
Impact players on the defensive side of the ball include Pro Bowler and three-time all-pro strong safety Eric Weddle and newly acquired free agent outside linebacker Dwight Freeney from the Indianapolis Colts.
Weddle is one of the more veteran defensive players the Chargers have on their roster and is known as a ball hawk for his instinctive nature and play around the football.
Freeney was obtained after outside linebacker Melvin Ingram suffered a season ending torn ACL earlier in the off-season.
The veteran Freeney should be able to provide a similar pass rush to that of Ingram's.
But if it wasn't already apparent, all eyes will be on second-round inside linebacker draft pick Manti Teo from Notre Dame.
Teo was involved in a faux girlfriend scandal that made national headlines earlier in the year. He will be looking to put the story behind him with solid play in his rookie campaign.
One of the biggest mantras for the Chargers is to be able to stay healthy throughout the year. In recent seasons, it has been injuries that have been the most detrimental to the team.
Thus far, wide receiver Danario Alexander has been placed on season ending injured reserve after a torn ACL and, as previously mentioned, Ingram is out with an ACL injury as well.
However, with just a little luck on their side, the Chargers could have a chance at earning a wild card spot and be able to sneak into the playoffs.
The AFC West will be challenging with the Super Bowl contending Denver Broncos stealing the spotlight.
Trent's Picks
Super Bowl match-up: San Francisco 49ers vs. Denver Broncos … stout defenses, dynamic offenses.
Super Bowl champion: San Francisco 49ers … Colin Kaepernick's first full year at quarterback is a success.
Most improved AFC team: Kansas City Chiefs … new quarterback (and Helix alum) Alex Smith, new head coach Andy Reid and upgrades to offensive line.
Most improved NFC team: Philadelphia Eagles … Chip Kelly helps team double their amount of wins from last year.
Sleeper team: Cleveland Browns … new coaching staff, front office; Brandon Weeden, Trent Richardson have breakout year under Norv Turner.