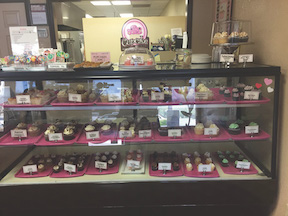 The Cupcake Store owner Yvette Nolta credits the community of Santee for keeping small businesses going while doors are shuttered for social distancing to prevent the spread of COVID-19.
Recently "a gentleman put a $100 bill in our tip jar, just put it in and walked out again. He was so thoughtful and generous. On Wednesday, people just put in so much that it all added up.  I can't even explain what a blessing it is," Nolta said.
The shop owner, who grew up in east county, has been in business for eight years and says she has been showered with community support.
"I grew up out here and to see the support of a small business, especially in times like this, it makes you love what you do," Nolta said.
Although Nolta said she is now down to about 25% of her usual orders for this time of year, the shop is still receiving special orders for family celebrations.
"People are still calling in orders for at-home celebrations, birthdays, graduations," Nolta said.
Like many restaurants in the area, the Carlton Hills Boulevard bakery is offering home delivery and curbside pickup for customers who would like to remain in their car.
However, Nolta said the challenge has been guessing at how much to make in advance for individual purchases as the bakery is allowed to have two patrons in the lobby and is still open for takeout.
"With this situation, we don't know how many people to expect will buy anything. You can't base anything off of last year's numbers so the challenge is planning ahead.
She says the small business has had to modify their hours but hasn't had to lay anybody off.
"We're making it work. In fact, we're hiring back one of our previous employees who went to a high-end bakery that is now struggling," Nolta said.
As a side project, Nolta said that her business partner, Anne Montgomery has always offered homemade aprons for sale at the store but recently added home sew facemasks as well.
"They're going gangbusters.  She's only charging five dollars, it's not enough really but it's her baby, a way to provide something to the community," Nolta said.
Despite some adjustments to scheduling, Nolta said the bakery is keeping on with their usual offerings: at least ten flavors of cake on a daily basis. The shop also offers gluten-free goodies.
Chuckling, Nolta says the best seller is peanut butter, always.