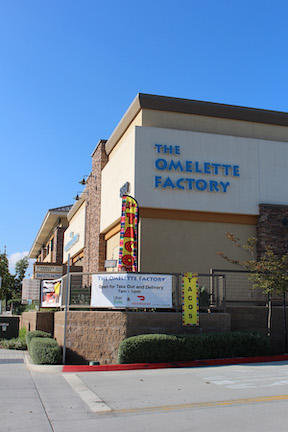 Omelette Factory Manager Diane Campbell says they decided to treat COVID-19 social distancing as a chance to try something new and are now offering dinner items with extended hours of business.
"Our chef, Oscar Gonzalez was working here all day, then going down to National City to cook at a second restaurant but they had to temporarily close. Our owner [Ralph Konig] suggested he try making a few of the dinner items up here," Campbell said.
She says Gonzalez has been with the family over 20 years and knows what their customers want on the menu.
The response to the new dinner menu was so positive, management decided to extend business hours and instead of closing at 3 p.m. they now close at 9 p.m.
"We now have tacos, tortas, burritos, quesadillas, combination plates. People seem to really like having more menu options," Campbell said.
People also seem to like delivery. Campbell laughed and said the mimosas and bloody marys to go have worked out especially well.
More seriously, she says it has been rewarding to get to know their neighbors, the seniors living at Cameron Estates mobile home park adjacent to the restaurant.
Still, Campbell says, the restaurant is down to a fraction of their usual business and she sees the owner worry for his staff.
"We only have a few cooks working, no busboys, no kitchen help. For the first five weeks it was just myself and one cook. Ralph is concerned about people being home for so long and not getting paid.  I watch him check on his employees, wanting to make sure everyone is taken care of," Campbell said.
"This whole thing has been hard. He's been in here for six weeks straight, seven days a week.
She said the bottom line is they are short-staffed but managing to keep the business open through a combination of adding more menu items, extending hours of operation, and relying on delivery services like GrubHub, DoorDash and UberEats.
However, Campbell said, they are eager to reopen and serve their regulars in person.
Angela Tuberg rode up on her beach cruiser Tuesday morning, empty cup in hand, seeking coffee.
"Their nutty french toast is the best thing I've ever eaten," she said.
She was followed shortly by Amaya Sortiz who was picking up an order to go.
"With all this going on, I've started picking up more takeout because I don't want to deal with all the hassle at the grocery store.  This place has huge portions and they are really friendly," Sortiz said.
The Santee restaurant has over time established a familiarity that carries over to their new approach to doing business.
"We're a family business and we get to know our regulars. Getting to know them is a big deal," Campbell said.
"We really enjoy getting to see people when they come to pick up their orders. We miss them terribly."