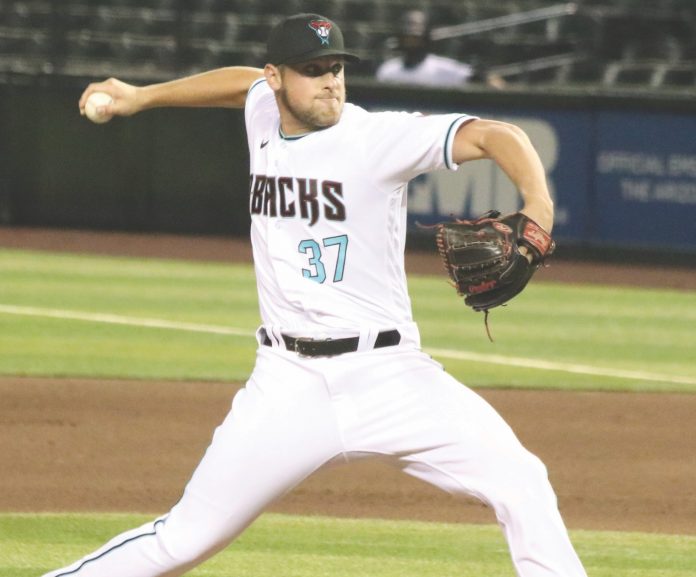 Kevin Ginkel has lived a dream the past two seasons with the Arizona Diamondbacks in Major League Baseball.
While the El Capitan High School and Southwestern College alumnus has yet to make it to postseason competition, the ride to the top has been exhilarating.
"Each level I went up — from high school to Southwestern College, from the University of Arizona to pro ball, and to now the Big Leagues — I've learned to grow and mature for my age each level I went up," Ginkel explained. "I always had the mindset that the journey I'm on is all part of the process.
"The biggest jump is going from college to pro ball because now this is a job and the expectations have been magnified. My time at SWC allowed me to grow and mature mentally and physically.
"I walked onto the campus weighing in at 185 pounds and transferred to U-of-A weighing in at 210 pounds. My experience at SWC was so great and I'm still friends with teammates, coaches and people who work at the school as well. Our teams had a lot of success as well making the playoffs both years in 2014 and 2015."
Ginkel played varsity baseball at El Capitan before playing two seasons at the community college level.
He recorded 17 wins as a junior and senior with the Vaqueros with a sterling 1.07 earned-run average and 113 strikeouts in 124.2 innings pitched. He held opponents to a .145 batting average while hitting .583 with one home run and five RBI in 13 plate appearances.
He advanced to the College World Series with the Arizona Wildcats and won two minor league championships en route to being called up to the Diamondbacks on Aug. 5, 2019.
It was all part of the process.
"I think San Diego County has some of the best amateur baseball in the country," Ginkel pointed out. "We've had some amazing talented players go to college, get drafted and play in the Big Leagues. I don't think it gets enough credit sometimes. I played in two CIF finals my junior and senior year at El Cap. Those big moments have prepared me for situations that happen in Big League games today and those moments have helped mold me.
"I've pitched in big games during my high school career and I could go on and on about some of them, however. I had great teams there and I love that I was a part of those teams because I wouldn't be where I'm at if it weren't for them."
Ginkel played for six teams during his four years in the minor leagues after being drafted in the 22nd round of the 2016 MLB amateur draft by the Diamondbacks.
He finished 3-0 with a 1.48 earned-run average with 28 strikeouts in 24.1 innings during his breakout rookie MLB season.
"I've won two pro ball championships since being drafted in the D-backs organization," Ginkel said. "Winning promotes positive feedback for your hard work and it's really hard to win. A lot of people don't realize how hard and how much sacrifice there is in winning a championship.
"I've been part of some amazing teams and great runs, and they've helped me be the best I can be day in and day out. I'm so proud to have won a championship in the times I was developing and now I'm looking forward to winning a World Series in my career."