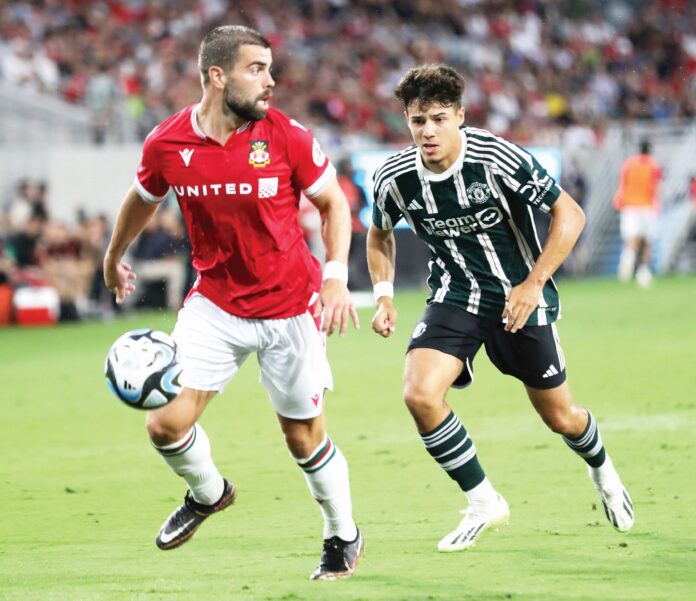 Major League Soccer is coming to San Diego in 2025. Judging by attendance figures posted in recent international matchups at Snapdragon Stadium, the region appears ready to support what stands as the top domestic men's professional league in North America.
Wrexham AFC defeated Manchester United, 3-1, in a friendly July 25 in front of a sold-out record crowd of 34,248. Fans were treated to three goals in the first half — Elliot Lee in the 29th minute and Aaron Hayden in the 36th minute for Wrexham and one by Man United's Marc Jurado in injury time. Sam Dalby closed out scoring in the highly anticipated match in the 69th minute.
The game marked Man U's first trip to the United States in five years while Wrexham ranks as the third-oldest club in the world with a storied history of its own. It plays in a 159-year-old stadium.
Two days later, the San Diego Loyal of the USL Championship, one tier below MLS, hosted Borussia Dortmund in an international friendly. Dortmund won 6-0 in front of 12,207, the largest crowd to see a Loyal home game. The match against Dortmund marked the Loyal's first match against a European club and its first game ever played in Snapdragon Stadium.
Goal-scorers for Dortmund included Julien Duranville (second minute), Youssoufa Moukoko (27th minute), Marco Reus (61st minute on a direct free kick), Thomas Meunier (62nd minute), Sebastien Haller (68th minute, penalty kick) and Paul Besong (89th minute).
The teams played the second half fairly evenly with the Loyal stacking up well in the statistical column with the elite Bundesliga club. The Loyal owned a 7-4 advantage in corner kicks
In absence of MLS, the Loyal has carried the torch locally for men's pro teams since its inception in 2019 through the efforts of U.S. international icon Landon Donovan as executive vice president of soccer operations and head coach through the 2022 season.
The Loyal just missed making the playoffs its inaugural 2020 season amid a campaign interrupted by the COVID pandemic.
The Loyal, which finished the shortened season with a 6-5-5 record, remained loyal to team members by forfeiting two matches because of racial and homophobic slurs directed at their players by opponents.
The team qualified for the playoffs its second season in the league with a 14-12-6 record (third place in the Pacific Division) and reached the quarterfinal round. The team finished in second place in the Pacific Division with an 18-10-6 record in its third season of play and again advanced to the quarterfinal playoffs.
The Loyal is playing its fourth season this summer, the first under new head coach Nate Miller, and kicked off a key fivegame homestand with a 2-0 victory Sunday against the Colorado Springs Switchbacks FC at USD's Torero Stadium.
The win kept the San Diego team in fourth place in the Western Conference standings behind the Sacramento Republic (first place, 11-3-8 record, 41 points), San Antonio FC (second place, 10-4-7 record, 37 points) and Oakland Roots (third place, 9-6-7 record, 34 points).
The Loyal's 33 points are one better than fifth place El Paso Locomotive (9-7-5) and two on top of sixth place Orange County SC (9-9-4). Colorado Springs (9-11-2) sits four points arrears of the Loyal.
The top eight teams out of 12 in both the Western Conference and Eastern Conference qualify for this year's playoff tournament.
With five teams separated by just five standings points, the Loyal sits in a good position but will be fighting for valuable seeding points as the season wanes.
While Torero Stadium is intimate and perfect of mid-size soccer events, its seating capacity is just 6,500 compared to 35,000 for Snapdragon Stadium.
Despite the disparity in venues (and arguably prestige), Loyal supporters have been very loyal to the USL Championship team with near-sellout crowds and near non-stop noise and clatter.
Some thought the Loyal would somehow move up to MLS status but MLS elected to go with the $500 million plucked down by Mohamed Mansour and his ownership group, which includes the Sycuan Band of the Kumeyaay Nation, to buy an expansion team in the league, which may be getting its biggest exposure at present.
MLS now boasts 30 teams with the addition of the newest Southern California market.
The MLS brand carries weight.
A day after the announcement that San Diego would receive a team in the league, 5,000 season ticket deposits were sold.
The team, with its current San Diego Football Club (San Diego FC) place-holder tag, is expected to announce its logo and colors before the end of the year.
California now has four MLS teams: San Jose Earthquakes, L.A. Galaxy, L.A. Football Club and San Diego FC.
Despite the impending arrival of MLS, the Loyal has stated it intends to continue operating in America's Finest City.
"We want to take a moment to express our deepest gratitude for your unwavering support over the past four years. You have made our dream of bringing professional soccer to San Diego a reality," Loyal chairman and owner Andrew Vassiliadis said in a written statement to fans posted on the team's website on May 10. "Together, we have created a community of fans, families, players, and civic leaders who bleed Torrey Green. Your memories at our games, photos with our players, and pride in wearing our crest in the stands have been the lifeblood of our success.
"And we are humbled by your loyalty.
"We have become aware of an independent ownership group that intends to launch their own club in San Diego. Our unwavering commitment is to the vision of growing soccer in this city, and we want to make that abundantly clear.
"Landon Donovan, the entire San Diego Loyal team and I are dedicated to this mission, and we will continue to work tirelessly to achieve it. Our passion for soccer and for our community will never falter.
"San Diego, we are one with you. Our love for this city runs deep. This is our home, and we are proud to be part of its rich and diverse fabric.
"Our plan is simple. We aren't going anywhere." #StayLoyal
Getting their kicks
There appears to be plenty to cheer for where the Loyal is concerned, however the club may fare in future head-to-head competition with the as-yet-unnamed San Diego MLS team.
The Loyal received goals from Joe Corona and Ronaldo Damus and a clean sheet from goalkeeper Koke Vegas to buttress Sunday's win that raised the team's record to nine wins, five losses and six ties through 20 of 34 regular season matches this season.
The goal was the third of the season for Corona, a graduate of Sweetwater High School and 2008 San Diego Section Player of the Year, who is playing in his first season with the Loyal after 10 seasons in Mexican professional leagues, most notably with the Club Tijuana Xolos, and two seasons each in MLS with the L.A. Galaxy and Houston Dynamo.
Corona has extensive local ties. He scored the lone goal in Sweetwater's 1-0 victory over Oceanside in the 2008 San Diego Section Division II championship game at Helix High School.
He played one season at San Diego State University before signing a professional contract. He has represented both the United States and Mexico in international competition. He was on the U.S. U23 team that just missed qualifying for the 2012 Summer Olympic Games. He made 23 appearances for the United States senior men's team from 2012-18.
Damus, a 23-year-old native of Haiti, scored his team-leading sixth goal of the year. Vegas has a 1.18 goalkeeping average.
Sunday's win came on the heels of an extended four-match road trip that kept the team away from its home pitch for more than a month. The win also extended the team's unbeaten streak to four games (three wins, one tie) against USL competition.
The Loyal hosts Orange County SC on Saturday, Aug. 5, before completing its five-game homestand with games against Loudon United FC on Aug. 9, Memphis 901 FC on Aug. 12 and New Mexico United on Aug. 19.
The USL Championship regular season extends through Oct. 14 as it contends head-to-head with high school and college football, college men's and women's soccer, the end of the pro baseball season and the start of the NFL season for fan support.
The Loyal hosts Oakland on Oct. 7 in its regular season finale.