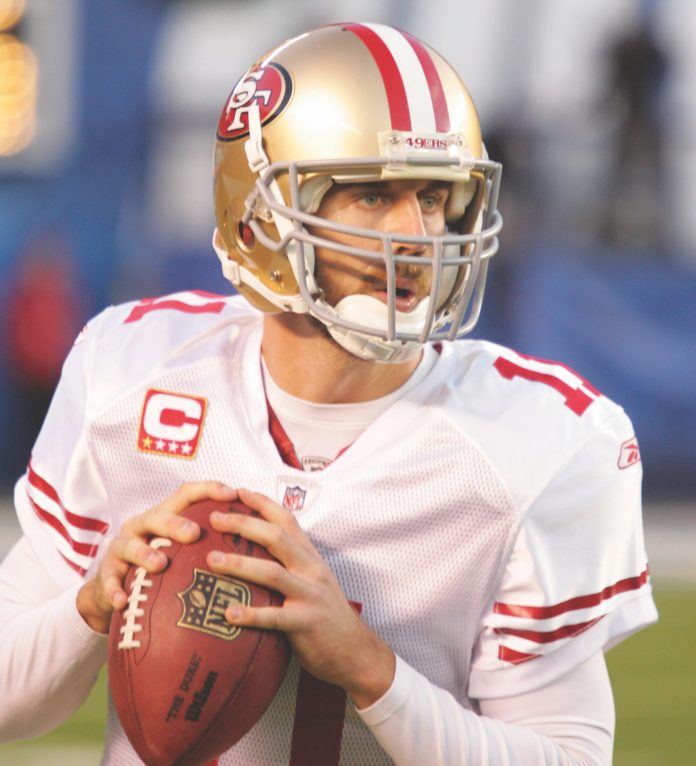 Veteran quarterback Alex Smith took a big step toward solidifying his status as the NFL's Comeback Player of the Year after leading the Washington Football Team to a commanding 41-16 NFC East victory against the host Dallas Cowboys on Thanksgiving Day.
Smith, a 2002 graduate of Helix High School in La Mesa and winner of two San Diego Section titles with the Highlanders, completed 19 of 26 passing attempts for 149 yards with one touchdown and one interception to win his second consecutive start after taking over the reins of the team from injured signal-caller Kyle Allen three games ago.
Smith is 2-1 in field action with Washington this season while completing 69 percent of his passes for 1,067 yards with three touchdowns and five interceptions.
In 171 career NFL games, Smith has thrown for 35,135 yards with 196 touchdowns and 106 interceptions while completing 62.6 percent of his passes.
The Associated Press NFL Comeback Player of the Year award, as it is officially known, is presented annually by the Associated Press to a player in the NFL who has typically overcome adversity from the previous season, including injuries or poor performances.
The award, which is selected by a nationwide panel of media representatives, has been presented since 2011 as part of the NFL Honors ceremony held the day prior to the Super Bowl.
Recent winners include a veritable who's who in NFL trappings: quarterback Tom Brady with the New England Patriots in 2009, quarterback Michael Vick with the Philadelphia Eagles in 2010, quarterback Matthew Stafford with the Detroit Lions in 2011, quarterback Peyton Manning with the Denver Broncos in 2012, quarterback Philip Rivers with the San Diego Chargers in 2013, tight end Rob Gronkowski with the Patriots in 2014, safety Eric Berry of the Kansas City Chiefs in 2015, wide receiver Jordy Nelson of the Green Bay Packers in 2016, wide receiver Keenan Allen of the Los Angeles Chargers in 2017, quarterback Andrew Luck with the Indianapolis Colts in 2018 and quarterback Ryan Tannehill with the Tennessee Titans in 2019.
Quarterback Chad Pennington is the only two-time winner of the award — 2006 with the New York Jets and 2008 with the Miami Dolphins.
Smith appears to be the front-runner for the current 2020-21 season.
He was injured in a 2018 game while playing for the then Washington Redskins in a game against the Houston Texans. The leg injury was so severe — a compound fracture of his tibia and fibula — that television networks shied away from showing it on replays.
The battle to return to the playing field was only beginning for Smith, however, after suffering a series of infections and 17 surgeries. He missed the remainder of the 2018 season and all of the 2019 season while recovering.
His story — profiled in the documentary film "Project 11" — is one of true inspiration, courage, grit, determination and perseverance as Smith fought not only to regain his ability to walk, much less play professional football again, but just to live.
It's a story of triumph and personal pride that springs from his humble, hard-working demeanor.
Thus, the victory on Thanksgiving Day was especially meaningful for Smith. It was made even more satisfying coming against a divisional opponent.
"It's hard to put into words," Smith said in a post-game media conference. "I never would have dreamt in a million years something like this would be happening. (I'm) just thankful for it and making the most of every day."
With the win, Washington improved to 4-7 and temporarily moved into first place in the NFC East standings until the New York Giants (also 4-7) defeated the Cincinnati Bengals, 19-15, on Sunday to take over the division lead based on the teams' head-to-head tiebreaker.
The Philadelphia Eagles lost, 23-17, to the visiting Seattle Seahawks (8-3) on Monday to slip to 3-7-1.
The Cowboys dropped to 3-8 on the season and occupy last place in the division standings. It was the fifth loss in six games for Dallas after losing the services of quarterback Dak Prescott for the season with an ankle injury.
"Thanksgiving has a special significance for me and my family," Smith said. "It was two years ago that we found out about the infection and I got rushed into emergency surgery and changed my life forever.
"Never in my wildest dreams did I think that I'd be here two years later, full circle. I'm so appreciative of so much and so thankful to be here, the opportunity to still be doing this and enjoying every minute of it."
Washington led 7-3 after the first quarter and 17-13 at halftime.
Antonio Gibson scored on a five-yard run to cap a 12-play drive that consumed 6:53 after Greg Zurlein put the host ahead, 3-0, on a 33-yard field goal.
The Cowboys led, 10-7, when quarterback Andy Dalton hit Amari Cooper (six catches, 112 yards) on a 54-yard scoring play.
The visitors responded with a 23-yard field goal by Dustin Hopkins to tie the game 10-10. Smith then connected with tight end Logan Thomas on a five-yard scoring pass to take a 17-10 lead.
The first half ended with a 32-yard field goal by Dallas.
Washington opened the second half with a 32-yard field goal by Hopkins to take a 20-13 lead.
However, the Cowboys were able to cut the deficit to one point, 20-16, when Jaylon Smith intercepted Smith and returned the ball to the four-yard line. Receiver Terry McLaurin ran down Smith to prevent a touchdown and Washington's defense held from there, forcing the Cowboys to settle for a 28-yard field goal.
Washington pulled away with 21 fourth quarter points to sweep the season series between the teams.
The big momentum changer came early in the final quarter when the Cowboys were facing fourth-and-10 from their own 24-yard line. Instead of punting the ball, Dallas head coach Mike McCarthy called for a fake punt, which backfired as Washington stuffed the play for a one-yard loss.
Gibson scored on a 23-yard run up the middle on Washington's first play from scrimmage after taking over on downs to increase its lead to 27-16.
Smith, a consummate field manager, led Washington on a time-consuming 10-play drive on its next series, which Gibson capped with a 37-yard touchdown run to make the score 34-16.
The visitors were not finished scoring as Montez Sweat tipped and intercepted a pass from Dalton on the Cowboys' following series and returned the ball 15 yards for a touchdown.
The touchdowns by Gibson and Sweat came seven seconds apart.
Gibson led all scorers in the game with 20 carries for 115 yards and three touchdowns. He leads NFL rookies with 11 rushing touchdowns.
Two-time NFL rushing champion Ezekiel Elliott was held to just 32 yards while losing one fumble for the hosts.
McLaurin led Washington's receivers with seven catches for 92 yards.
Smith was sacked three times while Dalton was sacked three times and intercepted once.
Washington has won three of its last five games after starting the season 1-5. Management has indicated it wants to sign Smith for the 2021 season.
Smith is obviously making new fans — and inspiring others — every time he steps onto the field.
Washington has played 11 of 16 regular season games on its schedule and has just one divisional game remaining (Jan. 3 against the Eagles).
Smith & Co. look to be challenged with non-divisional match-ups against the Pittsburgh Steelers (10-0 through Week 11) on Dec. 7, the San Francisco 49ers (5-6) on Dec. 13, Seattle on Dec. 20) and Carolina Panthers (4-8) on Dec. 27.
A look back
Smith logged an impressive 25-1 record as a junior and senior at Helix, setting a school record with six touchdowns passes in one game. He went on to play three seasons at the University of Utah while crafting a 21-1 record with the Utes to become the NFL's No. 1 draft pick by the 49ers in 2005.
He was president of his senior class at Helix and was an academic overachiever at Utah.
Smith and future Heisman Trophy winner (since returned) Reggie Bush help guide the Highlanders to section championships in 2000 and 2001.
The 2001 win over Oceanside is now considered a high school classic in a match-up of the state's two top-ranked Division II teams.
The Scotties rebounded to take a 28-9 lead in the third quarter after initially trailing 9-0. Helix went on to build leads of 28-23 and 35-23 before the Pirates closed to within five points, 35-30, with 39 seconds to play.
Oceanside recovered the ensuing onside kick and quickly advanced the ball to the Highlander 25-yard line with 24 seconds left.
But Helix secured the dramatic win following a leaping, one-handed interception by Larry Pierce that Pierce subsequently returned 70 yards for the game-clinching touchdown in a 41-30 Helix victory.