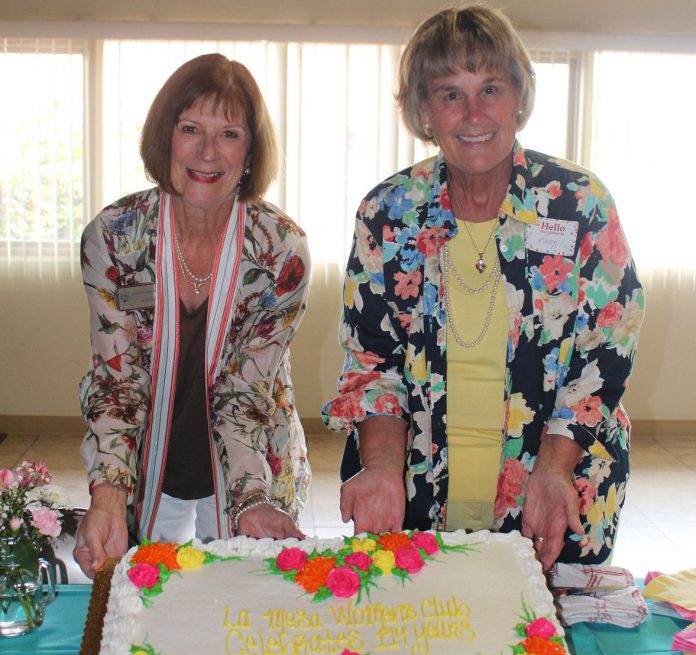 La Mesa Woman's Club Co-President Betsy Quinn stood at the podium inside the 1950s-era meeting hall, addressed about 45 older women who turned up on Monday to celebrate the club's 119th anniversary and passed along a phrase from a state leader: "Change is Beautiful".
"Without change, there would be no butterflies," Quinn said, a fitting reminder to club members in this year where they have navigated meeting on Zoom, changed how they approach community service projects to accommodate the pandemic, are selling off their vintage building so the land can be developed into new apartments, and celebrated birthdays for three different ladies— Dorothy Dixon, Esther Jones and Gertrude Finley who all turned 100 this year.
Looking back through historical records, the co-president said, she realized that many early members were identified solely by their married title of 'Mrs.' and their husband's last name, despite being personally responsible for hours of work starting a La Mesa library, developing public schools in the area and undertaking major philanthropic projects.
"We've come a long way because now we have names," she said with a light laugh.
Dorothy Dixon, 100, has been a member of the General Federation of Women's Clubs, including both the La Mesa Woman's Club and the El Cajon Woman's Club for 63 years, a membership that began when there were fewer than 20,000 residents in La Mesa and her El Cajon neighborhood was full of orange groves.
"Volunteering like that is kind of a thing of the past but you know, we sponsored some really good educational scholarships," Dixon said.
Her observation is that women, having landed in the workforce, might not have as much time to "be part of things like the Woman's club" although she thinks it is "wonderful that they're all out there and I'm thrilled they all have jobs".
Dixon, who has held many positions over her years in the clubs, hasn't been able to lead her long standing Bridge group in many months but remembers it being both a vital social outlet as well as a consistent fundraiser for the club's scholarship fund.
Her years of volunteerism are marked by anchor points in history.
A baseball fan along with her husband and son, she remembers being at Lane Baseball Field, home of the Padres from 1936 to 1957 when she heard that former President Franklin D. Roosevelt died.
"I also remember when I heard that Kennedy had been shot. I was just getting ready to go down to El Cajon and do some shopping with club friends on 30th street," Dixon said.
These days, she sticks mostly to home as she gave up her driver's license at 95 but misses traveling, a favorite hobby she and her husband— married for 64 years and 11 days— enjoyed together through 40 states worth of road trips including Utah, where Dixon said she nearly got her only speeding ticket for "going about 70 miles per hour, which is really nothing".
"I do miss driving all over… and the club, oh gosh, I miss the camaraderie of playing Bridge, the people— I miss the people," Dixon said.
That camaraderie is evident at Monday's meeting: members who have been with the group over 50 years,  asked to stand up for recognition were then met with a loud round of applause; the three youngest ladies are welcomed to the meeting along with the Imperial Beach Night Owls, the Imperial Beach Woman's Club, the Friday Club of National City and the La Mesa American Legion Auxiliary.
Through it all, laughter reverberates throughout the room that is decorated with brightly colored flowers and has a crepe-paper Maypole standing in the corner for decoration.
State Senator Brian Jones' representative Andrew Hayes, on hand to present a commemorative award to the club described their work as encompassing a "legacy of service".
A table stacked with packages of diapers stood near the rear of the room, part of a current donation drive. The club is also gathering donations for a food pantry at Sharp Grossmont hospital, collecting new socks for Crisis House, and volunteering with the Honor Flight program that offers veterans once-in-a-lifetime trips to the war memorials in Washington D.C., all projects that were able to inch forward throughout the pandemic.
"We are mothers, daughters, community leaders with diverse backgrounds working to better the lives of our neighbors," Quinn said.
Dixon said the secret is to maintain a good attitude.
"You know, I never had a big family but I respect women and I'm just so grateful to all the friends I made through the years with the club. I think that influenced my life a great deal," Dixon said.
Everything, she said, works out the way it is supposed to.