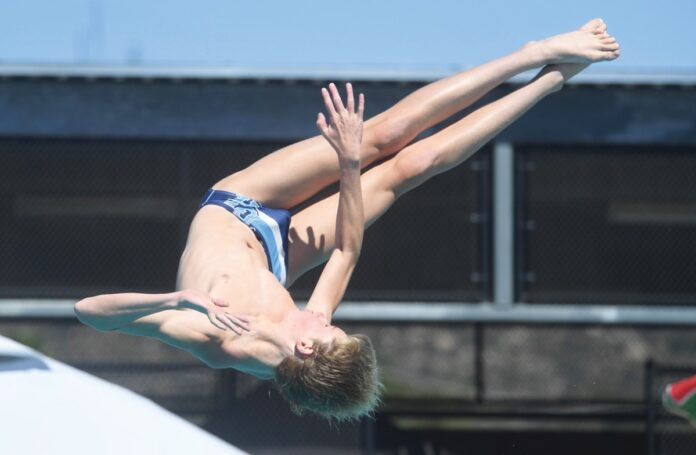 Granite Hills freshman Chance Hall appears to have a spectacular diving career laid out before him if the results of last Friday's San Diego Section diving championships are any indicator.
Hall, the reigning Grossmont Hills League boys champion, placed third overall in the Division I field to earn a fast track to this weekend's state championship meet in Clovis.
The top four divers in the combined Division I and Division II fields will represent the San Diego Section at Thursday's elite meet at the Clovis Olympic Swim Complex at Clovis West High School in suburban Fresno.
Divers from both CIF divisions competed alongside each other at Granite Hills High School. Mater Dei Catholic freshman Valentino Nieto recorded the highest score in the 22-deep boys meet at 269.55 points to capture the Division II title.
Ramona's Caden Clark placed runner-up with 220.50 points.
The top three finishers in the Division I meet filled the gap below Nieto's score to round out this year's state qualifying field.
San Marcos's Mason Shin won the Division I title with 247.75 points, followed by Poway's Connor Liddle in second place with 245.70 points and Hall in third place with 230.30 points.
Torrey Pines' Ezra Purcell, who some tabbed as this year's favorite, finished fourth in the Division I order with 221.80 points to miss the state qualifying cut.
Hall entered the state meet ranked 26th out of 27 qualifiers while Nieto was ranked 16th.
"Chance has a lot of talent," GHHS coach Ron Ortiz said. "He's still growing; he's about two feet taller and growing into a new body. He's applying himself to different sports. He did water polo and swimming this year as well. He's pulled it up. He does reversals and back dives really well. They really show off his long body."
Besides being a fast learner, Hall is also a teacher in his own right. "He encourages the other boys," Ortiz said. "He's friends with the whole group. They help each other."
Amazingly, Hall has been diving only since the eighth grade, starting at the club level before entering high school.
"I started from scratch with the Hominid Diving Cub," Hall said.
"Now that I did club, I wanted to dive in high school. I liked traveling to different states to compete. I went to nationals in 2018 in Georgia. I placed 20th out of the entire country."
He won this year's GHL title with 198.55 points.
"My first year at Granite Hills went well," Hall said. "It was fun competing with my friends, helping them dive. I got all my dives back. It was nice. I did well."
Four East County divers competed in last Friday's boys finals. Steele Canyon's Sam Mascari, the second-place finisher at the league finals with 182.85 points, placed fifth at the Division I finals with 201.15 points.
Helix senior Mile Ball, third at the league finals with 172.35 points, finished 11th at the CIF finals with 158.25 points.
Grossmont sophomore Bruce Nordlof, the fourth place-finisher at the league finals with 156.90 points, finished 14th in the Division I final results with 143.60 points.
Eagles nest
Granite Hills was greeted with a bounty of new talent this season on the dive board. Of the 14 divers competing this season, only four were returners.
"It was interesting," Ortiz said. "If you're a father and watch your kid take their first step, and if you're a coach and watch them do something for the first time, it makes you feel proud. We had three girls make CIF and one boy, so we're super proud of them. They're super competitive kids."
Sophomore Skylar Parga placed second at this year's league finals with 169.85 points while freshman Jordan Sterner finished third with 169.95 points. Also for Granite Hills, sophomore Jada Clark was fourth with 165.25 points, followed in fifth place by freshman Addison Clark with 157.45 points.
Girl power
Eight East County female divers competed at last Friday's CIF finals.
Valhalla senior Jordan Alstad, ticketed for the University of Hawaii next season, placed runnerup in Division I field with 222.55 points while Parga finished 11th with 166.25 points. Steele Canyon sophomore Cortlyn Patterson placed 14th with 159.75 points while Sterner was 17th with 152.00 points.
Jada Clark placed 18th with 151.55 points while Steele Canyon senior Halle Salverson, this year's league champion, finished 19th with 147.45 points.
Valhalla senior Elle Fishwick placed 21st with 136.05 points in her first CIF competition.
Halverson won the league title with 171.65 points. Patterson finished sixth at league with 156.55 points while Fishwick was seventh with 146.55 points.
Torrey Pines senior Ali Polidori won the Division I title with 247.00 points, though Alstad was seeded higher in the entry list. Alstad missed the league finals because of a foot injury suffered the day before the competition.
"I was extremely devastated because I had been looking forward to it all season," Alstad said. "I couldn't practice until CIF. In fact, I wasn't sure I could compete at all. I considered pulling out right up until the day of the meet. But I'm glad I decided to compete.
"I had to do one of my dives standing and the judges had to deduct points. Since I had to jump on one foot, my scores weren't as high as I would have liked. I'm disappointed I didn't get first place but I'm happy with the outcome."
Alstad's finals score was high enough to land her a berth in this week's state meet, placing her 19th among the 29 qualifiers.
San Marcos sophomore Lauren Kudo was third with 214.30 points while Carlsbad sophomore Keira Kuderka was fourth with 210.80 points.
Cathedral Catholic senior Bowie Krawczyk won the Division II title with 254.45 points while Mt. Carmel freshman Emily Hedges was runner-up with 163.60 points. El Capitan's Rhema Rose placed third with 153.40 points.
BOYS DIVING
Division I scores: 1. Mason Shin (San Marcos) 247.75; 2. Connor Liddle (Poway) 245.70; 3. Chance Hall (Granite Hills) 230.30; 4. Ezra Purcell (Torrey Pines) 221.80; 5. Sam Mascari (Steele Canyon) 201.15; 6. Timothy Hanson (Canyon Crest Academy) 188.10; 7. Caleb Gonzalez (Mission Hills) 185.35; 8. Noah Gardner (Del Norte) 184.00); 9. Luke Ferratt (Rancho Bernardo) 179.90; 10. Ethan Bentley (Poway) 162.10; 11. Miles Ball (Helix) 158.25; 12. Felix Alcorn (Fallbrook) 156.80; 13. Luke Raggo (Poway) 150.10; 14. Bruce Nordlof (Grossmont) 143.60.
Division II scores: 1. Valentino Nieto (Mater Dei Catholic) 269.55; 2. Caden Clark (Ramona) 220.50; 3. Mason Hood (Pacific Ridge) 216.15; 4. Dylan Gharbaoui (Mt. Carmel) 201.35; 5. Matthew Thomas (Ramona) 187.70; 6. Isaac Norris (Mt. Carmel) 154.75; 7. Matias Valkama (Ramona) 152.25; 8. Coleson Seiter (Mt. Carmel) 140.60.