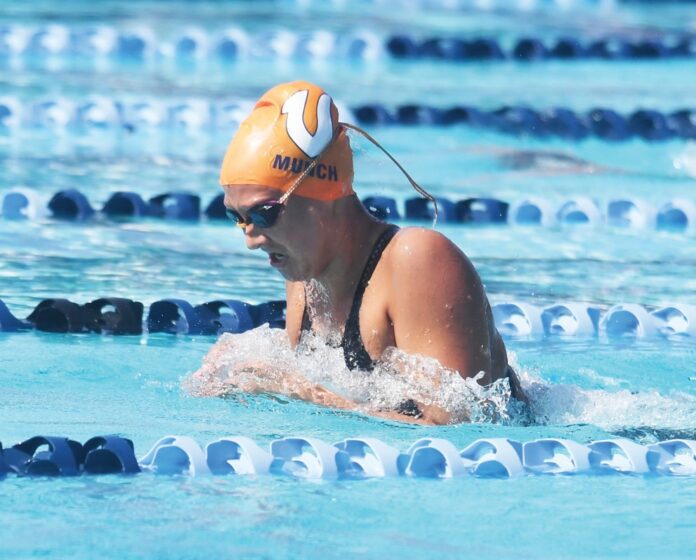 With five meet records alone set in the Division I portion of last Saturday's San Diego Section swimming championships at Granite Hills High School (and six overall), it appears the sport isn't ready to take a nosedive any time soon.
On a positive note, East County teams appear to be holding their own in the upward surge.
Grossmont Hills League dual meet champion Granite Hills finished sixth deep among the 28 participating teams in the Division I girls field with 178 points while Valhalla placed seventh with 155 points. Helix Charter placed 10th with 102 points to spotlight three GHL teams among the top 10 CIF finishers.
In the boys field, regular season GHL champion Granite Hills finished 10th with 77 points, followed by neighborhood rival Valhalla with 76 points in 11th place.
Helix tied for 13th place with 66 points among the 23 participating Division I teams in the gender field.
Swimmers with the top eight prelim times advanced to last Saturday's championship heat finals and received medals while swimmers with the next eight best times competed in the consolation finals.
Consolation heat swimmers did not receive medals but earned points for their respective teams.
Making a splash
On an individual basis, there was quite a bit to celebrate. Helix Charter senior Maya Garcia-Hale repeated as the Division I girls 500-yard freestyle champion to lead the parade of championship heat qualifiers from the Grossmont Conference. She timed 5:00.74 to out-touch runner-up Lauren Putnam, a freshman from San Marcos, who timed 5:04.38. Last Saturday's clocking fell just short of last year's winning time of 5:00.17.
"I did feel a little pressure (to repeat)," the Helix swimmer said. "My goal has been to qualify for the state meet. I knew I had to go under 5:00.00 to do that. I'm a little disappointed I didn't go under 5:00.00 but I'm super happy in defending my title."
The San Diego Section qualified swimmers with the top three times combined from last Saturday's Division I and Division II finals.
Garcia-Hale did, in fact, qualify for this weekend's state meet in Clovis with the 19th-best time among the 40 qualifiers in the event.
State prelims are Friday, followed by finals on Saturday.
Garcia-Hale, who placed third in last year's 200 freestyle in 1:53.83, was involved in a battle for supremacy in the section finals with Lady Highlander sophomore Riley Hull, who placed eighth in both the 200 and 500 freestyle events in last year's finals.
Hull placed sixth in this year's 500 freestyle finals in 5:09.31 after finishing third in the preceding 200 freestyle in 1:55.98.
Garcia-Hale wasn't finished in the meet either as she touched 10th overall in the girls 100 breaststroke final as the consolation runner-up.
"It's not my strongest event but I'm getter better," she said after
timing 1:09.05.
Garcia-Hale also swam legs on Helix's 400 freestyle relay that finished fifth in 3:41.88 and 200 medley relay unit that placed 11th overall in 1:57.29.
Hull, senior Gabby Morales and sophomore Linda Eisenhamer joined Garcia-Hale in the 400 freestyle relay lineup while sophomore Savannah Ruiz joined Hull, Eisenhamer and GarciaHale in the medley lineup.
Morales, junior Mia Barkett and juniors Sadie Henry and Emilee Punsalon combined to place 14th overall in the 200 freestyle (4×50) relay in 1:48.61.
Helix's league championship boys 200 freestyle relay team of junior Baxter Orvell, sophomore Asher Eaton, junior Cameron Drake and sophomore Esequiel Antunez finished seventh in 1:31.08, close to a school record.
The Highlanders touched 12th overall in the meet-concluding 400 freestyle relay in 3:21.62 with sophomore Coen Riggins, Eaton, sophomore Gavan Pena and Drake supplying the talent.
Top individual performances by Helix in the boys field included Drake in the 500 freestyle (eighth, 4:44.52) and 200 freestyle (10th, 1:46.06), Riggins (12th, 100 butterfly in 53.05) and Eaton (14th, 100 freestyle in 49.98).
Orange Nation
Valhalla junior Rachel Munch placed runner-up in both the girls 200 individual medley (2:07.97) and 100 freestyle (52.85) to lead the Lady Norsemen in the meet. She will advance to compete in this weekend's state meet in the 100 freestyle. Munch, the Grossmont Hills League champion in the 200 IM and 100 breaststroke, finished runner-up in the 200 IM to Eastlake senior Emily Lundgren (2:03.46) and to Bonita Vista sophomore Sarah Hardin (52.23) in the 100 freestyle.
Lundgren finished the meet with four gold medals as a measuring stick.
There was more.
Senior Jack Forstot won the boys 100 freestyle consolation heat final (ninth place) in 48.15 and placed 11th in the boys 50 freestyle in 22.09.
Forstot swam anchor on Valhalla's 200 freestyle relay time that notched a respectable sixth place finish in 1:30.53. Sophomore Tyler Piscopo, junior Alexander Golu and senior Eli Mohr also contributed legs.
Mohr swam in two consolation heats, placing 11th in the 200 freestyle (1:48.65) and 15th in the 500 freestyle (4:56.69) Golu finished 11th in the 100 breaststroke (1:00.63) and 14th in the 200 IM (2:02.58).
"Valhalla had an excellent showing at CIF finals this year," VHS coach Steena Harriman said. "We were very excited to see such wonderful swims from our swimmers, including Rachel Munch being runner-up in both the 200 IM and 100 freestyle. We are looking forward to watching her compete in state CIF this weekend.
"Our relay teams were our overall standout swims — each relay that swam was able to swim best times at finals. It was an exciting way to end the season. In addition to our swims, Jordan Alstad came in as the CIF Division I runner up in diving and will be competing at the state championships as well.
"Overall, this season was amazing. The work ethic put in by all members of our team made this season a season that we will never forget."
The Valhalla quartet of sophomore Tess Forstot, Munch, freshman Mairin Furlong and junior Emily Hansen finished sixth in the 200 medley relay in 1:54.03.
Sophomores Marissa Sparks, Margot Chammas and Alexandra Schow, along with Furlong, tied for 15th place in the 200 freestyle relay in 1:48.66.
The Lady Norsemen finished seventh in the 400 freestyle relay in 3:46.73 with Hansen, Schow, Tess Forstot and Munch each alternating legs.
Valhalla logged a ninth-place finish in the boys 400 freestyle relay in 3:18.88 courtesy of Piscopo, Mohr, Golu and Jack Forstot.
As an individual, Tess Forstot finished eighth in the girls 100 backstroke (1:00.00) and 14th in the 100 butterfly in 1:01.91.
Soaring Eagles Sophomore Braden Felio was the Eagles' top male swimmer with a third-place finish in the boys 200 freestyle (1:42.31) and a fifth in the 500 freestyle (4:39.45). The 500 freestyle time set a new school record. Felio won 2022 GHL titles in the boys 100 freestyle (47.55) and 200 freestyle (1:42.88, meet record). He appears to be just scratching the surface in what promises to be a long and successful swimming career.
"He's the next big thing for Granite," Eagles coach Cathy Elgas said.
Elgas said the meet overall went "well" for the reigning GHL champions.
"I thought at league we tapped out a bit, but I thought we did well at CIF," she said. "Our girls medley relay got third but it was so close, senior Erin Kluge made both her finals. Junior Izzy Cox made finals. We had a lot of swimmers in the consolation heats, more than usual. That's good for depth building. We're still a young team."
Granite Hills' girls 200 medley relay team of sophomore Brooke McCoy, Cox, Kluge and sophomore Delaney Fry faced off the meet with a third-place finish in 1:51.80.
The same quartet placed third in the 200 freestyle (4×50) relay in 1:40.96 to nose into the state meet.
Kluge was Granite Hills' highest placing female swimmer with a third-place finish in the girls 100 butterfly (57.95) and seventh in the 100 backstroke (59.76).
Cox was seventh in the girls 50 free (24.94) and ninth (consolation heat winner) in the 100 freestyle (53.89).
Junior Aidan Keane, the league 200 IM and 100 backstroke champion, notched a sixth-place finish in the boys 100 backstroke (53.83) and 13th in the 200 IM (2:02.41). He called swimming in the CIF finals both nerve-racking and thrilling at the same time.
"Your heart rate goes up once you get on the blocks, and then it starts beating faster when you get in the water," he explained. "I did go faster than I did in the prelims. It was a really fun season. I met some new people, I got faster.".
In consolation heats:
The foursome of sophomore Teagan Pennings, junior Vaughan Clark, senior Cavan Cox and senior Lucas Johnson placed 11th in the 200 freestyle relay in 1:34.83.
The quartet of Keane, Pennings, Felio and Clark finished 16th in the 200 medley relay in 1:48.23.
Granite Hills junior Chloe Morgan finished 10th in both the 200 freestyle (2:00.48) and 500 freestyle (5:19.81) events as the runner-up in the consolation finals.
The quartet of sophomore Ava Eaton, junior Korinne McCarty, sophomore Carly Seiter and Morgan placed 11th in the meetconcluding 400 freestyle relay in 3:51.42.
McCoy finished 11th overall in the 200 IM (2:16.41) and 14th in the 100 backsrtoke (1:02.45); Eaton placed 16th overall in the 100 breaststroke in 1:13.02.
Foothiller pride
Grossmont junior Erica Neri placed sixth in the girls 50 freestyle (24.82) while Steele Canyon senior Camile Seiley was eighth in the 50 freestyle (25.00).
Grossmont junior Patrick Reynolds finished 10th in the boys backstroke (55.47) and 12th in the 200 IM (2:00.54).
Grossmont's 200 medley unit of freshman Adelina Willett, Neri, freshman Lorelei Carillo and sophomore Conrad finished 17th in 2:03.18.
Patriot Nation
Christian High School's boys team placed fifth overall at the Division II finals with 173 points. Cathedral Catholic topped the division with 332.5 points, followed by runner-up La Jolla with 256 points.
Bishop's finished third with 250 points while La Jolla Country Day was fourth with 176.5 points.
The Patriots captured the boys 200 freestyle relay with a statequalifying time of 1:25.11 (ninth best time out of 40 qualifiers). Lucas Colombo, Sam Walker, Kai Damata and Ian Mullen alternated swims. Colombo also claimed first place in the boys 200 IM with a state-qualifying time of 1:53.68. Mullen (20.96) was third in the 50 freestyle while Walker was third in the 500 freestyle (4:54.27).
University City won the Division II girls team title with 299.5 points while La Costa Canyon was second with 198.5 points.
Cathedral Catholic placed third in the division standings with 198 points while Mt. Carmel was fourth with 193 points in a tight bunching. La Jolla finished in fifth place with 172 points.
By the numbers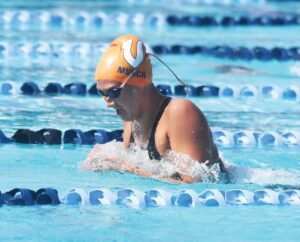 Torrey Pines sophomore Logan Noguchi notched section records in both the boys 200 IM (1:48.55) and 100 backstroke (48.36) at last Saturday's Division I finals.
Other section records fell in the boys 200 freestyle relay (1:24.85) and 400 freestyle relay (3:05.34), both by Torrey Pines, as well as the boys 100 breaststroke (55.35) by Canyon Crest Academy junior Andrew Ko.
Torrey Pines also set a new Division I record in the boys 200 medley relay (1:33.85).
Bishop's senior Lucas Brown set a new section record in the boys 50 freestyle (20.02) in the Division II meet.
San Marcos won the Division I girls team title with 288 points ahead of runner-up Eastlake with 233 points and third place Del Norte with 215 points.
Torrey Pines won the Division I boys team title with 372 points ahead of runner-up Canyon Crest Academy with 304 points and third place San Marcos with 201 points.