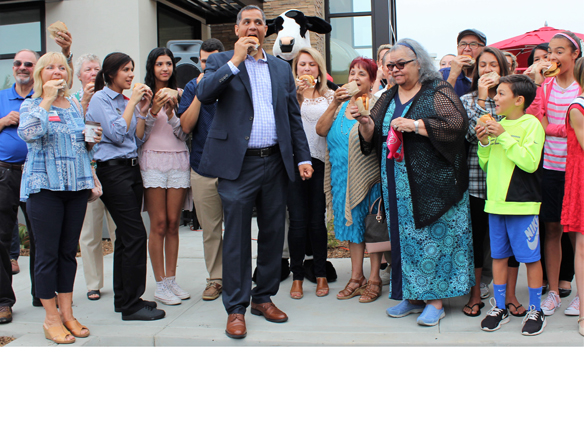 The newest Chick-fil-A restaurant in San Diego County has opened. The Grossmont Chick-fil-A at 8200 Fletcher Parkway, La Mesa, recently became the 11th Chick-fil-A restaurant operating in San Diego County.
The newest Chick-fil-A restaurant in San Diego County has opened. The Grossmont Chick-fil-A at 8200 Fletcher Parkway, La Mesa, recently became the 11th Chick-fil-A restaurant operating in San Diego County.
The new 4,500-square-foot restaurant features a two-story interactive indoor play area for children and free Wi-Fi. Total seating capacity is 150 people, including a 125-seat dining room and an outdoor patio area that seats 25. Dual drive-through ordering lanes and screens enable customers to move quickly into a single lane for payment and pickup. Chick-fil-A Grossmont is open from 6:30 a.m. to 10 p.m. Monday through Saturday. All Chick-fil-A locations are closed on Sundays to provide a day of rest and time with family and friends for team members.
"We want to be the premier location in La Mesa for great food, fun and fellowship," said Rick Preciado, owner-operator, Grossmont Chick-fil-A. "I've always wanted the opportunity to be an entrepreneurial position where I could create jobs, invest in youth and be a positive influence to everyone I come in contact with."
The restaurant's grand opening activities included the traditional Chick-fil-A "First 100 Campout." Local residents who live within a 10-mile radius of the restaurant location were invited to camp out in the restaurant's parking lot for 24-hours to qualify to be among the first 100 customers. Residency eligibility for the first 100 customers was determined by zip codes. The first 100 customers through the doors on Thursday morning, June 22, received free Chick-fil-A food for a year, specifically a digital card good for 52 Chick-fil-A sandwich meals consisting of a Chick-fil-A chicken sandwich, medium waffle potato fries and a medium drink.
Ralph Marcarelli of Spring Valley was the first customer in line. Girlfriend Melissa Lyons who was #94 in line joined Marcarelli later.
"We love the food, plus we greatly admire the customer service and family-friendly atmosphere," said Marcarelli, a retired gourmet chef and restaurant executive who said he managed and consulted for the opening of more than 20 restaurants during his career. "The campout was a great time with contests and games."
Customers #2 and #3 in line featured a mother-daughter duo. Both are schoolteachers. Alvie Miller, 55, has been teaching for 24 years and currently serves in the Lemon Grove School District. Her daughter, Danielle Miller, 29, teaches first graders at Valencia Park Elementary School in San Diego.
"We both love the food at Chick-fil-A," said Danielle. "The campout was definitely an experience," said Alvie. "I was able to spend some time studying for my masters degree to become a marriage family therapist."
Customer #4 was also a schoolteacher. Jason Robbins teaches government and economics at Steele Canyon High School. He previously spent 10 years teaching at Cajon Valley Middle School. "My brother who lives in Nebraska did the campout there, so I wanted to do it, too."
Among the activities for campers during the 24-hour campout was packing 10,000 meals that were donated to Feeding Children Everywhere, a nonprofit dedicated to a hunger-free world that focuses on providing healthy meals to hungry families and children in need.
The First 100 Campout is a Chick-fil-A tradition that began in 2003. Chick-fil-A says its First 100 celebrations have resulted in giveaways of free food valued at more than $31 million.
Preciado was born in the Panama Canal Zone while his father was in the U.S. Army. Preciado went on to graduate from the U.S. Military Academy at West Point and then spent 20 years as an operations executive at various oil and gas, building materials and chemical companies before joining Chick-fil-A.
Becoming a Chick-fil-A Operator is no small feat with the company receiving some 24,000 applications yearly for approximately 100 franchise opportunities. Preciado applied and waited a year before being named the first Hispanic operator in the San Diego area with his Grossmont Chick-fil-A location in La Mesa.
His parents and siblings live in the San Diego area. Three of Preciado's children will join him at the Grossmont Chick-fil-A location, including daughter, Rebecca, who will serve as marketing director, along with son Ricky and second daughter Sophie as team members.
Chick-fil-A restaurants in San Diego County are located in Chula Vista, Encinitas, Oceanside, San Marcos, Santee, Escondido and in San Diego on Sports Arena Blvd., Camino Ruiz in Mira Mesa, Carmel Mountain Road in Carmel Mountain Ranch and Camino del Sur in 4S Ranch. For addresses and directions, visit www.chick-fil-a.com.