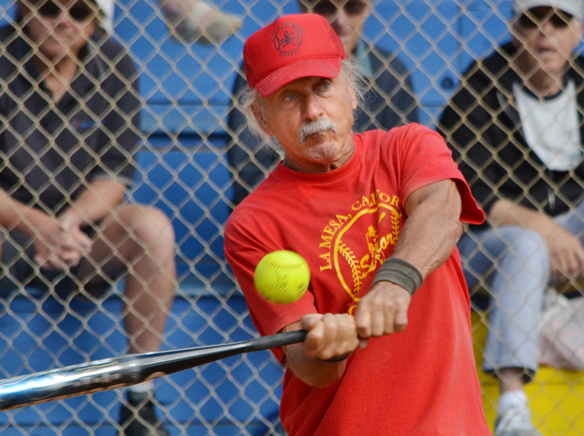 LA MESA — When it comes to competitiveness, Monday morning's all-star game in the La Mesa Seniors Slow-pitch Softball League could simply be called a grudge match "The other league always thinks they are better," said John Brickner, manager-pitcher of 'A' League champion Reds and former F-4 Phantom II fighter pilot. "So it was up to us to show why we're better."
LA MESA — When it comes to competitiveness, Monday morning's all-star game in the La Mesa Seniors Slow-pitch Softball League could simply be called a grudge match "The other league always thinks they are better," said John Brickner, manager-pitcher of 'A' League champion Reds and former F-4 Phantom II fighter pilot. "So it was up to us to show why we're better."
Undefeated in winning the league title this winter, the Reds grabbed an early lead and held on to defeat a Select Team from the La Mesa 'B' League — called the Blues — in a 22-17 triumph at Sunset Park.
With the time limit rule tossed out to eliminate any excuses, the Reds utilized strong outfield defense throughout the 9-inning game to befuddle Blues batters.
"Our defense is pretty strong up the middle," said Reds shortstop Rene "Rainy" Leroux. "Our outfielders make some nice diving catches."
One wouldn't expect these players — the league is open to those 55 and over — to get parallel to the ground in chasing down line drives. However, left-center fielder Jim Trupp raced to his left to making a diving grab to end the 8th inning, while right-center fielder Jerry Wilson also registered a pair of running grabs.
It's a major reason the Reds posted a 14-0-1 record this season. The mark is believed to be the first unbeaten season by any team in LNSSSL history.
"It's the only one I've ever heard of," said the Reds' Dick Lord, who still umpires girls softball games in a 40-year officiating career. "And it's because we're a smooth hitting, smooth running and smooth fielding team."
Lord, the right fielder, and first baseman Dave Mix, fueled the offense by both batting 5-for-6, while Trupp posted four hits and scored four times.
Still, some wonder if the Reds are that good. One argument comes from the Green team of the 'A' League.
"We finished in second place, yet we never played them," said Jordan "Tiny" Aftroth, a San Diego City Schools principal for 30 years and now the official statistician for Helix High basketball said, "We got rained out both times –but we were rooting for them anyway."
The only player missing from the Reds is their oldest, Ray Cisneros, who missed the final two weeks while recovering from an appendectomy.