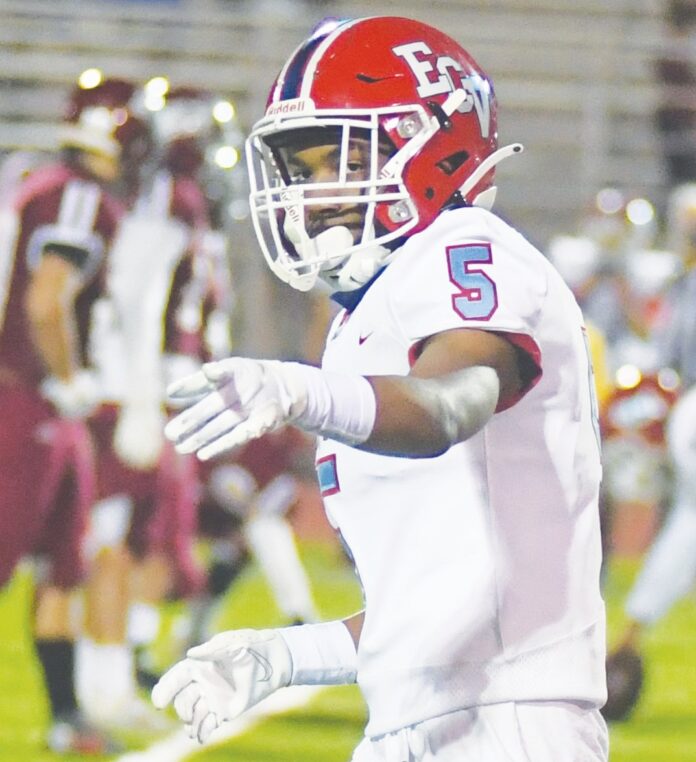 The 2022 high school football season is just getting started and the Granite Hills Eagles, El Cajon Valley Braves and Christian Patriots all got in the win column for the first-time last Friday — and hope to stay there.
Granite Hills 59, Valhalla 6
The visiting Eagles wasted little time in taking command of the contest as senior Joaquin Thomas Jr. returned the opening kickoff 81 yards for a touchdown.
Granite Hills doubled its lead when junior No'koi Maddox blocked a punt and senior Daniel Netto fell on the ball in the endzone for a touchdown.
The scoring continued as senior quarterback Nico Tomasello completed a 39-yard scoring pass to senior Colin Riley. The points kept piling up on the scoreboard when junior Jordan Glaze scored on a 34-yard fumble return.
Senior De'sean Floyd scored on a one-yard touchdown run while Tomasello later hooked up with Thomas on a six-yard scoring pass. Tomasello called the win a "big confidence boost" for the team.
Valhalla's lone touchdown in the game came on a 55-yard
touchdown by junior Alten Finner.
Granite Hills (1-1) next hosts Oceanside (0-2) on Friday while Valhalla (0-2) hosts Point Loma (1-1) in a bid to earn its first win of the season.
El Cajon Valley 56, Hoover 0
The Braves recorded their second-largest shutout margin in the 67-year history of the football program braced by seven rushing touchdowns, including five by senior Kal-el Gordon, and a 95-yard kickoff return by junior Paris Dixon.
Gordon carried the ball eight times for 126 yards as the hosts piled up 236 rushing yards. Junior Massih Ehsan had 10 carries for 60 yards and one touchdown while senior Jalen Anderson had three carries for 16 yards and one touchdown. Junior quarterback Darick Dubose rushed four times for 34 yards. Dubose completed six of eight passes for 71 yards with no touchdowns and no interceptions.
Senior Yasir Blair logged one sack on defense while making four tackles (three unassisted), including 2.5 for a loss. Ehsan also had one tackle for a loss.
Dixon also collected 69 yards on three punt returns and made one interception Junior Cristofer Gonzalez converted all eight PAT conversions in the victory.
El Cajon Valley will host undefeated Vincent Memorial (2-0) in its next game this Friday. Kickoff is 7 p.m.
Christian 27, Bishop's 0
After dropping a 28-0 nonleague decision at Ramona in Week 1, the Patriots rebounded with a shutout victory against the Bishop's Knights last Friday at La Jolla High School.
Senior quarterback Shane Bailey scored two rushing touchdowns while completing a passing touchdown to senior Hunter Provience. Senior Aidan Hypes also scored a rushing touchdown.
The Patriots will host San Juan Capistrano St. Margaret's Saturday at 7p.m., then remain at home for a Sept. 9 game against Santa Fe Christian.
In other games:
Imperial 21, West Hills
The visiting Wolf Pack tasted defeat for the first time this season as Imperial senior Seth Shaw scored two rushing touchdowns and returned a fumble 77 yards for a touchdown.
West Hills tallied 208 total offensive yards in the setback. Senior Tyler Haley booted a 39-yard field goal for the Wolf Pack's only points in the game. Haley also had three punts for 135 yards (45.0 average).
Junior Collin Dill competed 11 of 21 passing attempts for 83 yards with one interception while rushing 12 times for 92 yards in the loss to lead the team with 175 total yards.
Senior Fredrick Rowbotham keyed the visitors with three catches for 32 yards. Senior Dylan Smith returned a kick-off 31 yards. The Wolf Pack (1-1) was scheduled to host Olympian (1-1) in a non-league game on Thursday.
Kearny 35, Monte Vista 21
The Monarchs saw their early season record level at 1-1 following the non-league loss to the host Komets (2-0). Kearny sophomore signal-caller Brodie Stump lit up the airwaves for the second consecutive week with 308 passing yards and four touchdowns while rushing for 76 yards and one touchdown.
Monte Vista generated 375 rushing yards and three touchdowns. Senior Uziel Avalos had 17 carries for 220 yards and one touchdown while junior Daniel Renteria had 22 carries for 113 yards and two touchdowns. Junior quarterback Diego Peguero chalked up 59 passing yards and 42 rushing yards. Junior Jaidyn Ellison caught two passes for 56 yards.
The Komets led 21-0 at halftime. Monte Vista missed one field goal and turned the ball over on downs on another occasion.
"We need to get better," Monarchs head coach Ron Hamamoto said. "We had two 15-yard penalties on special teams. Look at our field position in the second half (when the team scored three touchdowns)."
Monte Vista has a bye week before hosting San Ysidro, currently 1-1, in a non-league game on Sept. 9.
Madison 35, Steele Canyon 7
Senior Major Givens rushed for 225 yards but was held off the scoreboard in the loss to the No. 4 Warhawks. Steele Canyon (1-1) accumulated 243 rushing yards and 50 passing yards in the nonleague contest while host Madison (2-0) racked up 398 yards in total offense.
Sophomore quarterback Joshua Herber completed three of seven passing attempts, including a touchdown pass to junior Michael
Dodds (two catches, 42 yards). Junior Michael Lindley rushed 10 times for 30 yards.
Defensively, senior Keanu Pettiford led the Cougars with 14 tackles (eight unassisted) while junior Manoouel Saka registered 11 stops (seven solo). Senior Xavier Barksdale had one interception while senior Alphonso Corona had one fumble recovery.
Steele Canyon was scheduled to host San Marcos (1-1) in a nonleague game on Thursday before hosting St. Augustine in another non-league home game on Sept. 9.
El Camino 41, Grossmont 7
The Foothillers dropped to 0-2 after falling to the host Wildcats.
"We fought hard but fell well short of the goals for success versus El Camino," Grossmont head coach Chris Holmes said. "The Hillers fought to the end against a very big and physical Wildcat squad. We need to continue developing young talent and work on being a cohesive and consistent team.
Hudson Herber and Justin Brown connected on a 46-yard touchdown pass to give Grossmont its only score of the night. El Camino junior Carson Howard completed two touchdown passes to senior Tate Reid while also rushing for a score. Overall, the Wildcats scored four rushing touchdowns.
The Foothillers will have another gigantic challenge, according to Holmes, as they host Warren High (1-0) from Downey on Friday.
Montgomery 6, Santana 0
Senior Jordan Benton caught a 23-yard scoring pass from backup quarterback Nate Ong with 1:28 to play to allow the host Aztecs (1-1) to defeat the Sultans (0-2) for the first time in eight matchups.
Montgomery racked up four sacks, including three by junior Arath Leyva, and one interception (by Benton). Senior Gideon Baraka keyed the Aztec defense with 12 tackles, including three for a loss (matching Leyva in that category). Benton had five catches for 67 yards. Junior quarterback Diego Villanueva led the Aztecs with 104 passing yards while Ong completed four of six attempts for 42 yards.
Santana next hosts Coronado (1-1) in a non-league encounter on Friday. Kick-off is 7 p.m.
Southwest 13, Mountain Empire 7
The Red Hawks dropped to the loss column for the first time this season as the visiting Raiders raised their record to 2-0 for the first time since 2011.
Southwest overcame a 7-0 deficit with two touchdowns, including what proved to be the gamewinner in the third quarter.
Mountain Empire returns to play with a Sept. 10 non-league game at Bishop's.
Eagles, Braves, Patriots pick up first wins in 2022 San Diego Section Football Rankings (MaxPreps/Through Aug. 28)
TOP 50 TEAMS
1. Cathedral Catholic (1-1)
2. Carlsbad (1-0)
3. Mater Dei Catholic (0-2)
4. Madison (2-0)
5. Helix (2-0)
6. Mission Hills (2-0)
7. Lincoln (1-1)
8. Ramona (2-0)
9. Poway (2-0)
10. Torrey Pines (0-2)
11. Central Union (2-0)
12. Patrick Henry (0-1)
13. El Camino (2-0)
14. La Costa Canyon (1-1)
15. Mira Mesa (1-1)
16. Del Norte (2-0)
17. Granite Hills (1-1)
18. Brawley (1-1)
19. Steele Canyon (1-1)
20. Christian (1-1)
21. Scripps Ranch (0-2)
22. Otay Ranch (0-2)
23. University City (1-1)
24. Bishop's (1-1)
25. Eastlake (0-2)
26. San Marcos (1-1)
27. Mt. Carmel (1-1)
28. La Jolla (1-1)
29. Point Loma (1-1)
30. St. Augustine (1-1)
31. Valley Center (1-1)
32. Fallbrook (1-1)
33. San Pasqual (2-0)
34. Rancho Buena Vista (2-0)
35. Santa Fe Christian (1-1)
36. El Capitan (2-0)
37. Oceanside (0-2)
38. Vista (0-2)
39. Rancho Bernardo (0-2)
40. Imperial (1-0)
41. Morse (1-1)
42. Mt. Miguel (2-0)
43. West Hills (1-1)
44. La Jolla Country Day (2-0)
45. Mission Bay (2-0)
46. Vincent Memorial (2-0)
47. San Diego (1-1)
48. Calexico (2-0)
49. Palo Verde Valley (1-1)
50. Grossmont (0-2)
DIVISION II
1 Ramona (2-0), 2. Central Union (2-0), 3. Mira Mesa (1-1), 4. Granite Hills (1-1), 5. Brawley (1-1), 6. Christian (1-1), 7. La Jolla (1-1), 8. Otay Ranch (0-2), 9. San Marcos (1-1), 10. Mt. Carmel (1-1)
DIVISION III
1. Patrick Henry (0-1), 2. Del Norte (2-0), 3. University City (1-1), 4. Bishop's (1-1), 5. Point Loma (1-1), 6. San Pasqual (2-0), 7. Rancho Buena Vista (2-0), 8. El Capitan (2- 0), 9. Imperial (1-0), 10. Morse (1-1)
DIVISION IV
1. Fallbrook (1-1), 2. Mt. Miguel (2- 0), 3. La Jolla Country Day (2-0), 4. Mission Bay (2-0), 5. Calexico (2-0), 6. Palo Verde Valley (1-1), 7. Coronado (1-1), 8. Montgomery (1- 1), 9. Sweetwater (1-1), 10. Francis Parker (1-1)