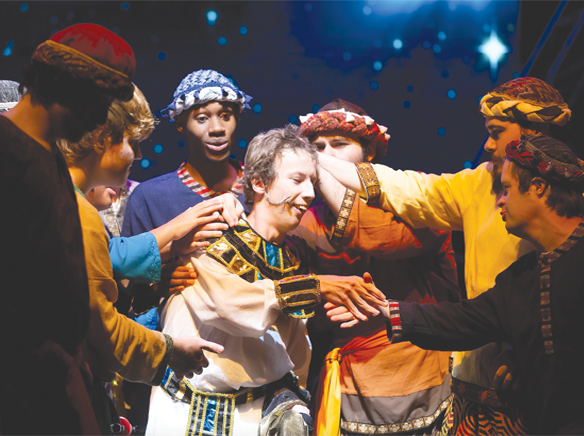 The last few scenes from the musical "Joseph and the Amazing Technicolor Dreamcoat" are all the title character needs to convince him that his delinquent broth­ers have finally heeded their better angels. At one point, they'd hatched a plot to kill Joseph and eventually had him imprisoned — now, they offer themselves into slavery to right an unrelated wrong.
Joe and his kin are reunited, and father Jacob is over the moon to lay eyes on his long-lost son.
The story may be as old as time, but its latest mani­festation is not. The Andrew Lloyd Webber/Tim Rice entry was mounted in June by Arms Wide Open, a nonprofit orga­nization designed to involve special-needs adults in the performing arts, specifically singing, dancing and acting. The group had nine dance cli­ents upon its founding in 2008; today, it holds court for about 130 adults at Arts in Motion, 237 East Main St., suite A in El Cajon.
"I think [Arms Wide Open] creates an atmosphere and a social environment where [performers] can come and be themselves," says founder Chris Rubio. "I have a disabled brother in my family, and I know, growing up, it's always been a challenge for him try­ing to fit in. Arms Wide Open kind of breaks that barrier, tears down that wall, where we've created an atmosphere where all these disabilities come together…"
Classes include jazz, bal­let and modern dance; a so-called "Triple Threat" entry including instruction in sing­ing, dancing and acting; and the group's annual full-script production, which takes eight months to prepare.
The era of enfranchise­ment has spawned many such groups worldwide, to untold praise. London's Dis­ability Arts International had been called "the last remain­ing avant-garde movement." Waterford, Conn.'s National Theatre of the Deaf has won a Tony Award for theatrical ex­cellence and has since founded the acclaimed Deaf West The­atre, based in Los Angeles. The China Disabled People's Performing Art Troupe was appointed UNESCO Artist for Peace in 2007 for its role in the promotion of tolerance and hope.
"Nothing matters without us," asserted Kecia Weller, advocate for the disabled at UCLA's Tarjan Center. "It's very, very important for people with disabilities to be at the table."
"Special-needs adults with disabilities can too shine on­stage," Rubio adds. "They can sing. They can dance. They can act. They can tell a joke into a microphone, [and] . . . we've given them an opportunity to showcase it onstage, on actual­ly an amazing level. They are learning how to sing, dance and act, but what they're re­ally getting out of this is life skills and confidence, being able to carry themselves in ev­eryday life."
"Joseph," the group's ninth show, played June 14 to 23 at downtown's Lyceum Theatre — and Rubio cites a number of reasons behind the choice.
"'Joseph' is a true musical," Rubio asserts, "with a good message and music from begin­ning to end, which was great for the performers. We've done a lot of Disney-type shows, so I wanted a challenge to keep us growing. It was a great experi­ence, and the show was phe­nomenal."
Those who saw it have con­sistently remarked on the high-quality production val­ues — and Caleb Norling, who played the title character, con­curs.
"My mom was a theater teacher," Norling, 22 explains, "and I sang in choir for four years" in his native Peoria, Ariz. "I've always loved musi­cal theater — and when they said I got the role, I was abso­lutely blown away. I'm hum­bled to be involved in this pro­duction with all this amazing talent."
Norling, who didn't let ce­rebral palsy stand in his way en route to a high school base­ball career, also took away the larger moral, one that finds its foundation in Joseph's uncom­mon bravery: "Never give up; never have doubts. Always, al­ways have faith."
So concludes Arms Wide Open's message and its man­tra to the wider community. There are more where that came from as the group em­braces its function, its mem­bers gladly — nay, defiantly — deferring to the greater good.
For more information, visit awosd.org or call 619-579- 6197. DVDs of the show are available at alliedproductions. com.