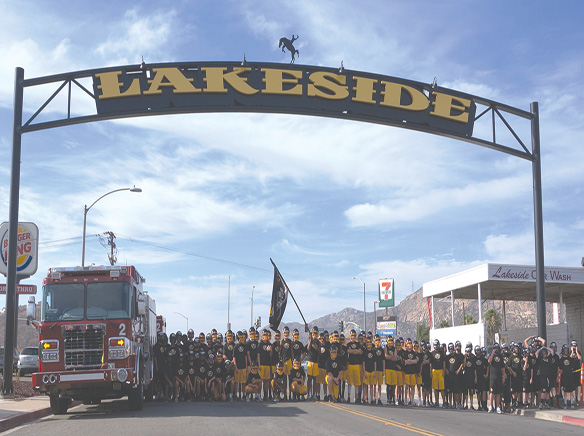 The El Capitan football team completed their traditional pre­season run on Maine Avenue in Downtown Lakeside – for the 15th year in a row – but this time with some added pride. It was the first time the group ran under the new Lakeside commu­nity archway sign.
A sizable crowd gathered for the 5 p.m. event on July 30 to support the 2019 El Capitan High School Vaqueros football team. Students, parents and residents lined the north end of Maine Avenue, in anticipation of the annual run. Dozens of cheer­leaders gathered as well, shout­ing encouragement and shaking their pompoms as the players neared and passed.
Temporary road closures by escorting Sheriff's deputies and CHP offices ensured the play­ers' safe run through town. A few cars had to stop briefly in traffic, but it did not seem to bother them as drivers waved and honked in support. Such a scene is normal for Lakeside and evokes a community caring that is still evident in this East County town.
The El Cap team has been making this run every preseason since 2004. This year was a little more special on two counts.
Not only it is the first time the team has run under the newly installed Lakeside sign, which arches high over the north end of Maine Avenue, the high school celebrating its 60th anniversary this year. For those paying at­tention, the sign boasts the same colors as the school: black and yellow – appropriate for the oc­casion on all accounts.
After passing southbound un­der the 27-foot high arch, the team continued several blocks down Maine Avenue, then did an about face and headed back.
When they reached the sign for a second time, the team took a moment for a historic group photo. Then it was back on track to the football field for another practice session.
The Vaqueros play their first regular season game at Mater Dei Catholic in Chula Vista on Aug. 23. Their first home game is scheduled for Aug. 30 at 7 p.m. against Hilltop High School. Good luck to the 2019 El Capitan Vaqueros football team!