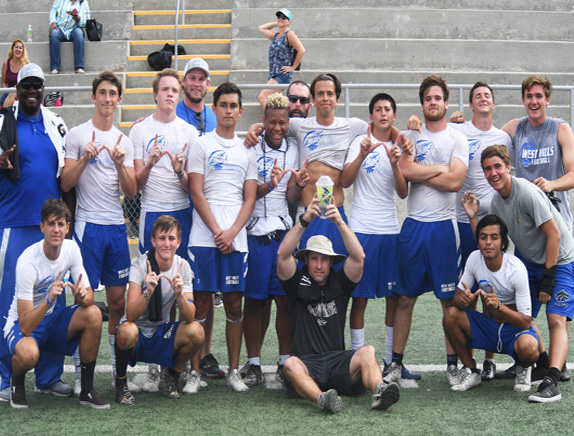 The West Hills High School football team kicks off the 2019 season with an Aug. 23 home non-league game against El Centro Southwest.
The Wolf Pack, which gradu­ated 20 seniors off last season's team, will be looking to build on a successful ending to the sum­mer passing tournament season.
West Hills wrapped up sum­mer play on a positive note by defeating University City to win the consolation championship of the 31-team Southwestern Col­lege passing tournament June 28-29. West Hills head coach Casey Ash has to be encouraged by the resiliency shown by his group, which rebounded from a 0-4 start to win its final four playoff games.
"We only had 11 kids for the second day and for these kids to answer the call is encouraging," Ash said. "I liked how we picked it up and finished strong."
Though seven-on-seven pass­ing tournaments offer only a hint of how teams may fare once they dress in full pads and start hitting, they are important in helping develop team chemistry.
Summer passing tournaments focus on developing passing tech­nique and timing between quar­terbacks and receivers as well as defensive secondary patterns. The offseason tournaments also offer coaches a chance to gauge overall talent. Teams around the San Diego Section began fall practice Aug. 1.
Hear them howl
West Hills finished 8-2 in regular season play last season with a runner-up finish to Monte Vista in league play. The Wolf Pack received the No. 10 seed in the San Diego Section Divi­sion III playoffs and ended the season with a 25-0 first-round loss at seventh-seeded Imperial.
West Hills finished 0-3 during the opening day of pool play at the SWC tournament that in­cluded losses to defending Divi­sion I champion St. Augustine and defending Division II cham­pion Lincoln.
Lincoln, which finished run­ner-up in last year's state bowl championship game, went 7-0 to win its third consecutive SWC tournament championship, de­feating La Jolla, 45-19, in the final.
The Wolf Pack finished the second day 4-1 with a stirring show of team pride.
After dropping a 6-4 seeding contest to Eastlake to start the second day, West Hills quickly rebounded with consolation bracket wins over Castle Park (34-13) and Eastlake's B team (33-17) to match up against East County power Christian in the semifinals.
West Hills defeated Christian, 29-16, to advance to the consola­tion championship game.
The wins over Christian and University were noteworthy in that Christian made it as far as last year's Division III semifinals and University City advanced as far as the division quarterfinals.
Eastlake finished 10-2 last season with a semifinal loss to Helix in the Division I semifi­nals.
"We had several wins at the tournament which were reward­ing for us," Ash said.
There were also some note­worthy individual performances.
Steven Cristini scored four touchdowns in the champion­ship game for the Wolf Pack af­ter scoring three touchdowns in the semifinals.
"He never came off the field in all the games," Ash noted on the incoming senior's ironman performance.
West Hills was among five East County teams that partici­pated in the SWC tournament. Christian and Patrick Henry both advanced as far as the con­solation semifinals while Moun­tain Empire advanced as far as the consolation quarterfinals.
El Cajon Valley finished 3-0 in pool play but lost its seeding game to La Jolla to open the sec­ond day of competition and then bowed out with a consolation bracket playoff loss to Christian.
Southwestern College head coach Ed Carberry called the tournament an "end of summer ritual" as teams prepared to head into fall training camps.
Extra points
West Hills hosts East County rival Valhalla in a non-league game on Aug. 30 and hosts Chu­la Vista in a non-league on Sept. 13. The Wolf Pack will play a non-league game at El Capitan on Sept. 27.
West Hills kicks off Grossmont Valley League Oct. 4 by hosting El Cajon Valley, followed by road games at Santana on Oct. 11 and Mount Miguel on Oct. 25. The Wolf Pack closes out league play by hosting Monte Vista on Nov. 1.