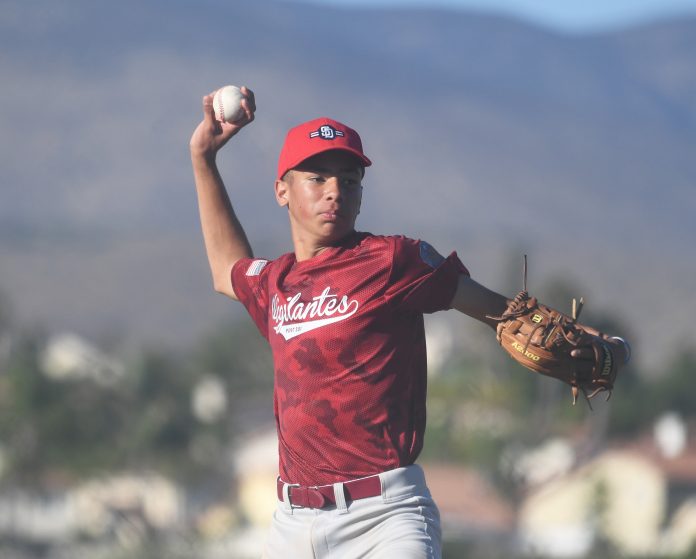 San Diego American Legion District 22's championship playoffs are around the corner, with the top three teams in both the Navy and Marine divisions qualifying for the six-team postseason double-elimination tournament July 15-19 at the University of San Diego.
Four teams qualified for last year's playoffs, including three from the East County region. This year's postseason tournament could once again be top heavy with East County talent.
Last year's revival season marked the first on-field action locally in the 19U baseball circuit since 1985.
The Patrick Henry Trojan, Santana Sea Knights and Helix Hornets joined the Coronado Seals in last year's playoff field comprised of the top two teams from both divisions. District 22 champion Patrick Henry went on to finish third in the state tournament and set the stage for a successful high school season this past spring.
The league's second season has shown rapid growth, expanding from 13 to 21 teams. Sixteen of those teams qualified for the 2019 San Diego Section playoffs, showing a commitment to growing their programs.
Batter up
Six East County teams are participating in American Legion play this season: the West Hills Tomcats (Post 364), Monte Vista Vigilantes (Post 201), Granite Hills Prowlers (Post 282), Santana Sea Knights (Post 146), Mount Miguel Lightning (Post 365) and Patrick Henry (Squad 460).
Santana, Monte Vista, Mount Miguel and Patrick Henry compete in the Marine Division while West Hills and Granite Hills are members of the Navy Division.
West Hills remained undefeated (7-0) following Monday's 6-4 win over the Madison Hawkeyes (Post 731) while Patrick Henry's (8-1) lone league loss this season was 3-2 to the San Marcos Sea King (Post 365) on July 3.
Most games are played on Monday and Wednesday evenings.
Santana improved to 7-2 on the season following Monday's 7-6 win over the Scripps Ranch Phantoms (Post 479) while Monte Vista raised its record to 4-5 after recording a 7-0 win over the Mira Mesa Ospreys.
In other games on Monday, July 8, Granite Hills dropped to 4-3 after an 8-2 setback to the La Jolla Vikings (Post 275) while Mount Miguel saw its record dip to 1-8 following a 19-1 loss to San Marcos.
Team rosters feature lineups heavy on junior varsity players making the jump to varsity play next season mixed in with returning varsity talent.
The second-year Monte Vista program draws players from the high school's JV team, mostly alumni from Valley de Oro and Spring Valley little leagues in the area.
The Monarchs finished the 2019 high school baseball season with a 16-14 record but did not qualify for the San Diego Section playoffs.
Coaches see the American Legion summer program as a way to continue the transition onto the varsity team.
"It gives them a chance to play with the team, grow together," assistant coach Justin Schwerizer said.
"It's an opportunity for some of the young guys to show us what they have," assistant coach Daniel McCarthy added.
There have already been some surprises.
Which teams will vie for postseason glory this season? Regular season play ends July 12.
The state championship tournament is scheduled July 25-29 in Yountville, followed by the western region tournament Aug. 5-11 in Fairfield.
The 93rd American Legion World Series is scheduled Aug. 15-20 in Shelby, North Carolina.