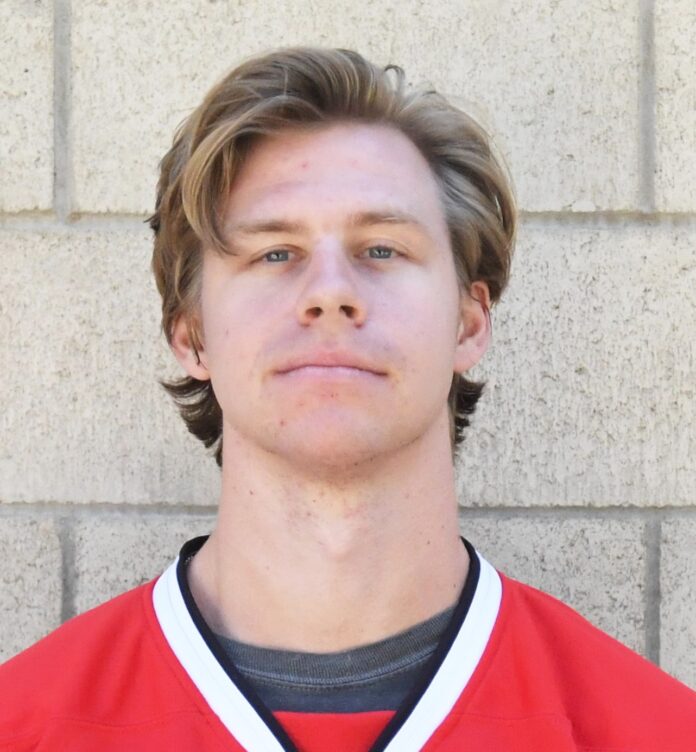 San Diego State University men's ice hockey team is still looking for its first win after dropping a pair of games – 9-3 and 10-0 – during its first road trip last weekend to Colorado State University.
The Aztecs saw their record drop to 0-6 with the latest pair of losses.
Despite the rocky start to the team's inaugural ACHA Division 1 season, SDSU head coach Phil Bateman still sees a light at the end of the tunnel, however.
"The box scores don't represent the team's play this past weekend," the Aztec bench boss explained. "We lost both games and it looked lopsided, however, both games were very close going into the third period.
"The team had been battling colds over the past two weeks, add to that trying to get acclimated to Denver's thin air killed us with our conditioning. Also, we were playing with five defensemen all weekend. Cam Henderson was out this weekend with an upper-body injury."
Blake Reed scored SDSU's first goal in last Friday's series opener, assisted by Lucas Bellig, to make the score 3-1. Shane Ege, a freshman, scored his first goal in his Aztec career to draw the visitors to within 5-2 on the scoreboard through two periods.
But CSU scored four unanswered goals to face off the third period to lead by a decisive 9-2 margin. Luke Desmarais potted the game's final goal, assisted by O'Bryan and Nolan Conrad.
The Rams led, 2-0, through the opening period in Saturday's rematch before adding eight goals in the remaining two periods. Colorado State out-shot SDSU 50-20 in the non-conference contest with Aztec goaltender Charlee Lerow amassing 40 saves.
The 10-0 loss was the worst defeat in the Aztecs' young Division 1 season.
The Rams out-scored SDSU 19-3 in the two games.
"The team is very competitive despite having a clear talent deficiency," Bateman said.
"This will be our Achilles heel all year until we have our first actual recruiting class for the 2023-24 season. Where we lack is confidence. There is a major psych-out every game (where) we shouldn't be on the ice yet with Division 1 teams.
"We are doing a lot of great things, but right now we are doubting ourselves between the ears. We are not making the plays; we are a half-step behind because we are not confident. We need to change that out of our minds, and make sure we are going out on the ice and making plays.
"I know we are undermanned at times, that we are not going to have a match-up advantage, so we just have to instill belief in our players and give them the confidence to play with some pace, and don't get frustrated. We know there will be some difficult nights but that is the challenge that we are facing this season in our first season at this level."
AZTEC SCORING LEADERS
Gavin O'Byan 4 goals, 3 assists – 7 points; Lucas Bellis 0 gioals, 7 assists – 7 points; Luke Desmarais 3 goals, 2 assists – 5 points; Blake Reed 3 goals, 2 assists – 5 points; Michael Pellegrino 0 goals, 4 assists – 4 points; Ian Stentz 3 goals, 0 assists – 3 points