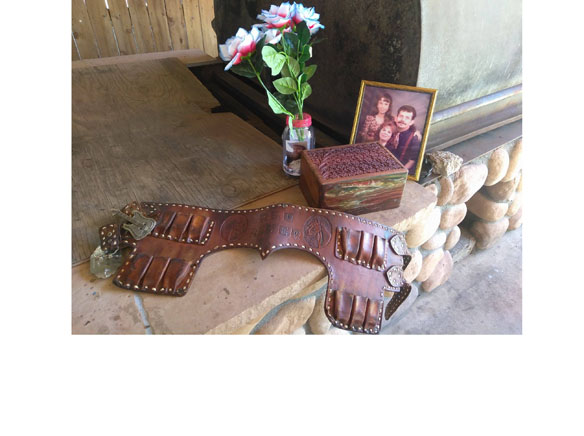 The friends and family are quiet and comforting, listening to Rusty Faulk's band, King Cottonwood performing people's favorites, country and rock. Outside on the patio of Flinn Springs Inn on old Highway 80, numerous pictures were spread around for folks to reminisce, "Oh, I remember that time when Rusty and I…."
The friends and family are quiet and comforting, listening to Rusty Faulk's band, King Cottonwood performing people's favorites, country and rock. Outside on the patio of Flinn Springs Inn on old Highway 80, numerous pictures were spread around for folks to reminisce, "Oh, I remember that time when Rusty and I…."
Glass jars filled with fresh flowers decorated with decoupages of musical notes and red lace ribbon adorned the tables. Rusty's wife, Susie Faulk could barely tear herself apart from a comforting embrace by insisting to tell her husband's story.
"No, no, I am ok, really. He didn't want me to cry anyway," she said. "It's important for me to do this. Rusty died of prostate cancer and I don't want another family to go through this pain. I want the word out there that men should not die from this. Men should ask to be tested for prostate cancer regularly, because the chances of survival are much higher if detected early."
Susie Faulk helped organize fundraising campaigns since her husband's diagnosis and is constantly raising awareness, planning to continue her volunteering work now more than ever. With musicians gathered from all over San Diego County, she not only wanted to fulfill her husband's wishes for a celebration of life that included his family, friends and fellow musicians, but also to continue their mission in raising awareness to prostate cancer.
"He never got bitter, never asked "Why me," he never for once complained," said Susie Faulk, trying to be accommodating and lighthearted, to honor her 65-year-old husband's recent departure on Aug. 18 after an eight year battle with Stage IV prostate cancer. A beloved local harmonica and band musician, "Rusty wanted people to laugh, listen to music and have a good time at his memorial," she said, pointing around to the community gathered to celebrate his life. Susie Faulk wears a pretty red dress, while two of their daughters are in pure white, sitting with friends and family and recalling their dearest times together. Not the usual mourning black, just the music and the best memories allowed. "This is what he wanted, " she said.
Faulk was a truck driver from San Diego and the family lived in Alabama for a while, until he was diagnosed and laid off by his company two months after. Left without income and medical insurance, Faulk moved back to San Diego eight years ago, hoping to receive the best care possible and win the fight against cancer. Faulk went through countless surgeries to just shred down the tumor, too big to be actually removed.
"We found out he had terminal cancer after doing some unrelated tests. It only takes a simple blood test and men should request it at the slightest symptom," said Susie Faulk.
The family received help from two local organizations. Zero Prostate Cancer and Cancer Angels, organizations that focused on advocacy and on helping families cover the skyrocketing expenses for cancer treatment.
National Cancer Institute data, states that prostate cancer comes in second after skin cancer as the leading cause of death in men. While women follow a regular screening schedule (mammograms) for breast cancer, men do not benefit from a similar test. It has to be requested by the doctor based on the patient's symptoms. But not all man have alarming symptoms early on, as frequent urination or pain when ejaculating may be attributed to different benign causes and the doctors may refuse to order the test due to age, family history and such.
Rusty Faulk's son in law, Ryan Pashal, was denied the test twice, because the doctor said he is too young and the insurance refused to cover it.
"My dad was never there and Rusty was more of a father to me than my own father," he said. His wife and Faulk's daughter, Kara Pashal, said, "We don't have in-laws in this family, nor step anything. We are all fully related, there is just love between us."
Then knowing, loving glances were exchanged, old memories became beloved, and the heaviness lifted up when everyone smiled through tears when recalling the biggest gift they received from Rusty Red River Faulk—"unconditional love." He spoiled his wife and daughters and made everyone feel special. "He tricked us all to feel as we were his favorites, that's how loving he was," said Kara Pashal.
Susie and Rusty Faulk met when she was 20 years old, him 30 and playing in the band.
"Rusty came right to me during one of his breaks and we've been together ever since. We had a wonderful marriage, he was my best friend," she said.
"I remember, I was there," said Oskar Parra, a lifetime friend and the lead singer and guitarist for the band, reminiscing the wild times of their youth before Rusty settled down and "dedicated his whole life to his family." There is again silence and the heavy wooden table is gently sprinkled with sunlight while kids are having fun playing the arcade and grown ups say their "good bye"-s in quiet prayers.
Susie Faulk holds the urn, an elaborated carved wood box painted by the local artist, Katie Halvin. "It was in the early morning of the solar eclipse even before my two coffees when I received this message on Facebook from Susie, who I didn't know at that time, asking me to paint her husband's urn. She wrote how her husband was her best friend, her sun and her moon. So, how do you say no to that? I started painting that same night and I could feel Rusty's spirit around," said Halvin, showing a painted harmonica, the red river, his stage name, the moon and the sun on both sides. "I came as an artist to paint the urn and now I am staying as family. That's how special these people are."
Susie Faulk said, "I told her I love her art and her ability to create this special home for my husband's ashes has been a great comfort for me and others also might find comfort in her artistic creation for their loved one.
"Rusty played the harmonica until a month ago, but then he couldn't do it anymore," she said. Faulk learned harmonica from his uncle when he was a teen and played it ever since with his band throughout Southern California. One of their favorite places to perform was right here, at Flinn Springs Inn, as the house band. Only one of their daughters learned the instrument, "the baby" Rosalie Faulk. His daughter Cheyenne Maples said she had a collection of harmonica before even meeting him for the first time and finding out he played the instrument. "Isn't that strange?" she asked.
Faulk was a professional musician for the past 40 years and as his buddy Ross Jubenville said, "A good man, good friend, and good musician. Jesus Christ was his rock and I will see him again in heaven."