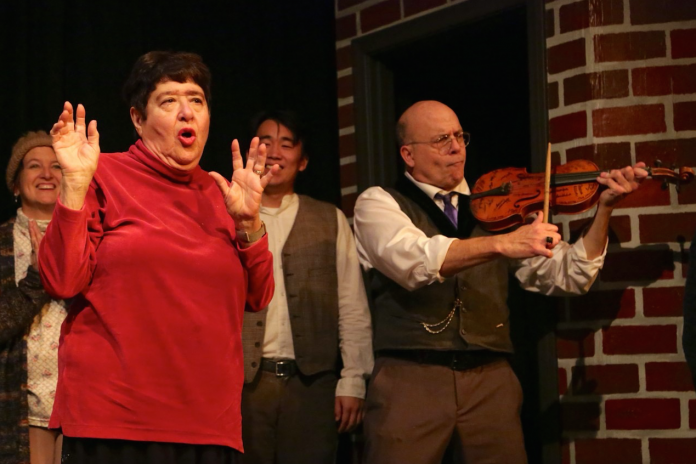 Mother Bayard says she remembers a time when Indians overran the population centers ("even Kansas City") around her home west of the Mississippi. Her memories will soon be short-lived, as she's the first (among several cast members) to die. Meanwhile, the family can't remember when the Christmas weather was this dingy, and that's not exactly fueling any semblance of the holiday mood.
The good news is that Mom's son Roderick is celebrating his first Christmas with his bride Lucia (in a new home to boot), and his business partner and cousin Brandon is along to ensure some affability.
This holiday is just one among 90 years' celebrations among the Bayards as portrayed in playwright Thornton Wilder's "The Long Christmas Dinner," first of two shows in Lamplighters Community Theatre's Christmas Past holiday program. Dylan Thomas' "A Child's Christmas in Wales" caps the evening — between the two, Thomas' inimitable language is the star, although Wilder's piece betrays a certain skill.
That skill lies in the playwright's ability to change moods over extensive settings. Ninety years, after all, is a long time to recap; lots of kids are born, grow to adulthood and die, and Wilder never tires in allowing the audience to see their trajectories. In fact, that kind of exposure here aids the story; the play's beginning touts an optimistic, spontaneous Bayard family, whose mood features strife, war and loneliness by show's end. Wilder lets us experience it all.
The drawback is that Wilder thus defends the idea that nothing changes — he notes that man is a sucker for anything resembling a comfort zone, with the colossal inability to adjust his temperament to the facts of life, however cruel.
He's probably right about that, but his language is considerably preachy as he conveys his ideas (this isn't the first time he's been charged accordingly).
Director Courtney Flanagan (and Emma Rotella as Lucia, for that matter), have an admirable deliberateness here; they certainly can adapt on a dime to the required tone. They respond accordingly with their work in "A Child's Christmas in Wales," by Welsh poet Dylan Thomas, a beloved holiday piece said to have marked the beginning of the audiobook industry in the United States (the poet recorded it in 1952).
I grew up on this stuff, including the biographies on Thomas' bitter death in 1953 at 39, the wicked accounts of alcoholism that colored it and the absolutely miraculous writing that adorned the world in spite of it all. You get to see and hear a vital little corner of that world here, as Thomas portrays himself as a happy kid among happier friends and neighbors in his native seaside Swansea, Wales.
The lyricism absolutely transcends space while the poet describes his Christmas-eve prayers as "some words to the close and holy darkness" or narrates a minor family tussle ("I made a snowman, and my brother knocked it down, and I knocked my brother down, and then we had tea.")
"One Christmas was so much like another," he writes, "those years around the sea-town corner now and out of all sound except the distant speaking of the voices I sometimes hear a moment before sleep, that I can never remember whether it snowed for six days and six nights when I was twelve or whether it snowed for twelve days and twelve nights when I was six."
Absolutely heartrending descriptors, all the more captivating amid the absence of references to gifts and their value. For Thomas, the spirit of Christmas lay solely in the unity among the townspeople and their abject delight in the miracle of life.
As the poet, Kilroy exploits his vocal prowess accordingly, and Josh Manison is a delight as the apple-cheeked younger Thomas.
The rest of the ensemble is as jazzed as you care, driven by the sound of the words as by the words themselves.
Troubled as he was, Thomas garnered a vast appreciation for the importance of the season, and here, he gives it its due like no one else. Lamplighters' holiday program is far the better for it.
This review is based on the matinee performance of Dec. 1. "A Christmas Past" runs through Dec. 15 at Lamplighters Community Theatre, 5915 Severin Drive, La Mesa. $17-$22. 619-303-5092, lamplighterslamesa.com.