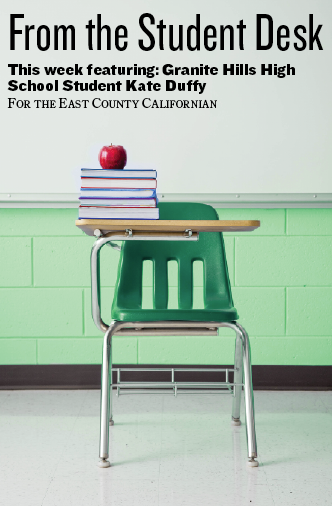 Inside Granite Hills High School's Little Theater, in front of rows of plush seats, atop a stage and underneath bright lights, you'll find a group of enthusiastic kids singing, dancing and having the time of their lives.
This year, the theater program has seen many changes, the most major being the change in supervisors.
Kirsten Giard, who previously taught theater at Valhalla and Chaparral high school, took over the theater program this year from Janessa Nadeau, who used to teach both theater and choir but now focuses her energy on the latter.
Giard felt drawn to Granite because of one of her mentors, Harry Bodsworth, another previous theater teacher who put the school's program on the map.
"A hundred million years ago, when I was in middle school, this program was the place to be," she said. "If you wanted to do theater in East County, you came to Granite Hills."
Bodsworth became a mentor to her when she began working at Valhalla, and Giard now strives to revive Granite's theater program to what it once was, starting by revamping the theater itself.
"There was some infrastructure that really needed some attention, so one of the major things we did was clean and organize," Giard said. The district also painted the theater, and the stage was extended eight feet.
At Granite Hills, the theater program is comprised of three parts: the theater class, the Eagle Theater club and the shows, which are usually put on twice a year and are open for any students to audition. Most students choose to only participate in one or two of these programs, but there are a few who do all three at the same time.
One such student is junior Tracy Nguyen, who is enrolled in the advanced theater class in addition to being both the president of the club and house manager of Granite's recent production of Rock of Ages.
"I basically live at Granite," Nguyen said. "I'm always here for rehearsals or things that are Eagle Theater related."
Nguyen has been involved with theater at granite since she was a freshman, so she's been able to see how much theater changes from year to year. She says that the main difference this year has been Giard's new direction.
"She has brought in so much help and changed it for the better," Nguyen said. "She took what our previous theater teacher did and made it even better, not by scrapping it but increasing its worth."
This was Giard's goal when she accepted the position. She wanted to honor what previous theater teachers had done in the past but put her own spin on it.
"I can't come in and change everything because it's disrespectful for what is established," she said, "but there are things that had to be changed, and there are things that maybe we can find a compromise about."
Rock of Ages, which the theater put on from Nov. 7 to Nov. 16, was Giard's debut Granite Hills performance, and she said she is extremely proud of how well her hard work paid off.
"We rehearsed for around 12 weeks, maybe less, and put together an entire show," she said. "I think that this cast and this group of people have done an amazing job."
As for their plans for the rest of the year, Eagle Theater will be putting on a production of Puffs in the spring.
One of the best things that theater creates, according to both Tracy and Giard, is a strong community where everyone can feel accepted.
"We're all just a really tight-knit family," Nguyen said. "Even though sometimes we fight, we always somehow come together and are able to bond."