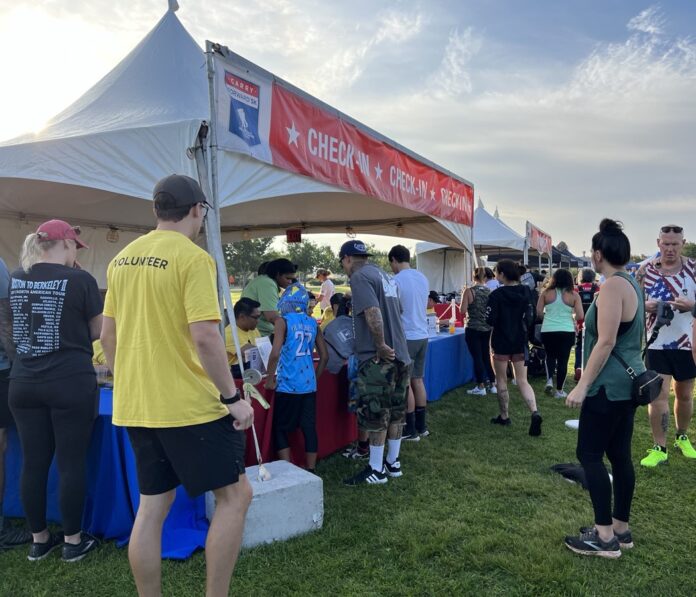 On Aug 19, hundreds of people gathered at NTC Park in Liberty Station to participate in the Wounded Warrior Project's Carry Forward San Diego 5K walk, jog, or run to honor and empower wounded veterans, and raise funds for its local programs to help veterans and their families. With a goal of raising $140,000, the event brought in $149,000 to support local WWP programs, according to WWP Public Relations Specialist Trevor Fay.
WWP national spokesperson Tonya Oxendine joined the military a year after finishing high school, running away from a difficult and abusive family only to find that the first half of her military career was marred by harassment.
"It hit all at once in 2012 during the deployment in Afghanistan," said Oxendine. "The memories of the death and suffering I saw. All this stuff came crashing down. I couldn't take it anymore."
Oxendine said the Carry Forward event is always exciting and exhilarating.
"What it allows the WWP to do, and the whole city, is a powerful opportunity for our supporters and to honor our warriors and their families," she said. "We also raise awareness to educate about what the WWP does for its warriors at no costs to the warrior or the family members."
Oxendine, a wounded warrior hailing from Tampa, served a "stellar" almost 30 years in the U.S. Army, and said that the WWP made such a positive impact on her life, that right after she retired, she went straight to working with the WWP as a national spokesperson. She retired while working at the Pentagon in 2014.
"I go around the world spreading awareness about the many programs and services we offer for our warriors and their families," she said.
Oxendine said the WWP helped her in many ways.
"I was diagnosed with Post Traumatic Stress Disorder, severe depression and anxiety. We have several programs, and one is our Warrior Care Network. Those are programs where we have four renowned hospitals that treat PTSD, traumatic brain injury, and military sexual trauma. I went to the hospital in Atlanta, the Emery Veterans Hospital, where I was treated for PTSD, anxiety, depression, military sexual trauma. That helped me with my mental health. We also have physical programs and financial wellness programs. So many programs that help our warriors come back and be incorporated back into society and to feel part of the community again."
Oxendine said the event was wonderful, despite being in San Diego, and the looming Hurricane Hilary, the weather held up beautifully with near to 1,400 participants.
"We had men, women, children, dogs, and every little furry thing out supporting what we do," she said. "It means so much to us. It demonstrates what our community can do when it comes together for the efforts WWP is doing to reach our warriors."
Oxendine said the Carry Forward said the event is a wonderful fundraiser.
"It is a cool event," she said. "It's a 5K run or walk and what makes it so cool are the three different ways you can show support while you run or walk. You can support by carrying a flag, symbolizing patriotism. You can carry a person which symbolizes being fierce by helping someone in their time of need. And fitness, which represents the burden our veterans take on while they protect our country. Flag, fitness, or fierce are the three ways you can support."
Fay said Oxendine is a powerful speaker, getting up on stage at the event.
"She spoke about her son, her family life, and all of that was extremely inspiring," he said.
Oxendine said it takes everyone, our families and friends.
"When you are with your battle buddy, male or female, if you are in a bad situation it takes all of us to get better, to heal, and to cheer us on when we are in a better situation," she said. "I told the story Saturday, which happened to be my youngest son's 31st birthday. He is playing professional basketball overseas in Vietnam, so everybody got to sing 'Happy Birthday' to him over facetime. He put his career on hold for me just to be there for me as his mom during a period in my life when I was going through some really terrible times. He really carried me through that. I am his mom, and I am supposed to carry him through. But when people are put in a position they know how to step up to the plate. He has not served in the military, but he is my warrior, my hero, because that young man could have gone back overseas and kept playing, but he did not. That is part of my story. How family, particularly him, can carry help and empower just the way he did for me. That is what the WWP is all about."
Oxendine said she is thankful for all the people who came to support the WWP at the Carry Forward San Diego event and all those who continue to donate to the WWP programs.
"We cannot fulfill our mission here at WWP without the generous support of people," she said.
Correction: In the print version of this article, it said the goal of the Carry Forward event was $145,000. The actual goal of the event was $140,000. It also said that more than 1,400 participated in the event and should have said nearly 1,400 participated in the event. The East County Californian regret these errors.