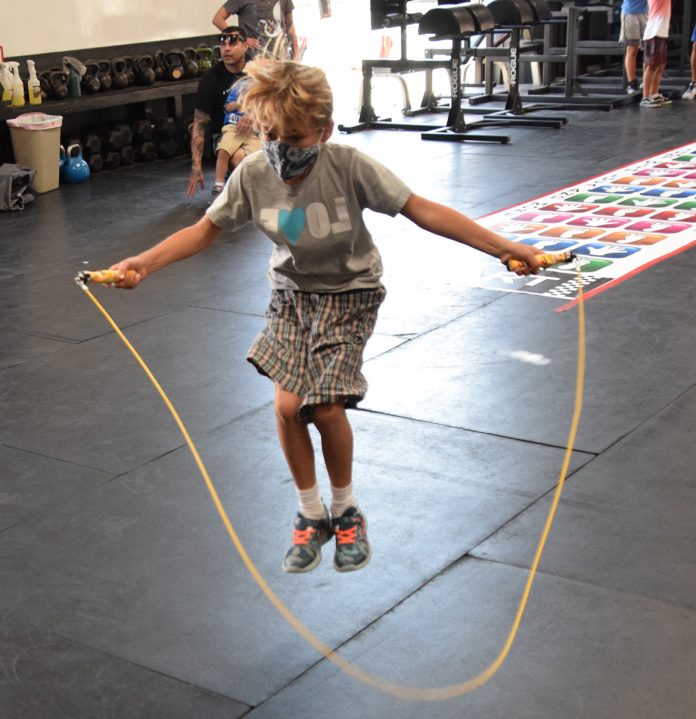 One in 54 children is diagnosed with an autism spectrum disorder by the age of 8. The Autism Tree Project Foundation was founded in 2003, when founders Todd and Dayna Hoff's son Garret was diagnosed with autism. What began as a resource page for other parents with autistic children is now a resource center that provides a myriad of programs starting with early intervention, research, and programs that help families navigate the multifaceted system of care that is necessary in caring for children with ASD. Now, ATPF's programs serves children across the spectrums from early detection, through education, and entering the workforce.
ATPF volunteer and core team member Glenn Lasker has worked with ATPF for more than four years and as businesses across the county begin to open, held a fundraiser on April 10, "1 in 54 Jump with Luca and More Challenge" at CrossFit East County in El Cajon.
"April in World Autism Awareness Month, so the two companies that I am partnering up with in El Cajon are the ones being so gracious in offering their facilities and donations to this event to raise awareness of autism and raise money for the Foundation," said Lasker.
Lasker said CrossFit East County, owned by Paul and Tina Flores. is probably one of the oldest CrossFit businesses in East County. The business next door, RX Smart Gear. manufactures jump rope and contributed jump ropes and other things needed to put on this event.
Luca is the son of Wendy Rhodes Garafalo, who is a member of the ATPF Board of Directors, whose son was diagnosed with autism when he was 4-years-old.
"Luca has autism, and he is a phenomenal young man," said Lasker. "A few months ago, Wendy and I talked and thought we would do something in Autism Awareness Month. Being I work for RX Smart Gear and a close relationship with CrossFit East County, I wanted to put an event together. Not a large one because of the pandemic, but there are indoor and outdoor parts to this event. Wanting to bring awareness to autism, that is why they call it the Autism Tree Project Foundation because the tree, autism, affects many family, friends and individuals with autism."
Lasker said the event was a fitness challenge, designed by his friend Paige Chapman, an American Ninja Warrior, who designed the obstacle course.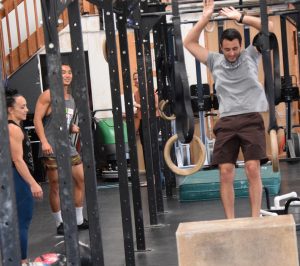 Chapman said she was excited when Lasker asked her to participate by designing the obstacle course, which began with the 1 in 54 jump rope, an obstacle course, and then a jumping exercise mat that utilized the hands and feet in an almost Twister game type of challenge.
"As a friend, he asked me to come out and design the obstacle course for people to test their physical fitness, just have fun, but also to support a great cause," said Chapman. "It is autism awareness month, so this is a great way to get people together and connect, support autism and have fun. I designed the course with my friend Jeff. I love obstacle course racing and fun challenges like this, so I was all for it."
Lasker said the event was challenging fore anyone who wanted to participate, but also fun for the kids that just wanted to have fun, jump rope and participate in the obstacle course. Everyone that preregistered received a jump rope sized specifically for them by partnering business RX Smart Gear, that is located next door to CrossFit East County.
RX Smart Gear owner David Newman runs the company together with his wife Susan, that started the business in their garage 12 years ago. He said it began as a fun hobby in his garage and when people started liking what he was making in his garage, two years later they moved into their current facility.
"We do 90% of our manufacturing here in California keeping as much of our product USA made," said Newman. "We are one of the leading designers and manufacturers of high-end custom jump ropes that can be used for any level of fitness, sport or competition. We are the official jump rope for five U.S. Olympic teams, USA boxing, wrestling, judo, kickboxing, and functional fitness, so we are proud of our Olympic partnerships. We have a lot of celebrities and professional athletes that use our products as well."
Newman said exercise, being healthy, and improving your respiratory system are some of the deterrents to catching COVID, so they were glad that they were able to keep helping people by keeping them jumping, keeping them distanced jumping from home, or in the park, so it was good for our business. He said unlike many other businesses that he works with, his business did extremely well during the pandemic.
"We love supporting events like this and seeing kids, moms and dads getting out there and getting active," he said.
Paul and Gina Flores, CrossFit East County owners, have been working with CrossFit for 12 years. Gina Flores said CrossFit is a functional movement training that is designed for the beginner to athletes in training. She said that it was wonderful to be open again and to see their "fitness family" together again.
Gina Flores said that they were extremely happy that Lasker asked them to participate in the fundraiser, and that it was a learning experience for her as well.
"With the jump rope part of the event, I learned that many children with autism love to jump and I am happy that the gym had the space to make the event happen and to help the autism community," she said.
Lasker said that for athletes, or people involved in CrossFit and general fitness, jumping rope 54 times is not really a challenge, but if they jump on one leg, and utilize the other parts of the obstacle course that it was challenging enough for the beginner or the experienced.
Lasker said the event was as much as in awareness event as a fitness challenge. He said for people that could not attend the event, they encourage people to post their 1 in 54 jumps online. At the end of the month, they will judge the best creative challenging jumping rope video. To participate in the online challenge, share videos on social media with the hashtags #autismtree, #1in54jumpwithluca, making the title of the video your first and last name. Videos can also be uploaded to www.dropbox.com/request/xvy88Xab0tHMvTkZwC1u.
Lasker said ATPF has "truly touched" his life. With a nephew who is autistic, he said he understands how a diagnosis affects the entire family.
"I have seen and learned a lot over the years. It has been a great joy for me. I am happy to contribute any way that I can," said Lasker. "Autistic children are so loving. Many are high functioning, some are nonverbal, but there is something about them that draws you in. They can add so much into this world. When you get to know one, know the families, it captivates you, and you cannot help but not to help."
For more information about Autism Tree Project Foundation, visit www.autismtreeproject.org.