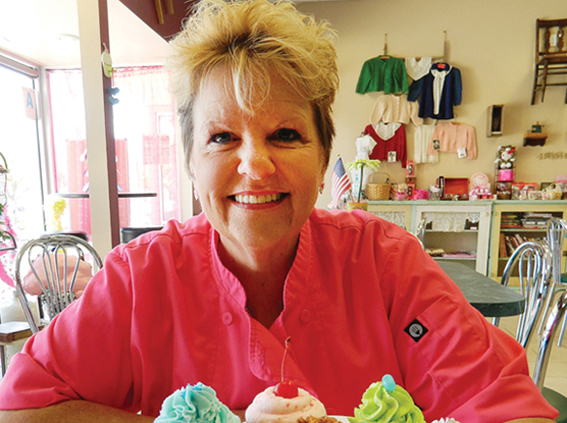 To satisfy one's sweet tooth in East County, one simply has to find Auntie M's Cupcake Shop, one of the most beloved bakeries in La Mesa.
"My niece would always call me 'Auntie M' when she was little," said Mindy Roberts, owner of the store located at 7406 University Ave. "When I decided to open a bakery, that name was a natural."
To satisfy one's sweet tooth in East County, one simply has to find Auntie M's Cupcake Shop, one of the most beloved bakeries in La Mesa.
"My niece would always call me 'Auntie M' when she was little," said Mindy Roberts, owner of the store located at 7406 University Ave. "When I decided to open a bakery, that name was a natural."
That being said, it was also a natural to name all of the cupcakes after characters in that Academy Award-winning 1939 film. Thus, customers ordering "The Ruby Slipper," "The Dorothy," Tin Man," "Scarecrow," "Munchkin," "Toto," "Wicked" and "The Flying Monkey, among others, is a regular occurrence.
"I think I have just as much fun coming up with the names of these cupcakes as I do with their contents," Roberts said. "It was one of my favorite films of all-time and it fits in perfectly with our situation here."
There is also perfect logic for some creations (the "Ruby Slipper," for instance, is made with red velvet cherry-chip batter and topped with a cherry cheesecake frosting), but absolutely no rhyme or reason on others (the "Tin Man" contains green key lime batter, key lime filing and key lime icing). Still, whether any of this make sense, the patrons cannot seem to get enough of the delicious concoctions.
"This is just amazing," said Trecia Steen, who visited the shop with friend, Cristina Torres.
Roberts, who begin cooking in her Pennsylvania home (after learning scratch baking from a nearby Amish community) finally chose this La Mesa location after a two-year search. "I think it must have been some kind of bar and grill, but, after some renovation work, it suits us very well," she said. "Most other bakeries, especially those that specialize in cupcakes, seem so small, sterile and antiseptic. Coming in this store is just like walking into your grandmother's kitchen. You can sit, read, work on your laptop, and relax here."
Auntie M's is open Tuesday through Saturday, 10 a.m. to 5 p.m. For more information, call (619) 460-2253.