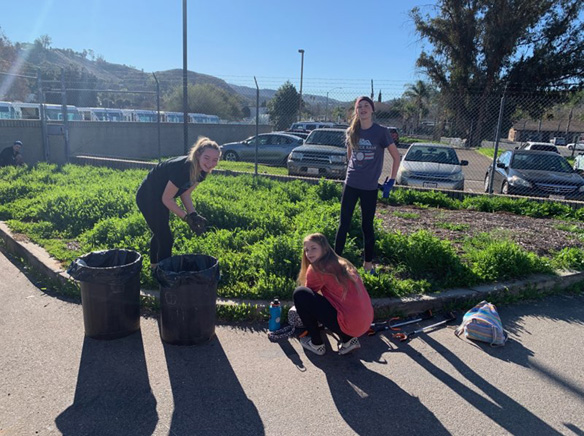 Volunteers showed up with gloves and tools in hand to help dig up weeds and pick up trash in the drive through mailbox area of the Lakeside post office.
Lakeside youth Camryn and Taylor Halfaker, Savannah and Sahara Simpson and their chaper­one, Kelly Halfaker, were welding the shovels and hoes, digging up the weeds and picking up trash. They said they needed to get in some volunteer hours for their Associate Student Body organiza­tion at school.
Barbara Channel, a member of the Maine Av­enue Revitalization Association (MARA), was the organizer of this cleanup campaign. She said she had put the word out on her Facebook page that the Maine Avenue Revitalization Association needed volunteers to help clean up the Lakeside Post Office parking lot.
"It was a nice surprise that so many Lakesiders showed up to help" she said.
Other businesses and citizens wanted to help, too. Homestead Tree Service brought in their grinder to take down and old tree stump that had been left behind. The Eucalyptus Hills Fire Safe Council had donated several truckloads of wood chips and mulch to help keep the weeds at bay. Soon the Lakeside Garden Club will be planting jacaranda trees donated by Lakeside Mile of Trees and other drought tolerant plants too from Lake­side gardeners too.
Gary Mitrovich, a member of Maine Avenue Revitalization Association, said that the Postmas­ter, Charles Barnardo, was happy that the com­munity stepped up to help. He said that a lot of people don't know about all the improvements that MARA has done over the years.
"They are under the radar, people see their work but don't know who did it, past projects include historic murals, trash cleanup, old fashion signage, installation of old fashion street lights, painting of the historic Lakeside Hotel and many other build­ings in the Historic District," Barnardo said.
If you or your organization would like to help with community service projects, you may call the MARA office at (619) 443-1133.