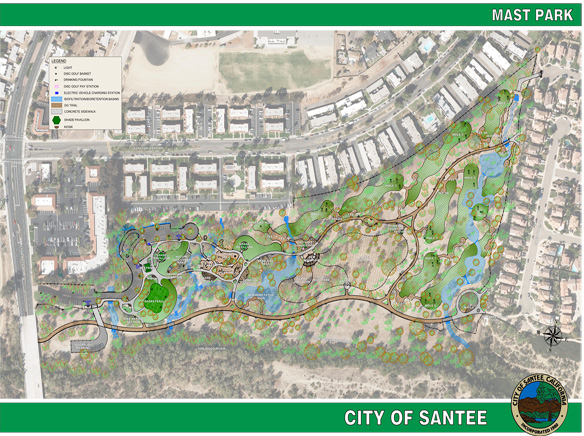 After a year-long closure and a $10 million renovation, Mast Park in Santee reopened on Feb. 1, starting with a ribbon cutting ceremony to kick off the avail­ability of the new facility to the public. With nearly 100 acres, the park transformed the al­ready popular park with some major upgrades. Highlights of the renovation package include three picnic pavilions, two miles of lighted trails, a weekend con­cession stand, three dog park ar­eas, forest themed playgrounds that include exercise equipment, a basketball court, ping pong and bean bag toss, a nature discover area and more.
City of Santee Marketing Co­ordinator Bree Humphrey said this was one major way the city was kicking off its 40th birthday, by opening a brand-new renovat­ed park.
"Mast Park is our oldest park in town and it just got a $10 mil­lion facelift," Humphrey said.
The Park displayed all three of it pavilions available for rental. Humphrey said some of the trees before the renovation had to be removed. They repurposed them into a nature play zone.
"Some of my favorite features are the playgrounds, Which keeps a type of nature essence to them," Humphrey said. "There are three walking paths, the longest about a mile long, and we are open until 10 p.m. If you want to get a walk in after work, it's safe, it's lit and it's a nice trail."
Santee Councilman Stephan Houlahan said he remembers coming out to Mast Park at 6-years-old.
"I think it was 1979 and the El Nino came through and the ballpark where I was going to be playing baseball at, was destroyed. Then later I came back and the park was fixed and back to life in the early 80s and me spend­ing many hours here all the way through high school into the early 90s," Houlahan said.
Houlahan said in the last 25 years since, the park had fallen into some level of disrepair. Not by anyone's fault, but by priorities being what they were then.
"Now, Mast Park has become the priority and now we have this $10 million gem on the San Diego River. It could quite possible be the park to showcase the entire San Diego River and the work of the San Diego River Conservan­cy (SDRC)," Houlahan said.
Houlahan said, believe it or not, there is a major component of the park under­ground. A state-of-the-art sewage con­tainment system
"Not the river itself, but the SDRC gave a grant to Santee for $250,000 to put in a high tech collection device that allows a great deal of debris and sediments to be collected in this park, so it will not go into the river," Houlahan said. "And it will help Santee meet all of its clean water goals. That was the actual catalyst that got things started was the need to make sure that the debris and sediments that come off from our residential devel­opments does not go into the river. Some­times all it takes is a little bit of that seed money, an excellent crew and the vision of a city staff, and the will to do it."
Dog park area has three zones. One for puppies, small dogs and big dogs. There is a 9-disc golf course, which will officially open in the Spring after the landscaping takes hold.
"I think this is going to become Santee's new favorite park. It is something worth