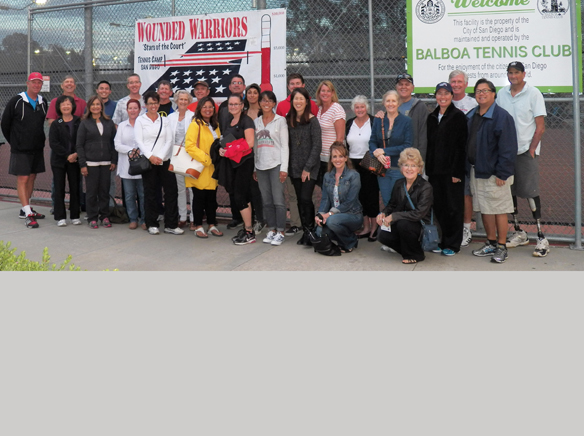 After trauma, recovering healthy ways of living can be difficult and delayed. The road to recovery, leading to restoration of balance in body, mind and spirit, can be especially troublesome for those who have been among the strongest—as protectors and warriors—but who have become injured or ill along the way.
After trauma, recovering healthy ways of living can be difficult and delayed. The road to recovery, leading to restoration of balance in body, mind and spirit, can be especially troublesome for those who have been among the strongest—as protectors and warriors—but who have become injured or ill along the way.
One local program has an answer that has worked in helping to heal the lives of many wounded warriors. The annual Wounded Warriors Tennis Camp, now in its fifth year, is bringing military veterans and a few of their caregivers to San Diego, from all across the country. Fifty-eight tennis campers will arrive for the pre-Memorial Day week of May 15-19, to learn or improve their skills as tennis players while engaging in friendly competition.
But the event offers much more.
Volunteers who assist with the tennis camp gathered to receive instructions about what to expect and what to do during a meeting at the Balboa Tennis Club on May 5. Steve Kappes led the instructional and informational portion of the volunteer orientation. Kappes, currently serving as both president and director of military outreach for the San Diego District Tennis Association, explained to the 2016 camp volunteers, "This is a tennis camp, but this is about more than tennis."
Kappes read excerpts from written testimonials projected on the screen. Several tennis camp participants from prior years described the event as "life-changing." A few referred to their days at the Wounded Warrior Tennis Camp in San Diego as "life-saving."
East County residents Greg and Connie Follis know. They returned to the volunteer orientation in preparation for their third year as tennis players eager to contribute their time, energy and love for tennis during the annual camp. The couple have lived in La Mesa for 16 years. They play tennis recreationally at the Lake Murray Club. Greg is himself a military veteran of Air Force and Army National Guard service.
"What we enjoy most is getting to know the people who are at the camp," Greg Follis said.
The incoming campers will be almost evenly split between returnees and about 30 first-timers. Most of the wounded warriors will be mature, between 45 to 65 years old, although a few will be younger. Four caregivers will attend. Of the 54 military veterans, three will be currently on active duty. All branches of the U.S. military will be represented in this group. Fourteen of the campers will play tennis from wheelchairs. Two are amputees. Two will be accompanied by service animals.
After injuries, wounded warriors and their families experience financial challenges. All event-associated costs are paid for those accepted to attend the annual tennis camp, including airfare, lodging, meals, local transportation, tennis equipment, social events and incidental expenses. The program focuses on delivering a quality experience for the warrior-campers while keeping the operating budget low and directed toward the wounded warriors. No organizers or professional tennis instructors at the camp receive salaries or payment. Campers will be lodged in roommate-pairs at the Crowne Plaza Hotel in Mission Valley, where the Sunday Welcome Dinner and Thursday Awards Banquet will be staged as formal dining events bracketing the weeklong tennis lessons and camaraderie.
The four days of camp will involve lessons on 10 courts at the Balboa Tennis Club in Balboa Park, with six campers per court for lessons on specific tennis strokes and skills, on a 20 minute rotation schedule around the courts. Each half-day tennis session will cover four hours, with a catered lunch break at midday. Evenings will feature socializing during field trips around San Diego landmarks, including Coronado, the Air and Space Museum, and Old Town's Café Coyote.
The committee has been working on event planning for the camp since November. A total of 120 applicants requested to attend. Geoff Griffin, Tennis Director for the Balboa Tennis Club, said, "The campers were really hard to select this year. We spent four hours narrowing down the 120 applications to about 50 we could host."
East County resident Mary Alice "MA" Hillier concurred, "We don't take this lightly." Hillier serves as Wounded Warrior Tennis Camp Coordinator.
The annual camp is a special, once a year event that is an offshoot of ongoing weekly program of rehabilitative tennis clinics for patients from the Naval Medical Center San Diego. The local tennis association wanted to promote the growth of tennis and reach out to wounded, ill and injured military service members and veterans. Kappes and other members of the Balboa Tennis Club worked with medical staffers from the Balboa Warrior Athlete Program at the Naval Medical Center San Diego (NMCSD) to develop the Wounded Warrior Tennis Program, which began in 2009 as an offering to injured, recovering service members, focusing on recently combat-wounded troops from the conflicts in Iraq and Afghanistan.
Therapeutic benefits that recreational therapists have reported from the adaptive tennis program include improvements in eye-hand coordination, balance, endurance and ability to transfer weight. On the psychosocial side of recovery, tennis enhances learning capabilities by teaching the patients a new sport, promotes socialization, decreases stress and anxiety, and helps with re-integration into the community.
More information on the program activities can be found at facebook.com/sdwoundedwarriorstennis. The San Diego District Tennis Association is located at the Balboa Park Tennis Club facilities, 2221 Morley Field Drive, and can be contacted at (619) 299-8647 or www.sandiegotennis.com.
The organizing committee will happily accept individual monetary and in-kind donations for these programs through Tennis Lovers for Charity. Sponsorship opportunities are available for organizations and businesses too — contact volunteer coordinator Cara Beltran at (760) 271-5019 or carabeltransd@gmail.com for more information.