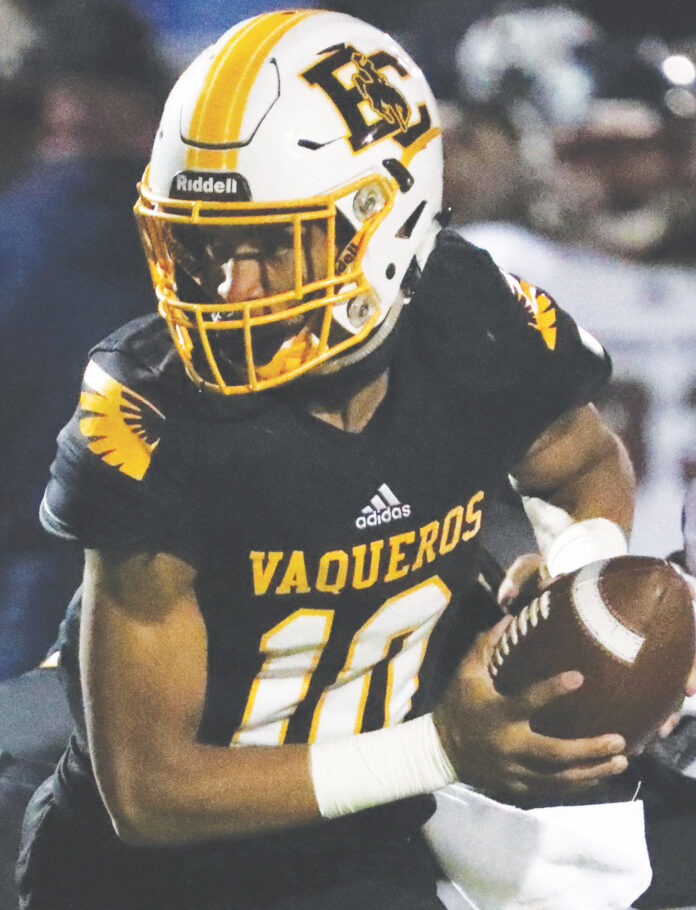 The question really begs to be answered at this point of the season? Is El Capitan senior Savigon Lloyd Yokley the best high school football player in East County?
The Vaqueros' Grossmont Valley League opponents would likely answer in the affirmative.
El Capitan head coach Ron Burner said he considers Yokley as one of the elite players this season in all of San Diego County. Few might argue that, especially after last Friday's stunning performance.
Yokley scored four different ways in a 35-0 shellacking of previously undefeated Santana. He scored his four touchdowns in succession — first on the 36-yard interception return, then behind center with a seven-yard scoring pass to teammate Angel Diaz, next on a nine-yard touchdown run and lastly on a 24-yard scoring pass from backup quarterback Bruce Newland.
Yokley admitted it was the first time he had accomplished such a quadruple feat in a game. It might not be the last.
Simply call him the "Beast in the East."
On the season, Yokley has thrown for 856 yards with 13 touchdowns against just one interception. He's rushed for 529 yards and scored eight rushing touchdowns while making eight receptions for 223 yards and three receiving scores.
He's collected 1,608 total offensive yards in six games.
On defense, he's recorded 18 tackles, including 2.5 tackles for a loss, one caused fumble and two interceptions, including one return for a touchdown.
Despite those dynamic numbers, Yokley is not a one-man army. This year's El Capitan team appears loaded with talent, including Yokley's twin brother Antwone, who tops the team with 601 receiving yards and nine touchdown receptions.
The hosts scored all their points before halftime to claim the homecoming win. The Vaqueros led 28-0 at the end of the first quarter.
Justin May scored the opening points of the game on a 45-yard interception return to set the early tempo.
The Sultans have been challenged — some weeks more than others — by ongoing injuries this season. They had managed to overcome such adversity to remain undefeated until last Friday.
Santana head coach Tim Estes had set a goal to contain Savigon Yokley as much as possible but admitted after the game that plan was not successful.
El Capitan (5-1 overall) now shares first place in the league standings with West Hills, which was idle last weekend. Both teams now possess 2-0 league records. The Wolf Pack remains undefeated on the season at 6-0.
The upcoming Division III playoffs should be very interesting with 10 of the 17 teams in the division possessing winning records, including four teams with undefeated records.
Santa Fe Christian (6-0) currently sits No. 1 in the division power rankings, followed by No. 2 Mt. Carmel (6-0) and No. 3 Mater Dei Catholic (5-0). Despite the loss to El Capitan, Santana (5-1) is fourth, followed by cross-town rival West Hills at No. 5. Ramona (4-2) at No. 6, followed by El Capitan at No. 7.
The Vaqueros occupy the No. 6 position in the MaxPreps weekly rankings in which Mater Dei Catholic is first, Mt. Carmel is second, Ramona third, Santa Fe Christian fourth and West Hills fifth. Santana is ranked eighth by MaxPreps.
El Capitan plays at Mount Miguel (1-1 in league, 2-2 overall) this Friday while West Hills is at El Cajon Valley (1-2 in league, 2-5 overall). Santana hosts winless Monte Vista (0-2 in league, 0-6 overall).
Regular season play ends Oct. 29.