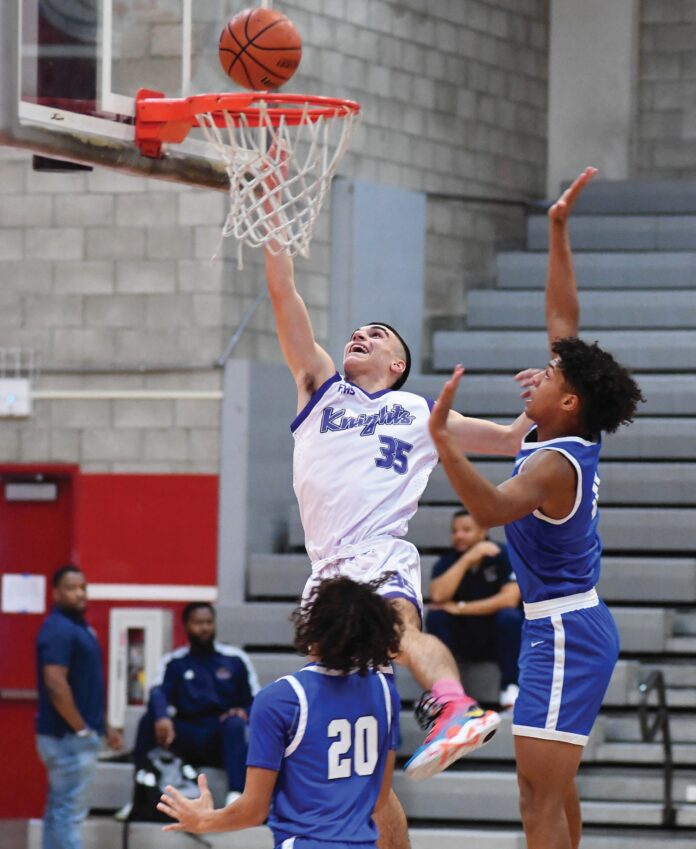 Scott Reed coached the Mar Vista High School boys basketball team for two seasons, compiling a 19-11 overall and 7-5 South Bay League record his first year at the Imperial Beach school and a 15-8 overall and 9-0 South Bay League record his second year.
The Mariners advanced two rounds deep into the 2019-20 San Diego Section Division V playoffs, but their promising 2020-21 season ended prematurely because of COVID protocols.
Reed finished his two-year stint at Mar Vista at 34-19, overall, 16-5 in league play.
The native Kentuckian moved over to El Capitan this season and the Vaqueros promptly got off to a 10-0 start and lofty state ranking. But a season isn't limited to just 10 games and Scott and his charges experienced more of a return to Earth heading into the Christmas break.
The Lakeside team participated in the 13th annual Frank Pekarek Sweetwater Host Lions Club Classic Dec. 19-23 at Sweetwater High School in National City. The competition was waiting for the Vaqueros and the Valhalla Norsemen delivered with an 88-58 upset win to tip off pool play in the 16-team field.
El Capitan appeared to right itself with an ensuing 82-61 victory against the Southwest Raiders in second-round play on Dec. 20, but the tournament proved especially competitive as the Vaqueros dropped their next three games to finish 1-4.
"We have an amazing group of kids," Reed said. "We have kids from the reservation who hadn't played organized high school basketball before. But they have a good attitude and we have benefited a lot from them."
The Vaqs have done well with just one returner on the roster: senior Micah Odell. The 6-foot-6 forward ranks as the team scoring leader with 22.6 points per game and the team rebound leader with 10.5 rebounds per game. He's also averaging 4.2 steals per game. He's deadly when under the basket.
Odell was held to 16 points in the loss to Valhalla while junior James Ray dropped in 12 points. Valhalla responded with 28 points from senior Zaki Monqad and 17 points from senior Tony Famoyin in capturing their first victory of the season following a 0-2 start.
Odell played truer to form in the win over Southwest with 42 points while senior Jaylin Padilla contributed 11 points.
Next up was a 53-51 setback to the Morse Tigers on the first day of winter. Odell chalked up 23 points in the loss while Padilla had nine points.
"We showed a lot of heart, down 11 late to tie it but came up short," Reed said. "Very proud of my team I coach and very proud of the Morse Tigers where I teach."
The Vaqueros ended tourney play with a 68-51 loss to Monte Vista on Dec. 23.
Freshman James Wilson (17) and Ray (10) both scored in double digits while El Capitan as a team pulled down 45 rebounds in the game, highlighted by 11 from Ray and 10 each from Padilla and junior Chance LaChappa.
"(They were) tough of losses for us, but I still feel like the most blessed man in San Diego," Reed said on an optimistic note heading into the Christmas weekend.
The Vaqs head into the new year with an 11-4 record and will host Southwest El Centro on Jan. 4 and Tri-City Christian on Jan. 7 to end non-league play. El Cap tips off league play Jan. 10 at West Hills and follows with a home game against crosstown rival Santana on Jan. 13.
Wilson follows on the score sheet at 12.9 points per game while Padilla is averaging 10.2 rebounds per game and LaChappa is averaging 9.5 rebounds per game. Padilla is averaging 8.5 points per game while LaChappa is averaging 8.3 points per game. Senior Marshal Mair is averaging 6.6 points per game. LaChappa leads the team with 9.1 assists per game.
El Capitan has the second-best win-loss record among the section's Division IV schools, trailing only Canyon Hills (12-4).
"I think we have exceeded our expectations," Reed said. "We play hard. We're getting better each game. We're not a world killer but I think we have a chance to make some noise in our division."
Orange Nation
Valhalla closed out pool play with a 3-0 record following a 62-53 win over Morse and a 54-42 win over Southwest. Monqad poured in 30 points in the win over the Tigers.
The Norsemen had their winning streak snapped in an 85-41 loss to eventual tourney champion Mater Dei Catholic in the semifinals on Dec. 22.
At 7-4 overall, Valhalla has four non-league games scheduled through the end of the 2022 calendar year before tipping off Grossmont Hills League play Jan. 10 at traditional rival Monte Vista.
"We want to get through the tournament season and then compete in league play," VHS coach Keith Jackson said.
Free throws
Steele Canyon turned in the best record among the seven East County teams in the tournament with a 3-2 showing that included wins over Central Union (74-61 on Dec. 20), Foothills Christian (71-63 in OT on Dec. 21) and Morse (79-77 in the semifinal round on Dec. 22).
Steele Canyon (5-7) ended its hoops odyssey with a 59-47 loss to San Bernardino in last Friday's closing round.
Foothills Christian won its final two games to snap a season opening 0-10 run en route to a 2-3 tourney finish. Freshman Julian "JuJu" Lebel poured in 40 points in a 71-58 loss to Central Union in the opening round and came back with 25 points in a 69-52 loss to Mater Dei Catholic in the second round.
Lebel (29 points) drained a three-point shot as time expired to send the Knights' third-round game against Steele Canyon into overtime. The Cougars stormed back to pile up an 8-0 scoring edge in the extra period in what may have been the most exciting game of pool play.
The Knights (2-10) rebounded with wins over Southwest (65-62 on Dec. 22) and Sweetwater (53-46 last Friday) to close out tourney play.
Lebel dropped in 29 points in the win over Southwest and 16 points against Sweetwater to average 25.5 points per game.
Monte Vista finished 2-3 with wins over Mt. Miguel (62-546 on Dec. 21) and El Capitan. The Monarchs (6-8) have a barely recognizable lineup from last year's Division IV championship team. "We're starting over young," Monte Vista coach Michael Tully said. "Nice kids."
El Cajon Valley started 2-2 with wins over Sweetwater (48-39 on Dec. 20) and Monte Vista (56-46 on Dec. 22). Junior Jahsir Bosley keyed the Braves (5-8) with a 14.7 scoring average through nine games.
Grossmont Conference 2022-23 Basketball Non-League Records
Boys Basketball
(Through Dec. 23)
GROSSMONT VALLEY LEAGUE
West Hills 11-2
El Capital 11-4
Santana 7-5
Steele Canyon 5-7
El Cajon Valley 5-8
Mt. Miguel 1-8
GROSSMONT HILLS LEAGUE
Valhalla 7-4
Granite Hills 6-5
Monte Vista 6-8
Helix 5-9
Grossmont 1-8
SAN DIEGO SECTION RANKINGS
Top 25 Teams
(MaxPreps through Dec. 22)
1. St. Augustine 9-1, 2. Torrey Pines 9-1, 3. Carlsbad 10-2, 4. San Diego 5-2, 5. Mission Bay 10-2, 6. San Ysidro 5-3, 7. El Camino 7-3, 8. Del Norte 6-3, 9. Montgomery 7-3, 10. Otay Ranch 8-2, 11. Mater Dei Catholic 8-2, 12. Santa Fe Christian 7-2, 13. Bonita Vista 6-2, 14. La Jolla Country Day 7-4, 15. Cathedral Catholic 5-5, 16. Lincoln 9-1, 17. Mission Hills 8-5, 18. La Costa Canyon 5-4, 19. Madison 6-2, 20. Coronado 10-3, 21. Eastlake 7-3, 22. High Tech High San Diego 8-2, 23. Rancho Buena Vista 9-3, 24. University City 9-3, 25. El Capitan 11-2
Girls Basketball
(Through Dec. 23)
GROSSMONT VALLEY LEAGUE
Steele Canyon 10-1
Granite Hills 7-3
El Cajon Valley 9-4
West Hills 6-4
Valhalla 5-6
Santana 3-9
GROSSMONT HILLS LEAGUE
El Capitan 10-3
Grossmont 3-1
Mt. Miguel 5-2
Helix 6-3
Monte Vista 9-4
SAN DIEGO SECTION RANKINGS
Top 25 Teams
(MaxPreps through Dec. 19)
1. La Jolla Country Day 10-0, 2. Westview 8-0, 3. Rancho Bernardo 11-1, 4. Imperial 11-1, 5. Mt. Miguel 5-2, 6. Poway 6-2, 7. Mater Dei Catholic 7-1, 8. Carlsbad 8-2, 9. San Diego 12-0, 10. Mt. Carmel 11-3, 11. Scripps Ranch 6-3, 12. San Marcos 7-2, 13. Del Norte 7-4, 14. Holtville 7-3, 15. El Capitan 9-2, 16. Our Lady of Peace 9-3, 17. Bonita Vista 3-5, 18. Torrey Pines 7-5, 19. Steele Canyon 10-1, 20. La Costa Canyon 4-3, 21. Christian 6-1, 22. Fallbrook 7-5, 23. Oceanside 7-0, 24. Francis Parker 3-2, 25. Granite Hills 7-3