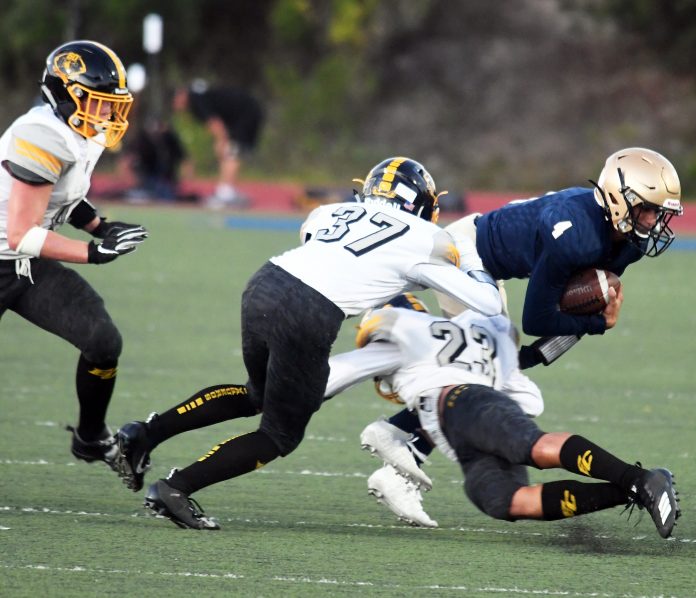 The El Capitan High School football team has experienced its share of highs and lows in recent years.
The Vaqueros finished 14-1, with a 5-0 showing as the Grossmont Hills League champion, during the 2014-15 season when the Lakeside community turned out in droves to watch their team post a 14-7 win over Rancho Bernardo in the San Diego Section Division II championship game at Southwestern College.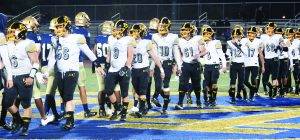 The Brad Cagle-led Vaqueros defeated Paso Robles, 41-0, in the ensuing Southern California playoffs to earn a berth in the Division III State Bowl championship game, where they finally tasted defeat in a 35-28 loss to Moraga Campolindo.
Cagle went on to play two seasons at Grossmont College and is now calling plays for Southwestern College in Kansas, earning NAIA Offensive Player of the Week honors after passing for 247 yards with three touchdowns and rushing for 77 yards and another score in a 42-21 win over sixth-ranked Kansas Wesleyan on Oct. 17.
Through five games, the Moundbuilders are 4-1 following a 39-35 loss to No. 22 Bethel on Nov. 7 to secure their first winning season in school history.
"Felt great to be back out there, much more to come!" Cagle tweeted to his legion of followers.
Fast forward to 2020 and the Vaqueros are looking to recapture some of that past glory.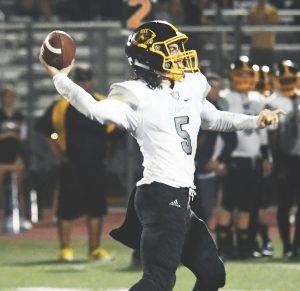 El Cap finished just 1-9 last season, including a 1-4 mark in league play. However, the Vaqs were competitive despite the lopsided record, dropping four games by 10 points or less, including three games by eight points or less.
The team is hoping to return to the winning side of the ledger after posting records of 2-9 in 2015, 4-7 in 2016, 3-7 in 2017 and 3-8 in 2018.
"We have moved back to the Grossmont Valley League and should be much more competitive even with a young team," El Capitan head coach Ron Burner said. "We feel very good about our defense as our strongest (point) but the offense has some pretty darn good players as well. We expect to finish at the top of our league."
Top returners include senior offensive lineman Timmothy Hutson, senior running back Taylor Grasmick, junior receiver/quarterback Savigon Yokley, junior receiver/defensive back Antwone Yokley, senior safety Austin Lee, junior linebacker/halfback Alex Fa'aea and senior running back/middle linebacker Trent March.
Savigon Yokley, who is on the Prep Pigskin Report's watch list for Top Upperclassmen in 2020-21, is currently rated as one of the top receivers in the San Diego Section. However, he also will play a lot at the signal-calling position as Burner calls him "a great weapon."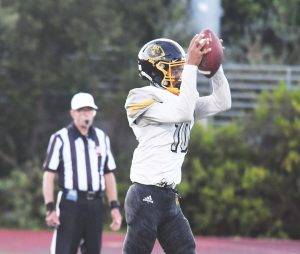 Antwone Yokley was a starter as a sophomore last year and, according to Burner, "has worked as hard as his brother and will be a great weapon."
Lee is a three-year starter on the PPR's watch list as Defensive Player of the Year. Fa'aea and March are also highly touted.
"Alex started as a sophomore last year, was one of the top linebackers in our conference and will be an impact player on both sides of the ball," Burner said. "Trent has started since his sophomore year and is a force on the field on both sides of the ball."
Hutson is slated to be a four-year varsity starter.
Impact newcomers include junior running back/cornerback Xavier Peace, sophomore running back/halfback Angel Diaz and sophomore linebacker Dominck Denha.
Peace started as a sophomore after transferring from Japan late last season. "His speed and agility are amazing," noted Burner, whose team is scheduled to host  Hilltop in a non-league game on Jan. 8 to kick off the season.
Diaz led the freshman team in rushing last year and is a big bruising back who has great hands as well, according to the Vaquero sideline boss. "He will see a lot of time at halfback," Burner said.
Denha led the freshman team in tackles last year and is "going to have a big first season for us," Burner noted further.
Wick Hauser, the team's quarterback for the past four years, graduated after last season.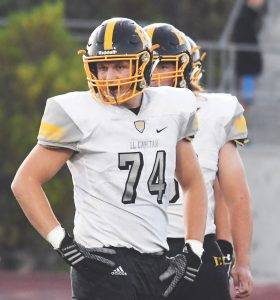 2020-21 League Alignment
Grossmont Valley League: El Cajon Valley, El Capitan, Monte Vista, Mount Miguel, Santana, West Hills, Valhalla
Grossmont Hills League: Helix, Granite Hills, Grossmont, Steele Canyon