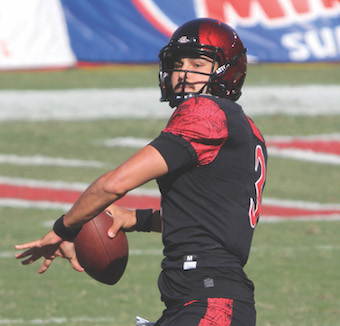 The season is over for the San Diego State University football team after head coach Brady Hoke announced on Dec. 16 that the program had taken itself out of bowl consideration.
The Aztecs, who were bowl eligible for an 11th consecutive season, finished the 2020 college football season with an overall 4-4 record, including a 4-2 record in Mountain West Conference play.
The league record — SDSU's best since 2017 — placed the Aztecs in sole possession of fourth place in the single table 12-team conference standings.
While the NCAA announced that all football teams, regardless of record would be eligible for bowl consideration, the cancelation of 12 bowl games due to the COVID-19 (coronavirus) pandemic significantly reduced the availability of postseason berths.
SDSU did not qualify for last Saturday's Mountain West championship game between conference unbeatens San Jose State and Boise State and was not among the teams slotted to fill the conference's four bowl game tie-ins.
The Aztecs were thus forced to look for a potential bowl game berth as a possible replacement team. Some schools, notably Kansas State, LSU, Virginia Tech and Stanford, simply went ahead and excused themselves from postseason consideration in a preference to allow their student-athletes to spend the holidays at home with family.
San Diego State practiced for the final time in 2020 in the early afternoon on Dec. 16.
"Our guys have really been through a lot, I think more than any of us could imagine," Hoke explained. "They get to play a game they love, but with the uncertainty of being able to play in a bowl game we have made the decision that we will not play another game this season.
"I cannot tell you how proud I am of this team with what they have been through and the commitment they showed to one another. Many of them have not seen their parents since May and we want them to have an opportunity to go home."
The Aztecs, who met three teams this season in the top 25 college football rankings, finished this season ranked among the national leaders in several categories, including fourth in total defense (283.5), 14th in scoring defense (17.8), 33rd in rushing offense (199.4) and 40th in scoring margin (+6.9).
SDSU lost 28-14 to 14th-ranked BYU in its final regular season game on Dec. 12. The Aztecs previously lost, 20-10, to 21st-ranked Colorado on Nov. 28 and, 28-17, San Jose State on Nov. 6. San Jose State ended regular season play ranked 24th in the nation.
BYU, which dropped to No. 17, accepted a bid to play the University of Central Florida in the Boca Raton Bowl on Dec. 22.
The nation's top four-ranked teams include No. 1 Alabama (11-0), No. 2 Clemson (10-1), No. 3 Ohio State (6-0) and No. 4 Notre Dame (10-1).
Semifinal games are scheduled Jan. 1. The national championship game is scheduled Jan. 11.
The Aztecs, braced by an incoming class of recruits and fresh community college transfers, plus players who elect to return to the team with an extra year of NCAA eligibility, can now focus on filling the gaps experienced in 2020.
Season rewind
SDSU started of the season with a bang by outscoring its opening two opponents by a combined margin of 72-13.
The Aztecs steam-rolled UNLV 34-6 in its season opener at Dignity Health Sports Park in Carson. SDSU looked equally strong in a 38-7 win at Utah State the following week.
But the Aztecs were not able to maintain that momentum and dropped three of their final four games to finish the season 4-4 and missed out on a bowl game berth for the first time in 10 seasons.
A look back shows that SDSU did not defeat a team with a winning record; its four wins came against teams that combined for a 7-19 win-loss record.
The Aztecs showed flashes of potential but suffered throughout the season with a nagging tendency to pile up missed opportunities.
East County products played a significant role in the outcome of this year's season.
Carson Baker, sophomore quarterback
The Helix Charter High School product earned the starting job to start the season and started the team's opening four games before seeing limited action in the next two games as a non-starter. He did not make an appearance behind center in the Aztecs' final two regular season games.
His season statistics include 59 completions in 104 passing attempts for a 56.7 completion percentage, 617 yards with three touchdowns and three interceptions. He completed his longest pass for 51 yards and compiled one net rushing yard on 25 attempts with one touchdown.
Baker completed two touchdown passes in a 38-7 win at Utah State on Halloween.
Jesse Matthews, sophomore receiver
The Christian High alumnus paced the team's receivers with 24 catches for 326 yards but caught only one touchdown pass in eight games. His biggest game came Nov. 6 in a 28-17 loss to San Jose State when he caught six passes for 139 yards, including a 51-yard reception.
He also doubled as a punt returner, handling 12 kicks for 113 yards, an average of 9.4 yards per punt return.
Contrast that to 2019 when he made 63 pass receptions for 633 yards with two touchdowns en route to receiving the 2019 SDSU Byron H. Chase Memorial Trophy Offensive Player of the Year Award and 2019 SDSU Co-Outstanding Freshman Award.
Matthews logged three catches for 111 yards with two touchdowns in the Aztecs' 48-11 victory over Central Michigan to earn honors as the 2019 New Mexico Bowl Co-Most Valuable Offensive Player.
He also returned 12 punts for 78 yards as a freshman (6.5 average per return).
He earned recognition in the team's annual awards banquet as the 2018 SDSU Offensive Scout Player of the Year.
Matthews joined 66 other student-athletes on this year's Burlsworth Trophy nominee list as the most outstanding college football player who began their career as a walk-on. The award will be announced virtually on Jan. 4 to honor the three finalists and name the winner.
Michael Shawcoft, sophomore linebacker
The Helix Charter alum appeared in all eight games this season He tied for sixth overall on the team with 35 tackles, including 24 unassisted stops, while recording three quarterback hits, two forced fumbles and two fumble recoveries.
Rashad Scott, junior safety
The former Highlander standout logged two tackles, one interception and one pass defended in five game appearances. His pick came in the win at Utah State.
In three years on the team (a total of 23 games), Scott has recorded five tackles, one interception and one fumble recovery. He appeared in 11 games in 2018 and seven games last season.