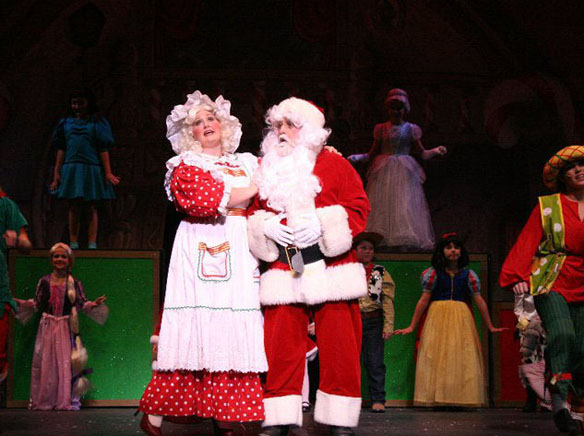 Twenty years ago, after a trip to New York City, Christian Community Theater's founder and long-time El Cajon resident Paul Russell had an idea. Why should New York City be the only one with a famous holiday show?
"It was 1990, I was with the late Bob Hamman and his wife Dottie and we had seen Radio City Music Hall's production of The Christmas Spectacular, and thought how great it would be to have that kind of show in San Diego," Russell said. "Bob and Dottie Hamman were the angels who invested the seed money to make this idea a reality."
Twenty years ago, after a trip to New York City, Christian Community Theater's founder and long-time El Cajon resident Paul Russell had an idea. Why should New York City be the only one with a famous holiday show?
"It was 1990, I was with the late Bob Hamman and his wife Dottie and we had seen Radio City Music Hall's production of The Christmas Spectacular, and thought how great it would be to have that kind of show in San Diego," Russell said. "Bob and Dottie Hamman were the angels who invested the seed money to make this idea a reality."
The rest is history.
Modeled after Radio City Music Hall-style spectacular and given some San Diego flair, Traditions of Christmas has grown to be the largest and most elaborate family holiday show in San Diego. It first debuted at El Cajon Performing Arts Center and since has traveled to Copley Symphony Hall and Balboa Theatre. This year will be its second at Lincoln Performing Arts Theater.
And it's no small feat – with more than 1,000 lights, 1,600 costume pieces, 150 in cast, crew and orchestra and a number of four-footed friends, it takes months of organization and dedication.
This year, Traditions of Christmas will look back over the past 20 years and celebrate some of those best memories, best songs and fondest stories. Through the years, they've had Elvis singing Blue Christmas, the Chipmunks, Norman Rockwell and even Susie Zoo.
"Thinking back to that very first year, I would have to say my favorite part of the show was the "Suzy's Zoo" Nutcracker Suite," Christian Youth Theater's Artistic Director Janie Russell Cox said. "We wanted to have something similar to Radio City's "Teddy Bear Nutcracker" but with Southern California style. So we asked San Diego's own Suzy Spafford if we could create life size characters from her famous and beloved greeting card characters."
Cox was 12 years old when she donned one of the lovable, oversized animal costumes designed by Suzy's Zoo illustrator Dough Schmitt. The life-size greeting card characters danced to their version of "The Nutcracker".
"The feet were hard to dance in and the heads were pretty big, but it was a crowd pleaser for sure," Cox said.
One of the highlights of the production is in its joining of other Christmas celebrations around the globe. The Pageant of St. Nicolas, features that special someone in various cultures who bring gifts to good children, such as Italy's La Befana, Japan's Hoteiosho, France's Pere Noel, Sweden's St. Lucia and Latin America's Las Posada's celebration. Of course, in America, we know him as Santa Claus, and she as Mrs. Claus and their magical toyshop of elves and wooden toy soldiers have a very special part in the show as well.
Traditions of Christmas also features one of the best attributes of our San Diego region – its reputation as the home of our Armed Services. In honor of our military, Traditions of Christmas brings back a favorite musical salute to all the men and women who have served in the armed forces.
"There is no greater time for our country to come together and ask God for his blessing upon us, our leaders, and our brave men and women in the Armed Forces," Russell said. "It's a time to remember that we truly are one nation under God."
Their trademark finale has continued for all 20 years. In a breath-taking scene, the entire cast, complete with sheep, donkeys and camels and majestic Christmas music bring the Christmas story onto the stage with a live nativity scene and a Hallelujah chorus that brings one to their feet.
"There have been many people involved over the years," Russell said. "From performers, to artistic directors, to volunteers and sponsors. When you include the many patrons, that number climbs to more than 300,000 who have made this special show happen."
Performance dates for Traditions of Christmas are December 13, 14, 15, 19, 20, 21 & 22 at 7:00 pm; December 15, 16, 22 & 23 at 2:00 pm.; and December 16 at 6:00 pm at the Lincoln Performing Arts Center: 4777 Imperial Ave, San Diego, Ca 92113. Tickets prices range from $25 to $48 with discounts available for children, seniors, military and groups of 15 or more. For tickets or more information call 619.588.0206 or visit www.CYTSanDiego.org.