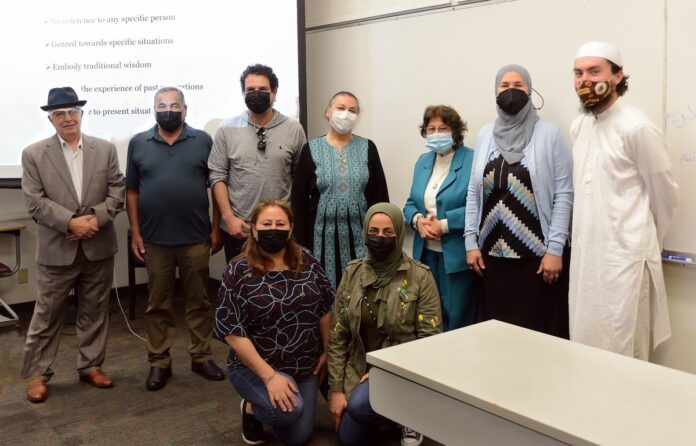 Grossmont and Cuyamaca Community Colleges are celebrating the cultures, contributions, history, and resilience of Arab and Middle Eastern communities throughout the final weeks of April for National Arab American Heritage month with art, music and dance events planned for both campuses.
Grossmont College World Languages co-Chair and Professor Sonia Ghattas-Soliman, who is one of the main organizers said they wanted to present different aspects of Arab American art and culture so instead of sticking to just one particular type of event, different activities were incorporated to appeal to a variety of people.
The lineup of events heavily features the work of women artists and includes a broad spectrum of cultural perspectives with the shared base of Arab culture at the heart of curation.
"When we're talking about Arab culture, we're talking about a culture common to 22 countries. The Arabic language is the main factor we have in common,"
Ghattas-Soliman said, although there are five different dialects including a North African dialect that is harder to understand than the other four.
The 22 countries also share three main religions, GhattasSoliman said: Islam, Christianity and Judaism, but not all three are present in every one of the countries.
Works of literature are among the most relatable between cultures, she said, as they are written in modern, standard Arabic, the official language that does not differ from one country to another, easily read by everyone.
"That language doesn't differ so the difference is the theme, the local topics of each country," Ghattas-Soliman said.
Artists usually focus on their own areas of interest, she said, whether that is a particular region or country's people, or a certain school of art like modern design or realism.
"Some go back to civilization, that would be a painting of a famous monument or famous areas or locations which would appeal to local citizens but also appeals to visitors," GhattasSoliman said.
The artwork comes "from the heart" and there is often a sense of homesickness in the pieces, she said. For example, one might feature a city which "is still a part of them although they have achieved the American dream," the professor said.
For example, she said, Lebanese painter Doris Bittar's paintings are a reflection of multiple cultures.
"In one painting, the American flag is shown in the background over a mosaic. We appreciate being American as well as of Arab descent. She shows another painting about the Arab world, part of reconciling both cultures, both societies. Each one of them is presented in a different way," Ghattas-Soliman said.
Palestinian photographer Haneen Oreiqat is younger in her career but also gives perspective on what can be achieved here— love, happiness, togetherness— but like other artists also reflects "what they miss or can no longer have here," Ghattas-Soliman said.
Hyde Gallery Art Director Alex DeCosta has done "an excellent job with the project", she said, helping organizers isolate what they want people to recognize in order to appreciate each artist, including some of the less obvious themes.
"We also have Yasmine Kasem, she is an adjunct professor who will be presenting a painting of Arabian Nights and one reflecting love on textiles," Ghattas-Soliman said, as well as a movie, Amreeka.
Organizers encourage people to see the movie as it shows how similar challenges are between Iraqi, Syrian and other refugees.
"The movie tells the story of a Palestinian woman and her son who came to the United States as immigrants and it's interesting because some people who have watched it say they saw the same circumstances and obstacles they encountered. It is very well presented. It gives them a certain understanding of the similar struggle regardless of where they came from," GhattasSoliman said.
Some Americans don't realize how many Arab Americans have contributed to society, GhattasSoliman said, from Iraqi American doctor Mona Hanna-Attisha who researched and publicized the Flint, MI water crisis to Egyptian American Ahmed Hassan Zewail who won the Nobel Peace Prize for his work in chemistry.
"We are very proud of some people who are almost unknown to American society," GhattasSoliman said with a smile, eyes twinkling.
Other events in the lineup at Grossmont College include a tea gathering replicating Arab custom, a Sham El-Nessim celebration marking the Egyptian national holiday and the beginning of Spring, and an Arabic music concert presented by music instructor Farhad Bahrami and Lebanese American singer Antoine Caspari.
Visit www.grossmont.edu/campaigns/2022/spring/arab-american.php for a full list of events at Grossmont College.
Cuyamaca College has multiple virtual offerings including talks on Middle Eastern ethnic identities, social justice and activism through citizen diplomacy, as well as an in-person author Michael Bazzi event on the book Chaldean Nation: Past and Present.