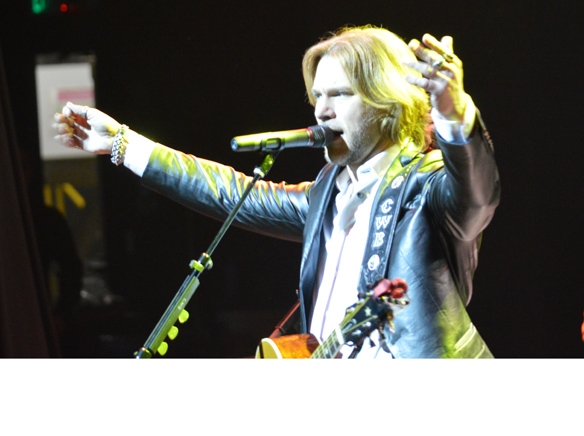 With a full house, and for most of the evening no one sitting in their seats, Craig Wayne Boyd had Sycuan Casino's Live & Up Close audience singing and boot stomping in his first appearance in San Diego. With an impressive array of honky-tonk, ballads and Southern rock, Boyd showed his talents and proved why he worked his way up as last season's "The Voice."
With a full house, and for most of the evening no one sitting in their seats, Craig Wayne Boyd had Sycuan Casino's Live & Up Close audience singing and boot stomping in his first appearance in San Diego. With an impressive array of honky-tonk, ballads and Southern rock, Boyd showed his talents and proved why he worked his way up as last season's "The Voice."
There is no doubt that Boyd knows how to work a crowd into frenzy and his years of performing experience before winning was clear as he sang cover songs, originals and a couple of Voice fan favorites.
He showed off his Texas roots with Pat Green's "Wave on Wave" and George Strait's "You Look so Good in Love," both which he delivered in Boyd style without sounding like a cover band.
Of course, by audience demand, he performed two songs from "The Voice" that, for many that watched the show believe, placed him on top to win. First was his own version of Johnny Cash's "I Walk the Line." This was a favorite of mine for the evening. It is difficult to follow the Man in Black, but Boyd turned this song into an acoustic masterpiece that highlighted the lyrics of the song. His version, though staying true to the original, was tender and brought the beautiful lyrics in this song to a new light and life. And the night would have not been complete if he had not encored "The Old Rugged Cross." I have not seen a main stream performer perform gospel music with such intensity and conviction since The King, and Boyd delivered an inspiring and powerful performance in this song that was well worth waiting to the end to hear.
Blake Shelton was right when he said "My Baby's Got a Smile on Her Face" was meant for Boyd to sing, and sing it he did. It is no wonder it debuted at No. 1 on the Hot Country Songs Chart, only the second to debuted No. 1 in its history. It was made for him, and he made it his own. But a pleasant surprise for the evening was a song he called his "personal anthem" that he said he wrote about 11 years prior to "The Voice" when he was struggling through the country music industry. "I Ain't no Quitter" sounded like the story of his life and he delivered it with such passion, but I am sure with a lot more conviction with his recent climbing to success.
Boyd's entire evening of performing was flawless. His ability to keep on pitch and his range along with that raspy growl will take him far in country music. I believe he said it best through song that evening when he performed Justin Moore's "Old Back in The New School." Boyd's roots (and his grandmother) exposed him to the early days of country music and he has found the ability to mix the old with the new in a style that most country music lovers should appreciate.
Sycuan's Live & Up Close has once again brought some premier talent to East County and it has plenty more to offer up this year.
In February, you can look forward to Damon Wayans and Damon Wayans Jr., and Air Supply. Lined up in March is Billy Ocean, Jenny McCarthy, and acoustical performance by Lonestar and 70s heartthrob and Rock & Roll Hall of Famer David Cassidy.
For more information about Sycuan's Live and Up Close upcoming performances, visit www.Sycuan.com/entertainment.