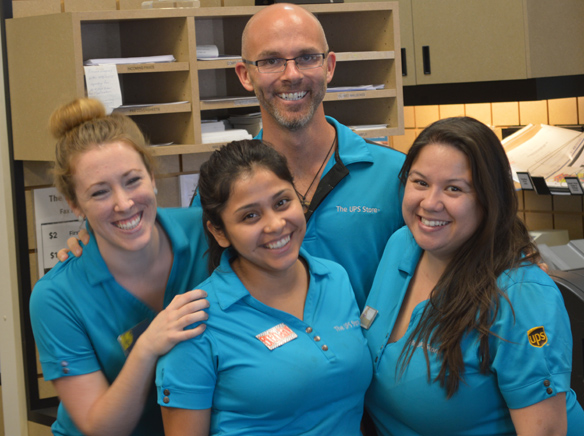 For 13 years, Greg Gagnon, The UPS Store owner in Santee has been in the business of shipping packages. He said his early beginnings was when it was Mailboxes Etc., and at that time he was going to school, surfing and that the job fit his lifestyle well. Wanting more, he found a partner, buying their first UPS Store in the UTC area. It became the number one store in San Diego County for two years in a row in 2005. With plans to open 10 stores by 2013, the recession hit, which held back their plans, but they still managed to open up five more locations. This made these partners the largest multi-store owners for UPS Stores on the West Coast.
This success stayed this way until recently, and Gagnon said this partnership was one of the best human relationships he ever had in life and that he still values that partner to this day.
"But we saw things differently," he said. "It became time for me to do something more authentic to how I feel about business. That is a tough choice. Most people would say, 'Why would you take a step back? Why would you walk away from something so good?' We were just getting ready to buy our seventh store."
Gagnon wanted to create a business model that focused organically, so he parted ways friendly and formed his own company Organic Inc. In the separation, he kept the seventh UPS Store location is Santee, where he lives and began his long yearned philosophy of running a successful business.
"All of our systems work together in my mind, so our relationship to our customer base starts with our relationship to our employees, to our vendors, our drivers," he said. "All of these things work together. I wanted something that focused intensely on things that most businesses do not focus on. I wanted something that gave back to everybody involved and created connections between them."
Gagnon swore never to be the boss he had to work for before as they were always focused on themselves and how to better themselves. Leaders should be out front risking as well," he said.
"If you have an organization, everyone in it should thrive on one level or another," said Gagnon. "This should be something tailored to their talents. I wanted something that gave back to the people in it."
He said his team is just now in the beginnings of this model. Part of its mission is to create a thriving business, financially and ethically responsible, something Gagnon has successfully done before. But he said the next level is the level of significance and that is taking your business and using it in the community.
"The ideas flow like water nowadays, so it is a matter of making them stick," he said. "Some of the things I have tried to create are for our employees, whom are very engaged, is anything we can do as a company can support personal growth in their life."
Gagnon said helping each other with personal goals are a valuable asset in the work environment. An idea he saw frequently in the Cross Fit arena.
"If Haley wants to run a half-marathon, she puts that on the board, and we all do what is necessary to help her reach that goal," he said. "If she needs a Saturday off for training, we work the schedule around it. If she is having a down day, we get her out running and help her through it and if she is running low on money, we will all pitch in. Whatever it takes to help her reach her goal. It is mostly the employees that are driving the goals, and that is the way it should be."
He said other examples are that they all try to eat well, are looking to get a garden plot somewhere close to the store to spend time together, doing something good and if possible, sharing it with people.
"We try to do events together, like hiking Cowles Mountain and that helps us to connect on a non-business level," he said. "The more we understand each other on a personal level I think the better we are. Their interactions at work, there is no barrier and there are no miscommunications."
Gagnon said he is a true believer in altruism.
"Many do not think they have time for it, but I have learned anytime I do any type of outreach program, people's lives are changed because of it," he said. "We have talked as a whole about things we would like to do. We have talked about working with organizations that do some sort of habitat restoration, homeless outreach, we were part of Girls Think Tank and hopefully we can continue to do. As a business I think it is part of our responsibility to try and do more for the community around us. If we can be a collection point for the Santee Food Bank, or clothing, then we should do that because that is how we should use our business to give back."
He said these are some of the things that his former partner and he did not agree on and had to pull himself away to be able to do these things in a daily business setting.
He said another goal they are focusing on that no other UPS store does in the world is a UPS initiative called the Carbon Neutral Initiative. UPS created a sub-company that reduces UPS's carbon footprint.
"It is a big deal. They are aware of it and they are responsible," he said. "They do forest rehabilitation and replanting and do tons of research into alternative fuels for all of its trucks." UPS is now coming out with all natural gas and electric vehicles. He said not many people know this, but every time you ship a package you can select to have a carbon neutral option for about five cents. It is really nothing in the grand scheme, but it adds up, he said.
"No other UPS store has made a push to make its center 99 percent carbon neutral, but that is our goal," he said. "In a year from now, it will be neat to look back and see what kind of impact we are making."
Gagnon's goal is to open two more stores and his hope is to keep them all in East County. He said he is having the time of his life with his first store and three employees and that they are much more of a team because of the "organic philosophy" that they have all embraced.
From shipping, quality printing, notary services and much more, Gagnon said he believes that his store can do more than just ship packages, it can change the community it serves.
The UPS Store is located at 9625 Mission Gorge Rd., Suite B2. To see a list of all the services that this location provides go to theupsstorelocal.com/4287 or find them on Facebook at facebook.com/theUPSstore4287.