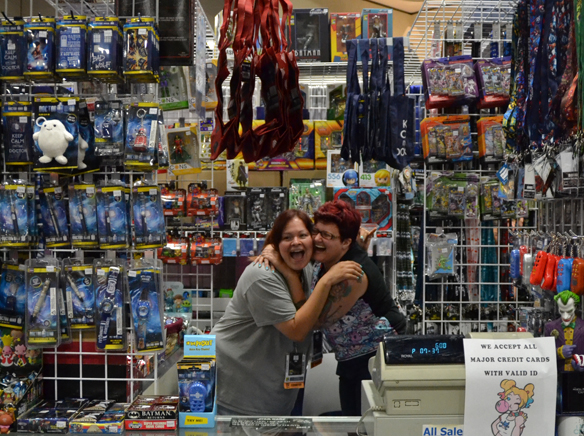 Five days every July, San Diego rivals Hollywood for its concentration of star power. And not just star power, but coveted content, lectures given by the amazing brains that create it, not to mention schmoozing, target marketing, and material teased in a way that only the most innovative minds can contrive. It's Comic Con, and in it's 47th year it has become practically self-aware, like artificial intelligence. It takes over its host, like an alien creature.

Five days every July, San Diego rivals Hollywood for its concentration of star power. And not just star power, but coveted content, lectures given by the amazing brains that create it, not to mention schmoozing, target marketing, and material teased in a way that only the most innovative minds can contrive. It's Comic Con, and in it's 47th year it has become practically self-aware, like artificial intelligence. It takes over its host, like an alien creature. It covers sides of downtown buildings, like a spider web.The magnitude of "the 'Con" as some refer to it has lived long enough to see character and franchise introductions, reboots, rebirths, sequels, prequels, record breakers, and those are just some of the ripple effects. Even the Comic Con attendees who barely slept from Preview Night onWednesday, July 20th to the last panel on Sunday, July 24 didn't seize everything Comic Con had to offer. But the badged masses gave it their best superhero effort.
Some of the attendees meant to look haggard and sleep-deprived — the zombies, the undead — but this year, there were fewer costumes. For the five-day endurance course that is Comic Con, many opted for simple t-shirts identifying their fandom. Nearly all attendees wore their favorite franchises on their backs, trading the backpack-style bags they received with their badges with other attendees until they got the bag they wanted, Suicide Squad or Supernatural being the most sough after.Those who were costumed portrayed their characters down to the finest detail. Rey look-a-likes fromThe ForceAwakens wore fabric, headgear and utility belts that must have been difficult to find if they were not laboriously hand-made.The heeled boots, "Daddy's Lil Monster" t-shirts and fishnet stockings of the multiple Harley Quinn cosplayers prompted many "Can I get a picture with you?" opportunities. But cosplay is just one way to give a nod to a fandom.When the creators and celebrities speak at panels, the worship is tangible. People hush to listen or scream for more.The line Hall H panels extends far past Embarcadero Marina Park, and then wraps around itself near vessels like the IMDBoat. Hall H line conversation revealed things like "We pulled an overnighter for that one," for panels of the past, and by that, people mean, they slept outside, hoping to get as close as possible to the celebrities and creators of their favorite franchises.
It is all too easy for badge-less fans to hear about things like this and relive sold-out- badge disappointment all over again. For those who love their franchises, whose characters and content have become part of their daily life and even identity (there are a lot), the sadness of not getting to ask questions of or see the celebrities in person, of missing the anticipated movie or series trailer that drops at the Con, it's not an easy emotional rebound. Many off them took advantage off the off-property activities, so they could get a taste of the Comic Con magic.A drive by of the convention center or walk through the Gaslamp Quarter was practically like watching a character montage.
Besides, there's always next year, and the year after that, people hope, but how many more years will Comic Con commit to San Diego?
There was little talk among attendees about how the November ballot measures and convadium proposal will impact future Comic Cons. If attendees will travel from all over the globe to San Diego, and given the level of dedication attendees proudly display, why wouldn't they follow Comic Con to another city?The fact is there was so much to see and do that the "now" simply had an overwhelming amount of material to offer. From the quality content panels at nearby hotels — Neil de GrasseTyson hosted a "Creating Universes" panel at the Horton Grand — to the concerts off site, to the giveaways, Comic Con was one step ahead. It gives people what they want, and there is usually much more behind the curtain.
CW's Supernatural, the longest running show of it's genre in television history, held it's panel in Hall H on Sunday morning. Executive producers Robert Singer andAndrew Dabb, along with actors Jared Padalecki, JensenAckles, Misha Collins and MarkA. Sheppard were introduced by show regulars Richard Speight, Jr. and Rob Benedict (plus a talking stuffed rodent, again) acting as moderators.To the delight of the crowd, actors Samantha Smith and Ruth Connell were introduced after the panel had begun. Surprises like this are not uncommon.
One Supernatural star, Misha Collins, understands how thrilling a fan base is good for everyone. Early Sunday morning, Collins, who plays the angel Castiel on Supernatural, showed up outside Hall H lines and handed out food to attendees. It was not his first time performing this random act of generosity to Supernatural fans.
Collins was also one of the stars who gave a standing ovation to the man who took the opportunity to propose to his girlfriend in front of thousands of people.At the audience microphone and shown on every big screen throughout Hall H, he had a question for the panel, and a back-up question, he stated, in case his intended question was not permitted.Within just a couple of minutes and talk of no one he "would rather fight zombies with", a small box appeared, his girlfriend put her hands over in mouth in surprise, and with a collective "awwww" from the crowd, two Supernatural fans got engaged. Padalecki, who plays SamWinchester on the show, said, "What was your back-up question?"That's what attendees wait for in Hall H.A guarantee of laughter, sarcasm, surprises, tears, and witnessing friendships forged from television shows older than some attendees, all included with the price of admission.
Not all the excitement is in Hall H. "I went down to the floor, it was a mistake," said a weary Jedi (real name, Elaine) from San Diego.The books, the prints, the comics, the t-shirts, the original artwork being exhibited and sold have an once-in-a-lifetime feel about it at Comic Con.
Of course, attendees can findWonderWoman costumes or a Padawan-style messenger bag online, but if they got something "at the Con", it proves they were there and part of the magic, and the nostalgia is slow to wear off.
That is why Ed Sanburg is at Comic Con every year. Owner of Comics-N-Stuff, Sanburg has comics in his blood, active in the industry since he was a child. He had two booths at Comic Con this year, and both booths had regulars.Whether they were patrons of his stores or they visit the booth every year, one thing is clear, it's merchandise they need. One of this year's most eye- popping Comic Con exclusives was the Harley Quinn paperweight.
There has been an uptick in comic book interest since the DC and Marvel movies, said Sanburg because, "now it's cool," he said. "It's not nerdy anymore so you get all the closet nerds that came out. It's a lot more accepted now. Since it's accepted, you're getting a wider variety of people coming in. Professionals, attorneys, CPA's, to just regular people that collect and enjoy the comics." Of course since the movies are a big hit, people buy the comics but he notices changes in how the buy, and consume them. "I notice a lot of people buy the trade paperbacks, which are a compilation of all the comic books," Sanburg said. In addition to buying compilations instead of single comic books, the digital option has changed the market, too.
"There is some question about authenticity of print comic books to digitalizing them.Alot of people are worried about it, to me it hasn't really affected me.Alot of people that collect the comic, they want the smell of it, they want the feel of it.They want to see the art. People buy digital but they simultaneously buy the hard copies.They just can't get enough," he said.
Sanburg is reopening a Plaza Bonita store right after Comic Con onAugust 1st, not too long after opening his Grossmont Center store. "If you walk in our stores, there's something for everyone. Beanie babies, Barbie dolls various collectibles, various coins like the new Superman coin that just came out, a one ounce silver coin.Years ago it was mainly teenage males. Some days in the store, I look and I'm amazed because thereare more females than there are males in the stores.There are still more males but the gap is narrowing quick."
Gender is also a noted topic among creators. Strong female leads were a popular theme at Comic Con 2016.AmandaAbbington, who plays Mary Morstan/MaryWatson on BBC's Sherlock, said she would much rather play a "flawed character." Morstan "seems charming but she's actually ruthless,"Abbington said, but likes the fact that a woman plays that character.
On Saturday afternoon, another strong female character was celebrated during "Aliens: 30thAnniversary" in Hall H with James Cameron and producer GaleAnn Hurd, along with Ripley herself, SigourneyWeaver. Fellow "Aliens" actors Michael Biehn, Bill Paxton, Paul Reiser and Lance Henriksen joined her. Ripley, according to writers and other creators, set the bar for female characters in the 1980sAliens franchise. If there is one things Comic Con crowds love to do, it's repeat lines from movies and hear them bounce off the wall, recreating the history-making factor of the profound quote.
In a separate panel, "There Can Be Only One: 1986" presented by Geek magazine, movies of 30 years ago were represented and discussed by writers and creators such as Jose Molina (Agent Carter). Ripley's famous line fromAliens (1986) "Get away from her, you *****!" was repeated in unison by a packed crowd of attendees.Without characters like Ripley decades ago, there may not have been panels at current day Comic Con panels like Entertainment Weekly's "WomenWho KickAss" which was scheduled after the "Aliens" panel in Hall H.
Melissa Benoist, who plays Supergirl in the television series, was among the "women who kick ass," but true fans know and honor the Supergirl of comic books. In the "DCAllAccess: No Boundaries" panel, writer Steve Orlando had much to add to the topic of female superheroes. "The girl of steel, to me, it doesn't just mean bullets off her chest, it's her resolve," he said. "Unlike Superman, her experience is so much more real. He came here as a baby and the first face he saw was a loving human face. Kara had a life on Krypton, she had friends, she had teachers," he said. "Seeing the best in people…that's really being super and being the girl of tomorrow," Orlando said.Asked if his comics were a good jumping off point for fans of the television show, he had an affirmative reply about how the comics, the show, and the themes tie in well. "We will echo things that work great in the show, in a way that is seamless with the DC universe, but at the same time I think the idea behind rebirth, and you come back to the core of these characters, it's the same with Kara, it's a good fit for people who watch the show because that's why the show did so well, it got back to the fact that Supergirl is about hope, Supergirl is about passion. The show gets it.We're unifying with that in a way that is very pleasing because it's true to the character and it's what makes her unique amongst the DC universe."
There was audience eruption at the sight of comic book Harley Quinn #1, written by Amanda Conner and Jimmy Palmiotti. It goes on saleAugust 3rd, timed perfectly with the release of the Suicide Squad movie, due to release Friday,August 5th. More of a complex character than Supergirl, according to Conner, Harley Quinn "is always getting new hobbies, she's got that kind of an attention span.The 'Oh, I think I want to do this, now!' One of her favorite hobbies is trying to be a new superhero. 'Let me see what I can save now!' She's usually killing more things than she's trying to save in the process," Conner said.The fun with Harley Quinn will just keep rolling. Fans were happy to find out that in her (comic) future, there might be a Mohawk hairstyle, motorcycle and a character named Lobo, and zombies. "She has to fight zombies, because everybody is fighting zombies nowadays," Conner said. "It's the way they become zombies, that's how we have to change it up."
The thing about Comic Con is that creators, stars, among fandoms — discuss fictitious characters as if they are real. LikeAlice going down the proverbial rabbit hole, everyone at Comic Con happily takes the plunge into the make believe. Living the fantasy is the anticipated, expected, and understood pledge of everyone there. If an attendee goes off script, talks about a character in an "it's not real" way, they just might be risking fandom alienation.
For five days in July, the scripts are real. Everyday, one Netflix binge or midnight screening at a time, the characters fit into us and we fit into them.
The entertainment industry taps into that dynamic. It has banked on the popularity of offshoot stories of characters, making movies based on the evolutions of characters, and perfected the tease of how the characters and franchises all tie in together. Hinting at clever storylines via a polished audio-visual Comic Con delivery system, audiences are thrilled that they won't have to, in the near future, lament the end to their beloved franchises.
Though there are franchises that are now mere ghosts of Comic Con, who knows?They may not stay dead. Fandoms need to be fed constantly. Comic Con gets that and has a claim to the creative world of all fandoms right here in one city.What will happen in the Comic Con/ San Diego story line?We'll have to wait until next season to find out.