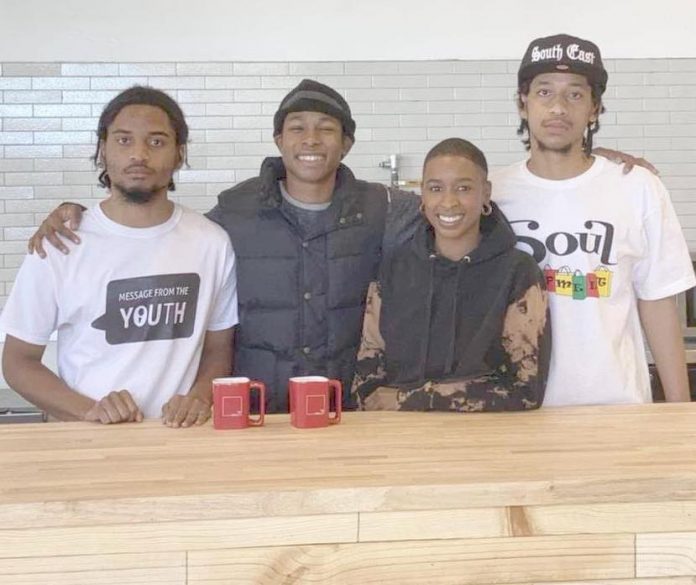 A global pandemic, an uncertain economy, and the uprisings of racial and political divides, led High Tech High graduate Zachary Hamlett, 19, to embark on a journey to open a coffee shop in Lemon Grove. But his dream is much more than a coffee shop. With the help of his family and mentors, The Hamlett will serve a threefold model. Coffee, an apothecary and a community hub that will serve as an incubator promoting Black-owned health and wellness businesses.
What began as a conversation at the family table in his home in the San Carlos community, quickly evolved into a Kickstarter campaign where Zachary raised more than $30,000 to get his dream business running. The new shop, hoping to open the last week of May or first week of June, includes stadium seating, a custom in-the-round bar, an apothecary center, a curated Black-owned business section, and free wi-fi. The modern atmosphere is created to appeal to millennials and Gen Z, which Zachery stated will set it apart from any other local coffee shop.
With help from his apothecarial sister, Shacole Hamlett, he said one reason they chose Lemon Grove for the business is the populations high percentage of people living with health issues such as diabetes and cancer and the city's lack of healthy food options.
"In order to impact other people's lives, we decided to dedicate our shelf space for apothecary and health and wellness products that are all sourced locally and potentially be a space where people can launch their products or company," she said. "After they get their products on our shelves, perhaps then they can get their products at Whole Foods, or Target, something with a future. Generally, in East County, there are people that might not have the resources or the information on how you get from the idea of a product selling on Facebook, to I have insurance, my LLC, I have everything that I need to legally get my product in stores, promote myself and launch my business."
Zachery said everything is ready to go and all that they are waiting for is the final permits from the city so they can open The Hamlett's doors and begin to serve the community. He said he was led to action with his love for coffee, apothecaries, holistic wellness and the need for more Black-owned businesses in the community.
"The Hamlett is so much more than just a coffee or apothecary shop featuring workshops, arts, and collaboration, it aims to become a sought-out destination that adds to the flavor of San Diegan life," stated Zachery on its website.
The Hamlett will serve Equal Exchange Fairly Traded coffee, and some with an apothecary twist including lavender and rose lattes.
Along with opening his new business, Zachery is attending online classes at CSU Sacramento, majoring in psychology, and minoring in business and communications.
For more information visit www.thehamlett.com.