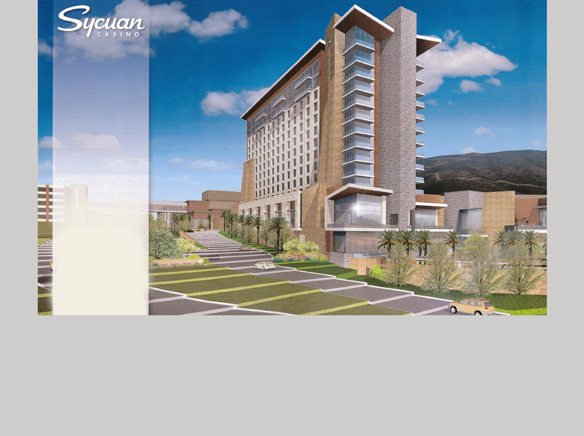 One of the first local American Indian tribes to get into gaming in San Diego County, the Sycuan Band of the Kumeyaay Nation, plans to expand once again, this time to build a an 11-story, 300 room hotel along with increasing its casino, and adding other elements to its reservation.
One of the first local American Indian tribes to get into gaming in San Diego County, the Sycuan Band of the Kumeyaay Nation, plans to expand once again, this time to build a an 11-story, 300 room hotel along with increasing its casino, and adding other elements to its reservation.
The first phase for a larger expansion is outlined in the tribe's environmental impact statement that can be viewed at www.sycuanteis.com. In addition to the hotel (which eventually calls for a second tower with another 300 rooms) the project entails an additional 21,000 square feet of gaming space with 500 new devices to bring the total to 2,500; a 2,030-car parking garage; an upscale restaurant; a spa, fitness center; and a larger outdoor area containing two swimming pools.
The project's first phase is estimated to cost about $220 million, and is planned to begin in January or February. The timing for the expansion's second phase isn't determined as yet, said Adam Day, Sycuan's assistant tribal manager.
The expansion will boost the tribe's revenues and economic health for its 130 members, as well as create hundreds of permanent jobs, and more than 1,000 construction jobs during the two-year building period, Day said.
"It's an economic development project that will help the tribe's economy and will create hundreds of non-native jobs for the surrounding community, as well as expand our entertainment offerings," he said.
While the project is certain to improve the tribe's economic health, not everyone who has seen the expansion plans thinks it's a wonderful thing.
"It's a massive project and will be extremely impactful to our community, more so than we've already been impacted," said Wally Riggs, chairman of the county's area community planning group and a longtime Dehesa resident.
Riggs and other neighbors worry about increased traffic impacts but they're even more concerned about the effect a new hotel and expanded facilities will have on the area's drought-challenged groundwater supplies.
Despite assurances from Sycuan that a new well now being drilled on the reservation should provide adequate reserves for the new development, Riggs says he's doubtful this will be sufficient. Ultimately, he said water reserves for surrounding Dehesa area could be severely depleted.
Day said in addition to a new well, the tribe is also using a variety of water conservation methods including reverse osmosis that will offset the increased water use.
And while the tribe now has access to water provided from the Padre Dam Municipal Water District, Day said that water isn't needed for the project. It serves as back up in case of an emergency such as an earthquake, or contamination of the existing groundwater, he said.
Earlier this year, Gov. Jerry Brown signed a bill that gave Sycuan rights to use Padre Dam water beginning Jan.1. The bill sponsored by Assemblywoman Lorena Gonzalez (Dem.-80th District) sailed through Sacramento without a single vote in opposition.
Day, the tribe's primary spokesman and a former staffer to two county Supervisors, said the hotel plan laid out in the project's environmental impact statement has been open for public comment and questions through Oct. 17. All comments and responses to the plan will be carefully reviewed, and answered in a final EIS that will be sent to the county's Board of Supervisors, the state, and any interested parties probably by the end of this year, he said.
The project is slated to break ground in January or February.
However, Day noted that the project is not subject to county approval because the development is on land considered as belonging to a sovereign nation. As long as the project conforms to the compact that Sycuan has with the state, it will move ahead, he said.
If needed and requested, Sycuan could enter negotiations with the county on several of the plan's elements, he said. "The tribe has a long history of being a good neighbor and mitigating its impacts, and this situation will be no different," Day said in an email response.
Already, county-planning officials said in a letter to Sycuan that they have concerns over a number of things related to the new hotel, including its effect on the area's groundwater.
Darren Gretler, assistant director for the county's Planning and Development Services, said in the letter that the EIS "does not adequately evaluate cumulative and direct impacts to groundwater resources."
Gretler's letter advises the EIS should contain an assessment that evaluates impacts to nearby county groundwater users, and should include aquifer testing and a well interference analysis.
The county comment also questioned the EIS report's assumption that 94 percent of the sewage water will be returned for re-use "is an overestimation and should be revised to more realistic values."
As to traffic, the county's letter also noted that the EIS assumed that some road improvements near the casino are underway when such improvements are only in the planning stages. It also noted the EIS contention that an additional left turn lane at the Dehesa/ Sycuan Road intersection has not been done, contrary to what is stated in the EIS.
Gretler's letter also contained comments regarding other aspects of the EIS including the impacts on views, air quality, biological resources, and alternatives to the hotel project.
Day said all of the comments would be addressed in a final EIS. Ultimately, however, the county has little say on how the hotel and expansion project finally turns out.
Given the massive traffic jams created from the opening of the Jamal Tribe's Hollywood Casino last month, local elected officials are watching this project very closely.
East County Supervisor Dianne Jacob took a measured response to the proposed development, saying she hoped the county and Sycuan can meet and strike some agreement to address additional off-reservation impacts.
"The county has reached similar agreements in the past with Sycuan and other tribal governments to address issues like traffic, public safety and trail improvements," Jacob said.