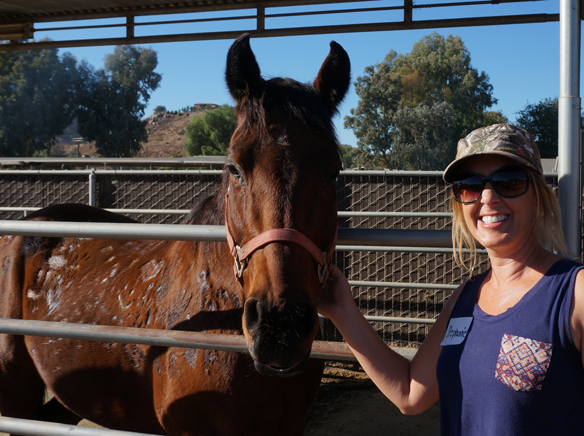 Sunshine Ranch Fall Festival
Sunshine Ranch Fall Festival
The Sunshine Ranch Therapeutic Riding program held a Fall Festival fundraiser this past, Oct. 22. The Ranch is located at 11314 Moreno Avenue in Lakeside. It is a non-profit, 501(c) (3) organization that provides high-quality instruction in therapeutic horsemanship. This program was established about four years ago by Stephanie Mitchell and serves people with special needs, be they children or adults. They have students from four years to over 60 years of age. Ranch volunteers "use the movement of the horse to help (people) to walk, to become stronger," Stephanie said. "It's a wonderful partnership that we get to have with these horses."
The Fall Festival was a little departure from the usual fundraiser for Sunshine Ranch. More of a carnival, this event featured a pumpkin patch, pony rides, a petting zoo, and games for the kids (the Spring Fundraiser will showcase student riding skills, as they have in the past). In any event, donations are needed throughout the year to sustain the program. A major goal for Sunshine Ranch is to keep costs down and the program affordable, as families with special needs members are often impacted by a great many other related expenses.
Sunshine Ranch is a PATH (Professional Association of Therapeutic Horsemanship) International Center member. Stephanie Mitchell is a PATH International Certified Riding Instructor. A San Diego area native, Stephanie grew up riding horses. She was a shy child but her experiences with horses brought out and developed her personality. She jokingly admits she became obsessed with the animals, but has also developed personal knowledge and experience of what horses are capable of and how they can positively impact people of all ages.
After earning a biology degree in college, Stephanie was looking for a way to "give back." She volunteered at an animal shelter for a while, but really wanted to do something to help people. Her mother steered her toward a therapeutic riding program. After a single day of volunteering, Stephanie was hooked. When that program closed, it left a void in her life. She also missed the horses she was involved with – Cleo and Ricky. So Stephanie decided to create her own therapeutic riding program. In the process, she was able to gather both Cleo and Ricky to help her on her way.
"It's incredible," said Stephanie, "the connection people and animals have. (Horses) bring out things in people that we humans can't." She sees her students having so much fun during their lessons they don't realize what they are learning or how hard they are working.
The horses at the ranch are observed and evaluated for strengths and personalities that might match particular human needs. "The more we learn about their biomechanics, the more we can pair them correctly with particular riders to accomplish the goals that we're looking for."
The goals are individual and developed by either the student or their family (as is more often the case). Both riding goals and life goals are discussed and considered. Lessons are then structured to accommodate and achieve those goals.
Stephanie mentioned a 13-year-old girl who came to the Ranch with a demeanor so shy she would only talk to people while clutching her stuffed animal. Now a veteran of the program, this girl helps train new volunteers.
The Ranch is an all-volunteer organization, with 20 to 30 people giving of their time to provide support and instruction. As President and CEO, Stephanie is currently the only paid position, but that was only after years of pro bono work. An organization such as this needs money to operate. The care and feeding of horses is an expensive undertaking, so fundraising is a constant necessity. Donations can be made on their website at www.SunshineRanchRiding.org or through Amazonsmile.com or Thrivent Financial.
You can follow Sunshine Ranch Therapeutic Riding on their Facebook page as well.
Sheriff's Coffee with the Community
Every four months or so, the staff at the Lakeside Substation of the San Diego County Sheriff's Department holds a community meeting to share information and gather input directly from the residents. The most recent meeting on Thursday, October 20 at 7:00 p.m. was attended by about 30 community members at the Lakeside Branch Library. Lieutenant Karen Stubkjaer hosted the 90 minute Q&A and it was mostly good news.
The overall crime rate in the Lakeside area is relatively flat, meaning crime isn't up, but it's not down either. The most common crimes in the area are ones people can actually have the most impact on: property crimes; specifically, theft from vehicles. The biggest problem is twofold: valuables left in cars and not locking cars. These are crimes of opportunity and most criminals are opportunists. If all a crook has to do is look into a car and open an unlocked door, the result couldn't be easier. So what should we being doing, each and every one of us? Lock your car doors. Do not leave anything of value in your vehicle, especially in plain view. In crime prevention parlance, it's called Hardening the Target. Don't make it easy for our local criminals to take advantage of you. This goes for whether you're parking at the grocery store or in front of your house. Take the time to "lock and unload" your car. Avoid that sinking, stinking feeling that follows the discovery that you're the victim of a crime – especially one that could be easily avoided.
On a related subject, the lieutenant and her Crime Prevention Specialist Holly Angeles discussed Neighborhood Watch. Holly is assigned to the Lakeside sub and one of her roles is to coordinate the 23 active Neighborhood Watch groups in Lakeside. This program has been around for decades and has been proven to benefit the community. It really comes down to getting to know your neighbors, staying in communication, and being observant. Some groups meet regularly and often have a deputy attending these meetings. At a recent Lakeside gathering, neighbors shared information with deputies that led directly to the arrest of three "good crooks" within just days of the meeting. Holly can be reached regarding Neighborhood Watch and other crime prevention tips and information at (619) 956-4000.
Lieutenant Stubkjaer also reported that her substation is now fully staffed. Staffing not only affects the number of deputies out patrolling our streets at any given time, but it impacts special details and assignments that might address particular issues within the community. For example, the much anticipated Bicycle Team that was to regularly patrol Lindo Lake never materialized over the summer, a victim of understaffing. The hope is they will be around the lake next summer. However, the Sheriff's Horse Mounted Unit was able to patrol on occasion.
Lastly, the subject of when to call the Sheriff's Department was discussed. Obviously, in an emergency such as a crime in progress, life and death situations, or other similar immediate crises, call 9-1-1. At any other time, you should call the non-emergency number, which is (858) 565-5200. Residents are hesitant to call law enforcement, often because they "don't want to bother the cops." But if no one calls, the Sheriff's Department (or the Highway Patrol in traffic-related situations) cannot know there is a problem or issue. A priority system is in place to ensure the most important calls will be answered first. It's just as important to report crime, hazards, suspicious activity, and the like. As Lt. Stubkjaer pointed out at the meeting, we – the residents – are the eyes and ears of law enforcement. They can't do their job without our cooperation and support.
USGS reptile report on the El Monte Valley
Jonathan Q. Richmond of the United States Geological Survey wanted to make one thing clear from the onset: The USGS has no bearing on policy; it is only tasked with providing the best science for a given area of study. Officially, the USGS is a fact-finding research organization with no regulatory responsibility.
The fact-finding area in question here was the highly coveted and threatened El Monte Valley. Richmond spoke to a group of about 60 concerned Lakeside residents on Monday, October 17, sharing the official USGS discoveries made in the previous year. To be brief – they found a lot.
The survey had six objectives, but the focus of the study was really to determine what kinds of reptiles and amphibians were living in the valley. Their result: 27 different species, mostly reptiles. Two of these species are covered in the Multiple Species Conservation Program, a comprehensive habitat conservation planning program for southwestern San Diego County. Another 10 animals found in the valley are listed as "species of special concern" in California. The most common snake in the valley, not surprisingly, was the rattlesnake. But second most common snake is the California Glossy Snake, a rare and protected species. The Glossy is a nocturnal, non-venomous constrictor that hunts lizards, birds, and even small mammals.
Richmond commented that as an organization, the USGS had been looking forward to being asked to survey El Monte Valley for years. He said they were pleased and a little surprised at what they discovered. When asked if this study could impact the sand mining proposal or if such studies have derailed similar plans in the past, Richmond would not comment. Their charge is to study and report, not to advocate. It's the community that needs to use the study as they see best.
The official report will be released to the public in the near future
El Monte Valley discoveries placed 9th of 23 USGS studies completed in California over the past 21 years, which is quite impressive as this study lasted only one year. The studies it is compared against were all five years in length. Funding kept this survey short; the USGS is interested in continuing its study, but whether that will happen remains to be seen.
This effort was a collaborative, completed in conjunction with the North American Field Herping Association (NAFHA), a non-profit volunteer group. For those who don't know (including me), herping is the act of searching for amphibians and/or reptiles.