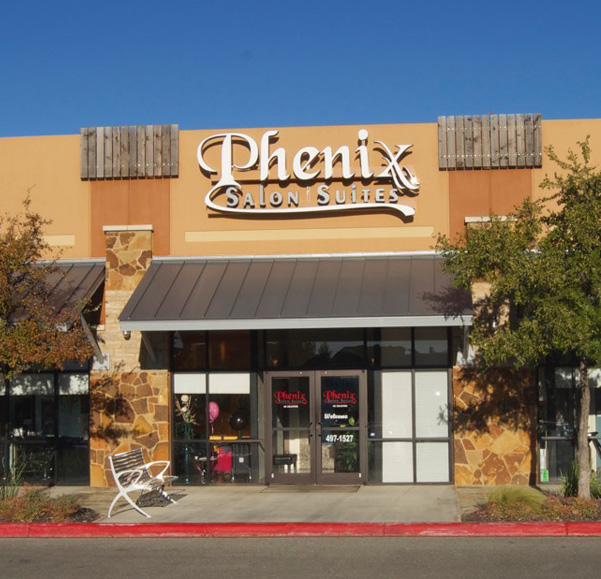 When Phenix Salon Suites opened its doors at Parkway Plaza, managing partner Rich Stark had no idea his salon suites would only be open for one day as the governor ordered his second stay-at-home order effective Dec. 5.
Phenix Salon Suites is a salon complex with individual suites that allow lifestyle professionals to rent on a month-to-month basis, customize them and become their own boss. Stark's first salon is in Escondido and the El Cajon location was his second salon.
Stark said the model entails taking a retail space with about 5,000 square feet and turning the space into smaller suites between 110 and 250 square feet. He said Phenix provides sinks, hair salon and shampoo chairs for hair stylists, giving them the opportunity to run their own businesses at a much reduced price.
"We also provide sinks for other types of businesses as well, such as tattoos, eyelashes, eyebrow threading, massage therapists. It is basically a salon suite," said Stark. "They have access to their suites 24/7 so they can run their own business out of these spaces. They pay rent which covers space, utilities, washer and dryer so they have all the tools to run their businesses."
Stark said its Escondido location has been open for more than three years and remained 90 percent to full most of that time.
"If anything, a lot of salons are closing," he said. "So, if you have an established clientele and your salon closes and you are a hair stylist, then it makes the most sense to rent one of these suites. And you take your business with you."
Stark said when the shutdown first happened, it got a lot of interest from people looking for a space to keep their businesses going. He said another big seller for businesses is that they can share suites.
"That is the best scenario," said Stark. "If you are a hair stylist and only need to work three days a week and you have a friend who only works three days a week, you can share on off days. For a lot of lifestyle specialists, it is a great concept for them to keep their business. You can make your own schedule. You do not have to worry when the salons are closing."
Stark said another advantage to utilizing suites is that businesses can decorate them to fit their own personalities.
"Salon professionals come in and paint, put up wallpaper and create a space that is more indicative of their personality," he said. "They really make it their own space and that is another benefit. Many are coming from salons where they are at the mercy of who runs it and they do not have that freedom of expression that they do in these salon suites."
Stark said many have a love of this concept. From a customer point of view, they do not have to sit next to someone listening to their conversations.
"You have a privacy that you would not have in a salon. A hairdresser or stylist can build stronger professional relationships with their clients," he said.
Stark said, looking at locations, first it looks at salon density of the area. El Cajon had 160 salons in that three-mile radius.
"This location has 30 suites, so that means we have to pull 30 stylists from 160 different salons," said Stark. "We started pre-marketing back in July right in the middle of two shutdowns. We had pre-leased about 10 suites out of the 30. We are in Parkway Plaza, that got some bad publicity while we were under construction. It had a change in ownership and some bad articles came out. I talked to the people at the mall's marketing and they are going to enhance the rebranding of the mall as a whole."
Stark said at the end of the day, people are leaving salons and moving to the suites. Its core market being hair stylists, the average ticket for a hair cut is $80 to $100 and it is easier for owners to make the rent money.
Even with the current shutdown, Stark said he is confident this will work in El Cajon. He said the location in Escondido reached 80 percent capacity within a few months of opening.
"Salon suites are in their infancy in San Diego," he said. "There are only about 10 types of these businesses within the county. When I talk to people it is a change that really defines somebody to go out on their own and become their own business and become more independent."
Stark said the suites are more private, adding another draw in the middle of the COVID-19 pandemic. He said it is a great concept and people who have made the move love it; their clients love it and they will not go back to individual salons.
"They are one-on-one suites, so from a social distancing and health point of view, you are not going to get any better situation than this," said Stark. "Here at Parkway Plaza, if you do not have a huge clientele, they will be able to get more people who will walk in from a big mall than they would from a strip mall. The potential for them to grow their business is almost limitless. You are in a place that when COVID is over you will have thousands of people coming by every week walking in looking for their services."
Stark said he is happy to be part of the community and the people he has met so far have been great; he is looking at a successful business for him and his lifestyle clients.
"We look forward to getting this space filled and meeting many great lifestyle professionals and helping them on their road to becoming more independent," he said.